Looking for some simple day trips from Yorkshire's unofficial Capital? Not a problem. Leeds is in a great location, and it's served by a lot of different rail lines. So, it couldn't be easier to leave the car at home and go on an adventure. Here are five easy day trips from Leeds by train.
What sort of day trips from Leeds by train are there?
No matter what you're looking for, we've got you covered. Our day trips from Leeds could take you on a walk down a peaceful canal, on a journey down memory lane or enjoying some great food and drink. Let's take a look at what we've discovered.
Knaresborough
You've probably heard of its neighbour, Harrogate, but have you considered day trips from Leeds to Knaresborough? It's a little more tranquil and peaceful, but you won't be short of things to see and do.
Why not start with a stroll down to the River Nidd? It's a great place to admire the railway viaduct that you'll have just passed over, if you've come from Leeds:

You could also pop into Knaresborough Castle & Museum. It's just a short walk (and a climb) along the river. It's a Norman Castle, and the climb is worth it for the views down the river valley.
If you head down the river and under the railway viaduct, you'll find Mother Shipton's Cave. It's England's oldest tourist attraction, and it was the home of Mother Shipton, a Tudor prophetess. Legend has it that she foretold the fates of various rulers both during and after her lifetime. She even predicted the Great Fire of London.
Fancy a trip? Two trains per hour run from Leeds to Knaresborough, and they take roughly 45 minutes to complete the drip. Day Return tickets start at £10.60.
Marsden and the Huddersfield Narrow Canal
It's time to head right to the edge of West Yorkshire. If you want to embrace the great outdoors, then this is one of the perfect day trips from Leeds for you. Marsden is situated on the Huddersfield Narrow Canal. At its summit, this is actually the highest canal in Great Britain:

It's also the point where both trains (and boats) need to cross the Pennines to reach Manchester. So, you can get up close and personal with the railway, and learn more about the Standedge Tunnels, where the trains rush in and out of, and the boats, hopefully don't rush in and out of:

If you head in the other direction, it's a pleasant hour-so-walk back towards Slaithwaite along the canal. Alternatively, you could head inland towards the Butterley Reservoir.
Looking to get exploring? You can reach Marsden in as little as 35 minutes with a change at Huddersfield, once every hour. Day Return fares start at £8.80.
Saltaire
Our next stop is Saltaire. The area was built by Sir Titus Salt in 1851, so that his workers in Salts Mill could live in better conditions than the slums of neighbouring Bradford. The name 'Saltaire' is simply his surname, and the name of the passing river – the River Aire!
Nowadays, the main attraction continues to be Salts Mill. In the modern day, it serves as an art gallery and a place to learn about the history of Saltaire and the impact that it had as a prominent textile-making hub. You'll find a shop selling local goods, too:

If you're after something a little more tranquil, just pop a little further down the road. You'll soon find yourself at the Leeds & Liverpool Canal:

From here, it's possible to walk all the way to Skipton or Leeds. Or, you might just prefer to take in your surroundings and have a walk over towards Robert's Park…
Is Saltaire worth its salt? You can find out with just a 15-minute train ride from Leeds. A Day Return starts at £6.30.
The Keighley & Worth Valley Railway
How do you like the sound of day trips from Leeds by train…that take you to another train? This one looks just a little bit different, though: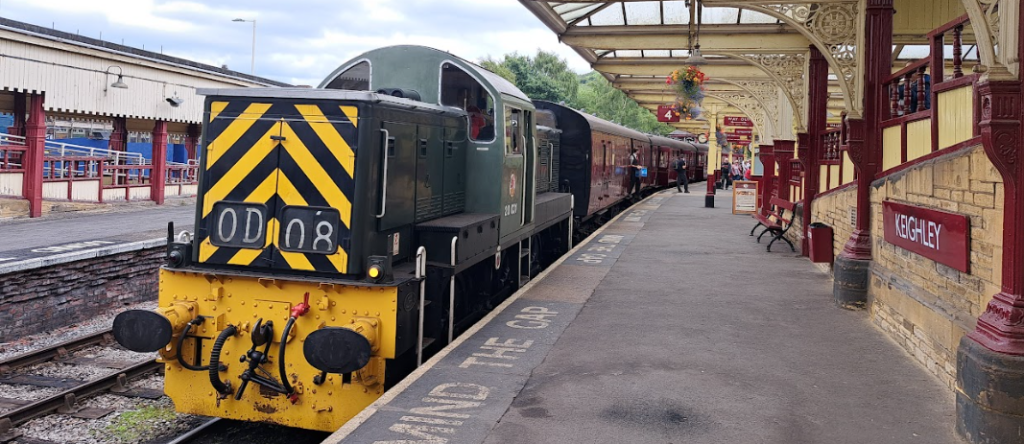 The Keighley & Worth Valley Railway links Keighley, Oakworth, Haworth and Oxenhope with a variety of heritage trains. You could have a steam train, a diesel one (like we did) or a more familiar-looking Pacer train.
Along the way, you can learn about the history of the railway, and get up close and personal with the trains that run along the route. Don't forget to stop off at Ingrow West to visit the Museum of Rail Travel, or pop into the Exhibition Shed at Oxenhope: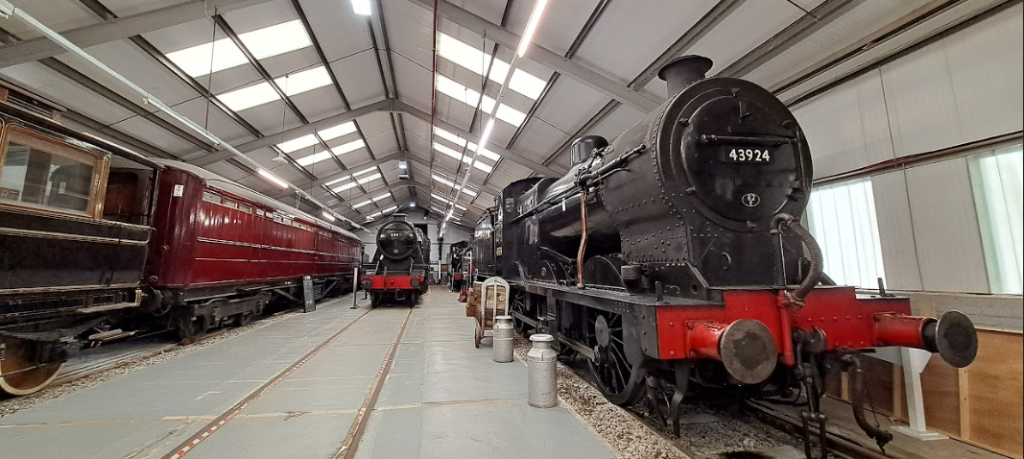 Meanwhile, Oakworth Station is famous for starring in The Railway Children, which was released in 1970. The entire railway is a true time capsule, and operates just as it did back before it closed in 1962. By 1968, an army of volunteers had it operating again! Keep an eye out for Damems Station, too. It's got the shortest railway platform in the UK:

Trains link Leeds to Keighley at least twice every hour. The journey typically takes 25 minutes, and Day Return fares start at £8.20. You can find out more about the Keighley & Worth Valley Railway, including their operating days and times, on their website. You can also reach our next destination by taking the hourly B3 bus from the line's terminus at Oxenhope…
Hebden Bridge
Hebden Bridge has it all. Beautiful scenery, some great places to walk and a plethora of independent shops and cafes to fill your boots in. It was even rated as the Greatest Town in Europe! With friendly touches like this, it's easy to see why: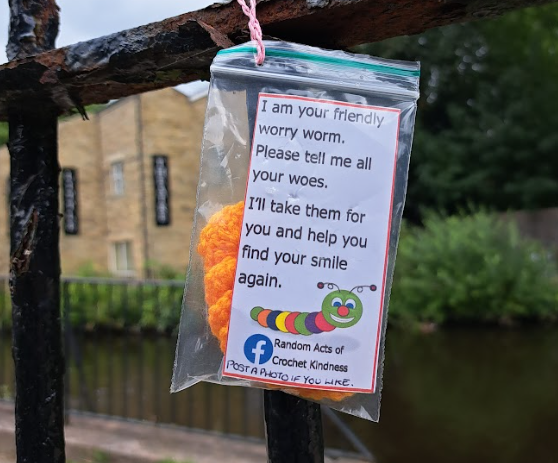 If you do choose to have a wander along the canal, much like other places on this list, you can go rather far! This is the Rochdale Canal, after all. You could walk it all the way through the Pennines and into Manchester City Centre, if you were so inclined.

A little closer to Hebden Bridge, you could also go exploring around Hardcastle Crags. It's around a 35-minute walk from the station to the beginning of the area. It has 15 miles of paths to explore though, so it might take you a little longer than 35 minutes to cover it all!
You can't have day trips from Leeds without some decent grub and a good drink to wash it down. Hebden Bridge is home to Vocation Brewery, which serves its own craft beer, loaded fries and burgers:

You can take the train from Leeds to Hebden Bridge four times every hour. The trains take 40 to 50 minutes, and a Day Return starts at £8.80.
Is there anything else I should know?
Ready for some more inspiration? We've written lots more content all about day trips by train. Whether you're travelling from Newcastle, London, Edinburgh, Glasgow or around Kent, we're sure to have something for you. Don't forget that there are plenty of advantages when it comes to leaving the car at home.
The final thing we'd recommend is using the Railsmartr website to book your next adventure. We're completely independent, so we're happy to 'tell you like it is' when it comes to rail fares. Not only that, but we'll show you the slower, cheaper options that some websites won't.
Don't forget that we don't charge any fees, either. That includes if you change your mind and want to travel on a different day. If your ticket is refundable, we'll refund it fee-free, too!
All information on this page is issued in good faith and was correct at 31/08/2023. All fares quoted for were for ONE adult and were the Off-Peak Day Return fare. Information is subject to change at any time and Railsmartr are not responsible for any loss or disappointment incurred as a result of the information provided.