Travelling around London might seem daunting. After all, it's a huge city with a lot of railway lines criss-crossing it. You might need to take the London Underground, too. But is your ticket valid, and how do you change between one mode of transport and the other? What about going to the airport? Don't worry. On this page, you'll find all there is to know about travelling around London.
What do I need to know about travelling around London?
Let's start with the basics. So, you've just arrived in London, but what next? Is your ticket valid? Can you use it on the Underground? In fact, where will your train take you, and where do you need to go next?
You can start with our Guide to London Train Stations. We've put all of the information about them onto one page, so you can easily see where you'll be travelling to, and which station you might need to use next.
Once you know where you'll be going, take a look at our Guide to Crossing London. After all, did you know that while eTickets might be the most convenient option for many trips, you can't actually use them on the London Underground? You'll need a paper one. Don't forget about this little symbol either: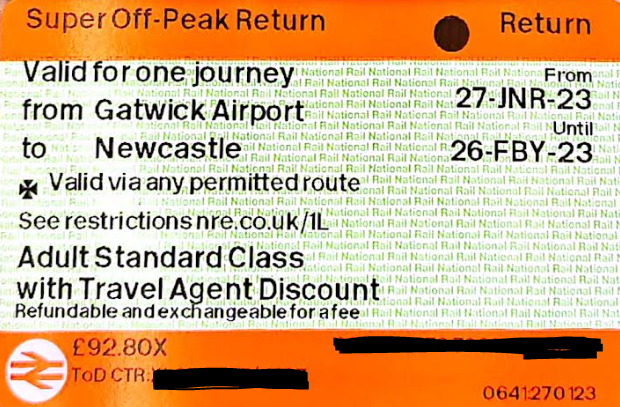 The Maltese Cross symbol is the definitive indicator that you can use your rail ticket for travelling around London. You can make one Underground journey with a ticket that has this symbol!
But, what if your ticket just says 'London Terminals'? Does that mean that you can travel to any London station that you want? Not quite. Usually, it's just the ones that you can reach on a direct train without needing to cross the city.
Don't worry though, we've written a definitive guide to London Terminals, so you can work out where your ticket will take you.
What about the Elizabeth Line?
The brand-new Elizabeth Line has revolutionised travel across London. For example, if you're travelling from Paddington to Liverpool Street, you don't need to worry about working out which tube station to use (there are two!) and how long it'll take. Now, you can just head down to the Elizabeth Line, where there'll be a train every few minutes.

But where does it go, and which London Zones are the stations in? More importantly, what kind of tickets can you use? If you're travelling between Liverpool Street and Paddington, you can't use a ticket that's been issued to 'London Terminals', for example.
Take a look at our dedicated Elizabeth Line page to find out everything you'll need to know before you travel.
Is travelling around London to reach an airport easy?
London has a plethora of airports. Some of them are technically within London, and others aren't. So, where do you begin? As a starter, only Heathrow and City are within the boundaries of Oyster Cards and Travelcards.

You can use contactless payment to go to Gatwick and Luton, but it isn't always the cheapest option. If you're going to Stansted or Southend, then you'll need a separate ticket. You can't use Contactless or Oyster to reach them.
We've written a special page with everything you need to know about London Airports. We'll tell you how to get there, how much it costs and anything else you need to look out for.
Wondering about what the best value is? Don't worry. When it comes to reaching Heathrow and Gatwick, we know that there are lots of different options to choose from. But the question is: Which options are worth it?
Did you know that the Gatwick Express is barely any faster than other trains that serve Gatwick Airport? What's more, it's much more expensive, and that's before we even get onto the so-called First Class compartment. Find out more about what happened when we took a look at the best train to Gatwick Airport.
As for Heathrow, there's a Heathrow Express option, too. It's expensive, but it's quick! We wrote about our thoughts on our page about the best train to Heathrow Airport.
Is there anything else I should know?
What about making your way to London in the first place? Don't worry, we have a dedicated guide to travelling smarter when it comes to getting to London.
The final thing that we'd recommend is that you book your train tickets with Railsmartr. We don't charge any booking fees, refund fees or change fees. Yes, that means that if your ticket is refundable, we'll refund the entire amount. Why pay more if you've changed your mind?