Five Great Day Trips from Edinburgh by Train
Looking for some day trip inspiration from Edinburgh? Look no further.
Whether you live in the Scottish capital or you're basing yourself there for a longer holiday, it's a great idea to get out and explore. Once you've seen the sights of Edinburgh, why not hop on a train and see what else is on offer? Here are our five top picks for day trips from Edinburgh by train.
What kind of day trips from Edinburgh by train are there?
Scotland has a great network of railways that make day trips from Edinburgh by train simple. For the most part, there's just one operator (ScotRail) as well, so you don't have to worry about getting on the wrong one.
Whether you just want to make a short hop and go for a walk somewhere new, or fancy a lie down on the beach, we've got you covered.
Aberdour & The Fife Coast
Did you know that the beach is just a 30-minute train trip from Edinburgh? Simply hop on a train to Aberdour and you can enter a completely different world. The beautiful sights begin before you've even left the station: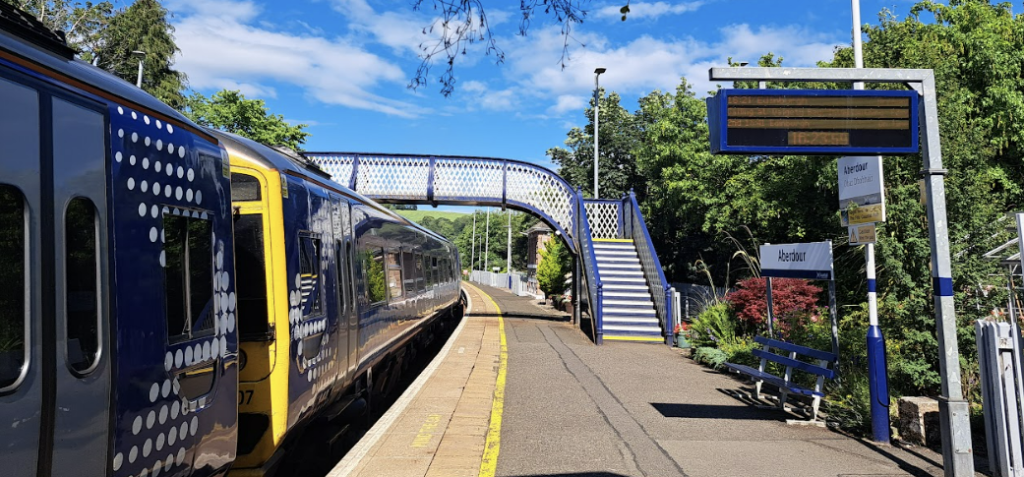 What better way to start one of these day trips from Edinburgh by train than by arriving at a station adorned with hanging baskets and beautiful flower arrangements? In fact, the village has won a Britain in Bloom award and has over 80 volunteers making sure that the entire community keeps looking spick and span.
It's just a short walk down to Black Sands, which faces the Firth of Forth and gives great views back towards Edinburgh and Arthur's Seat:

This is definitely a good one if you fancy a walk. If you'd prefer some more peaceful surroundings, then you can head to Silver Sands. It's connected to Black Sands by the Fife Coastal Path, or it's a 15-minute walk if you're coming from the station directly:

Silver Sands is great if you just want to lie back and relax. It has a wee cafe too, so you can enjoy a cold drink on a warm day (or a hot one if you've decided to have a bracing stroll in the colder months!)
You could pay a visit to Aberdour Castle & Gardens, too. It's one of the oldest standing Castles in Scotland, with some parts dating back to the 1100s. Over the years, different families added their own touch to the castle, giving a real insight into the fashions and attitudes of the time. We can't forget the beautifully-kept grounds, either:

Getting There
Ready to make this one of your next day trips from Edinburgh by train? The fares are pretty simple. It's £8 for a day return that's valid after 09:15 on weekdays (any time at weekends and Bank Holidays).
Trains leave twice every hour, and the trip takes around 30 minutes. On a Sunday, the trains run hourly. The most common route to Silver Sands beach (via the station car park) has no step-free access, so you'll need to bear this in mind if you're travelling with kids and a buggy. Instead, you'll need to go via Main Street to join Hawkcraig Road.
Linlithgow
This is one of the quickest and simplest day trips from Edinburgh by train. You can be there in less than 20 minutes! So, what is there to do in Linlithgow?
If you want some peace and quiet (and to get your step count in) then you can take a walk around Linlithgow Loch:

It's just over two miles and should take you around an hour. It's pretty level too, so this makes it a nice and easy afternoon stroll with the family, the dog, or if you just want to have a leg stretch. Keep an eye out for wildlife, as well. The loch itself is home to a lot of water birds, such as the rare Great-Crested Grebe.
You can also take a look at the magnificent Linlithgow Palace:

It's just re-opened to the public after a two-year renovation project (as of June 2023), and it's a fascinating building to explore. Did you know that the Palace is the birthplace of Mary, Queen of Scots? Construction began in 1424, and it served as a Royal Residence for over 300 years.
Getting There
Looking to visit a royal residence for one of your next day trips from Edinburgh? A day return ticket is £9.20 if you're travelling after 09:15 on weekdays (any time on weekends and Bank Holidays).
You'll find four trains an hour on weekdays (with more during peak times), six per hour on Saturdays and four per hour on Sundays.
Glasgow
While Edinburgh might be Scotland's capital, it's Glasgow that takes the crown for Scotland's largest city. It has a plethora of free museums, parks and more, so it's a no-brainer if you're looking for action-packed day trips by train from Edinburgh.
One of the longest-running and largest museums in the city is the Kelvingrove Art Gallery and Museum. You'll find 22 different galleries to explore (and the odd plane suspended from the ceiling):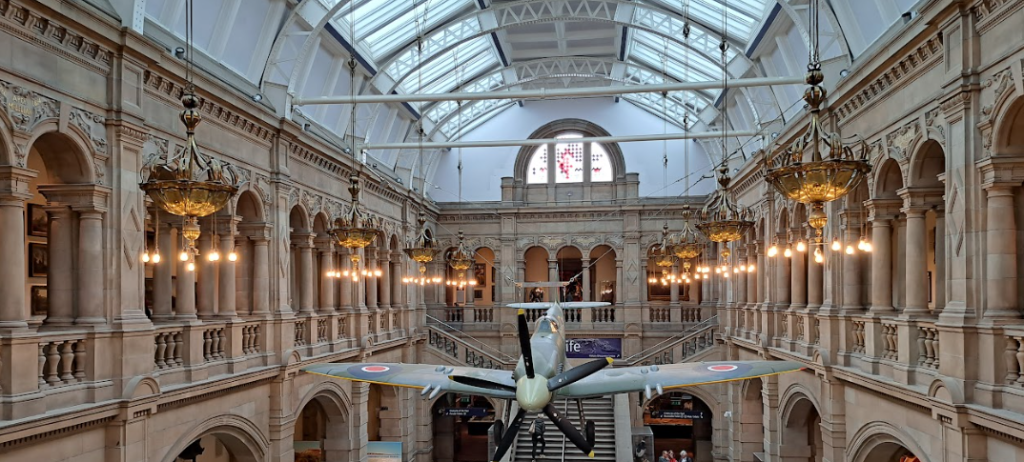 What's more, it's completely free to visit. Whether you want to know more about Dutch art, Ancient Egypt or Scotland's very own Charles Rennie Macintosh, there's something for everyone to learn about and enjoy.
Is a hundred years not old enough for you? The Glasgow Botanic Gardens have been a part of the city since 1817, and they've been at their current spot since 1839: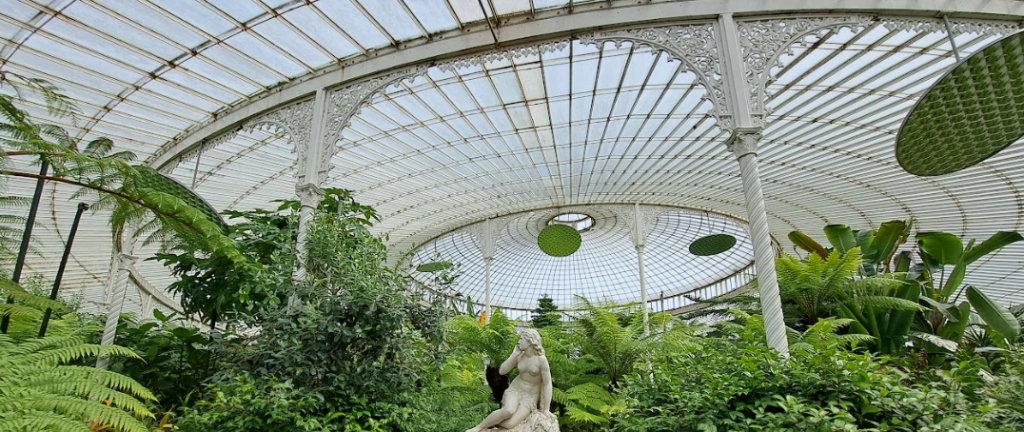 The gardens are home to over 9,000 plants. Not only are the gardens a great (and free) place to visit, but they're a key part of the effort to preserve many endangered species of plant in the face of climate change.
We know that Glasgow is full of things to see and do and that we couldn't squeeze everything in here. Don't worry though, you can take a look at our guide to a Day Trip to Glasgow if you're after some more inspiration.
Getting There
If you're travelling on a weekend, or outside of the evening peaks, then it'll cost £14.20 for an Off-Peak Day Return. This means that you can travel after 09:15, and then return before 16:43 and after 18:16. It's valid all the time on weekends and Bank Holidays.
An Off-Peak Return is £19.10. It has the same restrictions on a morning weekday, but you can return whenever you like in the evening. Finally, an Anytime Day Return is £27.60 if you want to be up bright and early on a weekday.
The fastest trains go to Glasgow Queen Street and take around 50 minutes. You'll find four trains per hour in weekday peak hours, as well as on Saturdays. Two trains run every hour during weekday Off-Peak hours and on Sundays.
Pitlochry
This is one of the longest day trips from Edinburgh by train, but it's great if you want to get away from it all. Pitlochry is just on the edge of the Tay Forest Park (and not far from the Cairngorms National Park). So, what is there to do?
You can take a walk across the Pitlochry Dam and Fish Ladder and pop into the visitor centre to learn more about how the area generates hydroelectricity. The fish ladder sees over 5,000 salmon come upstream to breed every year, too. It was once feared that building the dam back in 1947 would wreck the tourist trade here. It's actually done the opposite!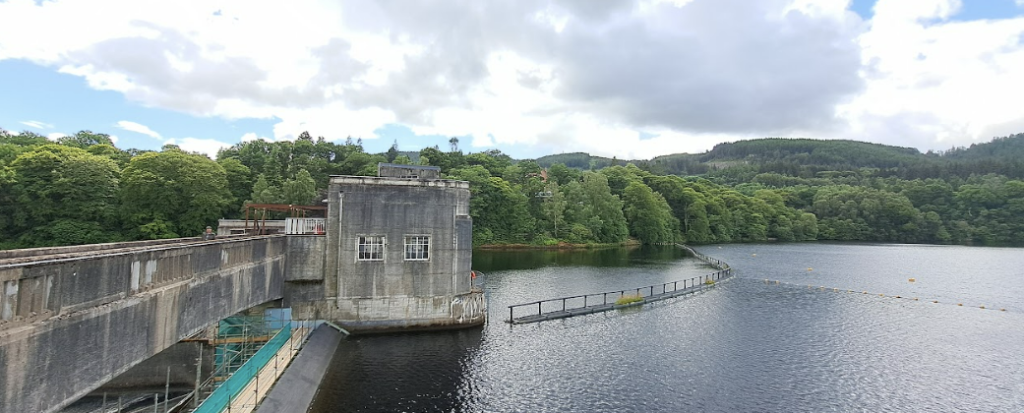 You can take all of this in on a simple circular walk around the town. Don't forget to take in the views of the River Tummel, including the 12th-century hamlet of Port na Craig:
Looking for more places to walk? You're spoilt for choice. There's an entire network of Pitlochry Walks to take you out into the wilderness. Whether you want your day trips from Edinburgh by train to be a gentle look at nature or a bracing hike into the hills, you're sure to find the one for you.
Getting There
A day return is £24.20 and it's valid after 8am on weekdays (anytime weekends and Bank Holidays). Trains run roughly every hour or two, though you'll need to change at Perth or Stirling for some trips. Direct trains leave Edinburgh in the morning at 08:33 and 10:36 (Monday to Saturday) and take just under two hours.
On a Sunday, the best direct train for a day trip leaves Edinburgh at 09:25.
Stirling
Finally, let's take a look at Stirling. It's one of the best choices for day trips from Edinburgh by train if you want to explore the history of Scotland. It's less than an hour away, too.
The main attraction is of course Stirling Castle. The Battle of Bannockburn took place within sight of the castle walls, and it's had a front seat for many events in Scotland's history:

Just a short walk away from the castle is the Church of the Holy Rude. It's the second-oldest building in Stirling (after the castle) and was established in 1129:

Do you prefer your history to be a little darker? Take a look at the Old Town Jail. It isn't all doom and gloom though, as the building was once home to a sweet factory.
It's £10.60 for a day return ticket that's valid after 09:15 on weekdays (anytime at weekends and Bank Holidays). For most of the day, you'll find two trains per hour on this route, and the trains take around 50 minutes.
Is there anything else I should know?
Here at Railsmartr, we know how difficult it can be to navigate the world of train tickets. Why not check out our pages on the best time to travel for cheap tickets and the best first-class train next? If you're looking to get to Edinburgh first, we also have a guide to cheap train tickets to Edinburgh.
Thinking of taking a trip soon? You can book it all with Railsmartr. We'll be sure to show you the slower and cheaper options, so you can get the best value fare for your journey.
Change your mind? Need to travel on a different day? No problem at all. You can change or refund your ticket (if it's refundable) without any extra fees.
All fares stated on this page are for ONE adult with no Railcard discount and were correct at 12:00 27/06/23. All times stated were correct at the time of writing. They're subject to change at any time and Railsmartr are not responsible for any loss or disappointment incurred as a result of the information provided. Always check before you travel.