Looking for some travel inspiration? Whether you're looking to explore somewhere new, or try the train as an alternative to the car, there's always a reason to jump on board. Here's our guide to day trips by train, why you should give them a try, and where you can go.
Why should I try day trips by train?
There any many different advantages of the train! For example, you can sit back and relax. There's no need to think about the driving either.
Feeling peckish? Many trains have food available to buy. If you're travelling First Class, you could even get a free meal thrown in. You can find more reasons to take day trips by train with our list of advantages of travelling by train.
Where can I go on day trips by train?
So, where can you go? That all depends on where you're travelling from and what you have in mind. Let's have a look at what there is on offer across the country.
Newcastle
Newcastle is in a fantastic location. It's near the coast, so you've got miles of beaches to explore. It's on the doorstep of Hadrian's Wall too, and the region is steeped in railway history: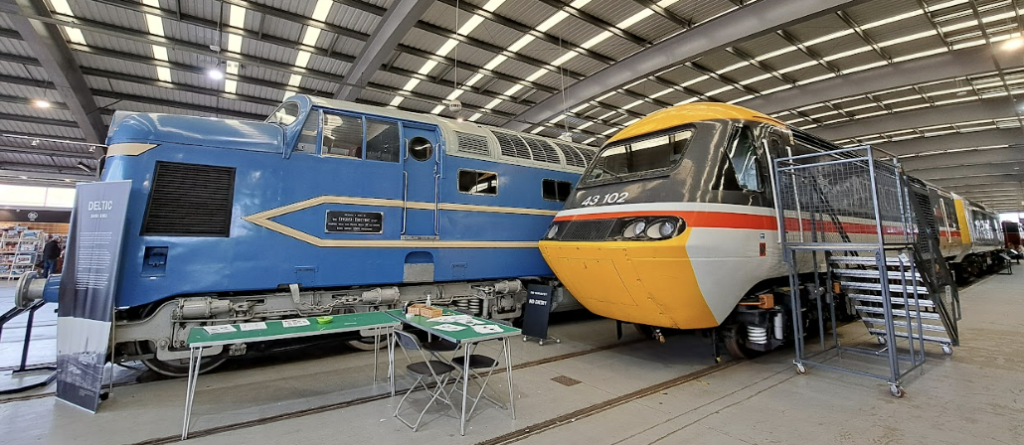 In fact, you have two fascinating railway museums within an hour of Newcastle by train. Whatever you're after, you're sure to find something within a stone's throw of the Geordie Capital. Take a look at our full guide to day trips from Newcastle.
Leeds
Day trips by train from Leeds couldn't be easier. You'll find a huge network of railway lines that criss-cross the region, and they all meet in Yorkshire's unofficial Capital. So, where do you begin? You could spend the day exploring one of the many canals that meander their way through the likes of Marsden and Saltaire. Or, you could make your way to Knaresborough's castle and admire the view down the river:

Hungry for more? We've got a run-down of some of the best day trips from Leeds by train.
London
Coming from the Capital? You're spoiled for choice with options for day trips by train. Whether you're looking to explore the seaside in sunny Seaford, or reach for the skies in Portsmouth's Spinnaker Tower, there's always something within reach.
Fancy looking at a medieval toilet? Lewes has you covered:

We've written all about our favourite day trips from London by train. We've even discussed the best fares for each one!
Kent
The Garden of England is full of attractions. Kent is full of beautiful beaches, for one, such as in the classic resort town of Margate:

Don't forget the historic city of Canterbury, either. Whether you're looking for a punt up the river, or an afternoon exploring the Cathedral, you won't be disappointed. You can find out more with our best day trips in Kent by train.
Edinburgh
Let's move north of the border, now. Did you know that there are lots of easy day trips by train that you can do from Edinburgh? For example, it's just half an hour to the beautiful sandy beaches of Aberdour:

Looking for something a little different? You can take yourself to the Old Town Jail in Stirling. The Highlands are within reach for a day trip, too. We've written all about it in our guide to day trips from Edinburgh by train.
Glasgow
Fancy adding a quick boat trip into the mix? You can head to the Isle of Arran on a day trip from Glasgow by train:

Alternatively, why not head to an historic Tudor Palace? It's waiting for you in Linlithgow. You can find out more on our page all about day trips from Glasgow on the train.
Is there anything else I should know?
The final thing that we'd recommend is that you book your train tickets with Railsmartr. We don't charge any booking fees, refund fees or change fees. Yes, that means that if your ticket is refundable, we'll refund the entire amount. Why pay more if you've changed your mind?