Four great destinations to visit in Kent by train
Looking to leave the car at home? We've gone out and about in Kent to take a look at what this great county has to offer. Whether you fancy a trip to the beach or want to dive into centuries of history, there's sure to be something for everyone. Here are four of our ideas… Continue reading Four great destinations to visit in Kent by train
Looking to leave the car at home? We've gone out and about in Kent to take a look at what this great county has to offer. Whether you fancy a trip to the beach or want to dive into centuries of history, there's sure to be something for everyone. Here are four of our ideas for places to visit in Kent by train.
Where can I go in Kent by train?
We've chosen four different destinations to give you some inspiration for your next trip to Kent by train. In each of them, we'll tell you what there is to see and how you can get there.
1. Margate
Let's start with a classic beach destination, also known as the Capital of Cool. After all, there's no denying that Margate has a huge stretch of beach for you to enjoy:

It's just a stone's throw from the station, too. You can just about see it when you make your way out of the exit! This makes it perfect for a day trip to Kent by train. You can't have Margate without Dreamland, either. It's basically your classic seaside theme park with plenty of rides (including rollercoasters) on offer. A visit to Dreamland is sure to bring back memories of a classic British trip to the seaside. It's free to enter, and you pay to ride on whatever you'd like. One ride starts at £3.
Looking to relive some more memories of days gone by? You could always enjoy a bite to eat in a vintage bus! Next stop, The Bus Cafe. Have your fare ready!

Fancy a trip to Margate when you next visit Kent by train? It's been 1h30m and 1h45m from London, depending on the route that you choose. A day return (valid after 09:30 weekdays, any time weekends and Bank Holidays) varies between £44.30 and £51.30.
2. Canterbury
Canterbury is steeped in history and it's a hit with tourists from all corners of the world. So, it's a natural stop on a day trip to Kent by train. You could take a punt along the river, soak up the beautiful surroundings of Westgate Gardens or climb up the imposing Westgate Towers: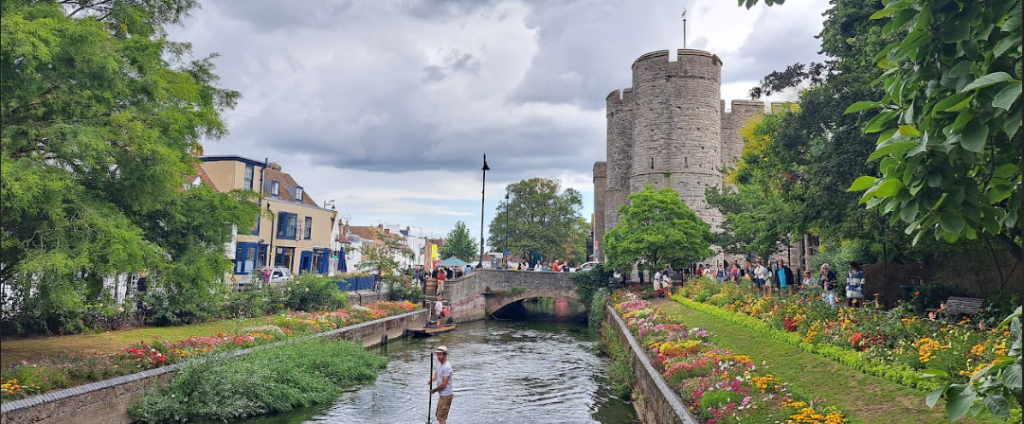 Of course, we can't forget Canterbury Cathedral. The Anglo-Saxon St Augstine's Abbey is worth a visit, too. Did you know that it was established all the way back in 597AD? Many parts of it still remain today:

Canterbury is filled with things to see and do. Looking for some more inspiration? Have a peruse of the Visit Canterbury website.
Fancy taking the train? It's £32.40 to £48.80 for a day return ticket from London, and you can be there in less than an hour. There are two different stations, though. Some trains go to Canterbury West, which is a five-minute stroll from the likes of Westgate Gardens. Canterbury East is served by trains from London Victoria, and it's slightly further away.
3. Dover
We'll be honest when we say that the weather had taken a turn for the worse by the time we reached Dover. That didn't stop us climbing up to the edge of the Western Heights, though. They're a vast collection of fortifications that date from the 18th Century, and they're a great place for a walk on a day trip to Kent by train. From here, you can see Dover Castle and the port where ferries depart for France:

On a clearer day, it's possible to see all the way across to France. Sadly, clouds and drizzle were the order of the day despite it being a warm afternoon in July.
What else is there to see? You can learn about the history of Dover in the Dover Museum and Bronze Age Boat Gallery. Of course, the White Cliffs are within walking distance, as well.
You can get to Dover in just over an hour from London. A day return costs between £39.30 and £56.60, depending on the route that you choose. Trains go to Dover Priory station, which is a 15-minute walk from the seafront.
4. Whitstable
Whitstable truly embraces the sea. It's a place where you can take a stroll along the beach, learn about the coasts and tides, and enjoy the food that comes from it. It has two fantastic beaches, which are perfect for a walk with the kids or the dog:

The harbour is a great place to wander. It's home to an RNLI Lifeboat Station, and you'll find lots of information boards dotted around telling you about the sea, its tides and how they affect Whitstable:

It's also home to the Harbour Market. On a Thursday to Monday, you can come here and fill your boots with all sorts of artisan arts, crafts and other homemade goods.
Fancy a bite to eat? You can pop into the Whitstable Oyster Company and enjoy a meal straight from the sea right before your very eyes. You can't get more local or fresh than that.
A day return from London costs between £28.70 and £44.40, and the fastest trains take around 1h20 to make the trip. From the station, it's around a 10-minute walk to all of the attractions.
What's it like travelling in Kent by train?
So, what are the trains like? There are basically two different types of trains that operate that will take you from London to Kent. The High-Speed trains run from London St Pancras and Stratford International, and they're usually a little bit quicker, though the fare is normally higher as well. All of these trains have six (or 12) carriages and can reach speeds of up to 140mph: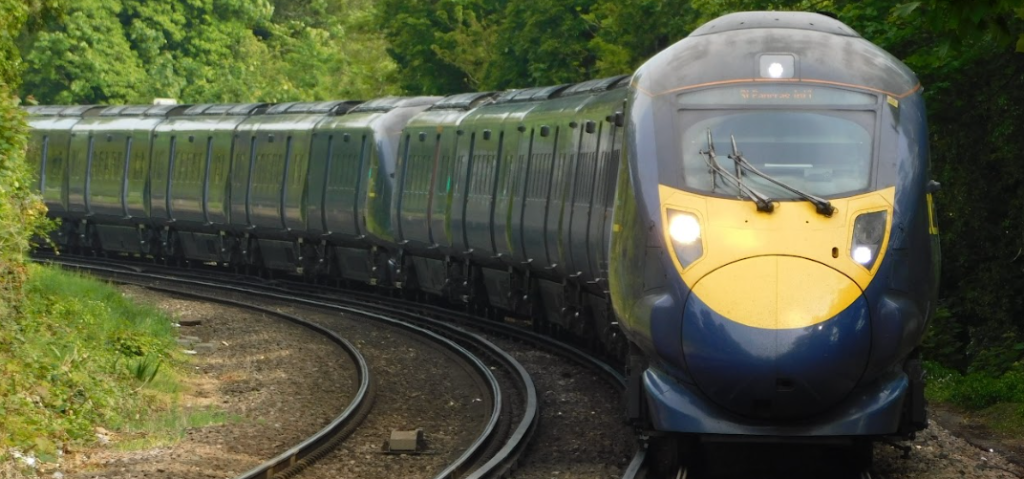 Every pair of seats has access to power sockets, and there are plenty of tables throughout the train.
Travelling from Victoria, London Bridge, Charing Cross or Waterloo East? You'll have a 'classic' train. These trains can run in formations of up to 12 carriages, though four or eight is usually quite typical during Off-Peak times: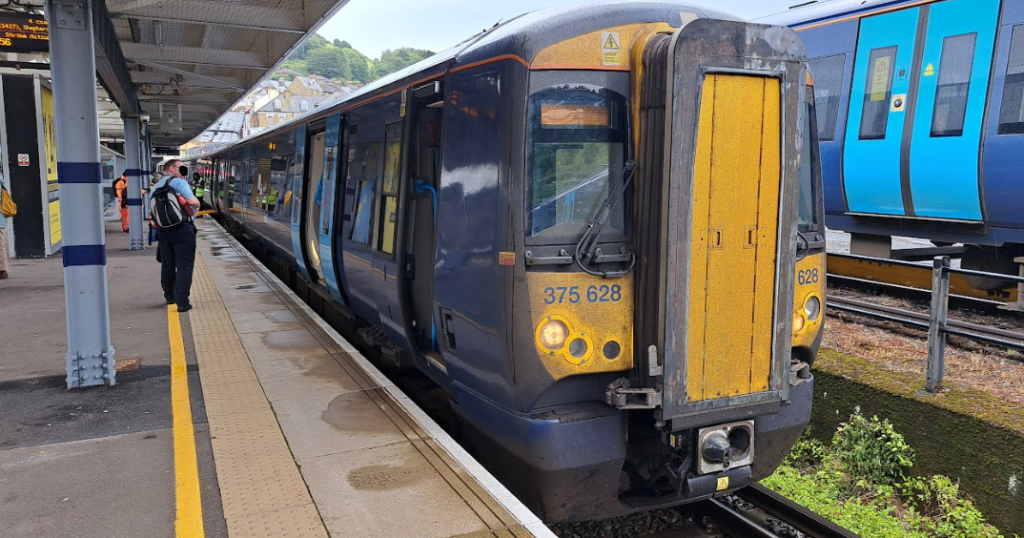 They're being refurbished at the moment, though all of them have a broadly similar interior. You'll find a mix of table seats and 'airline' seats, so they're ideal if you're travelling to Kent by train in a group or on your own:

The only difference with the refurbished trains is the presence of power sockets. On a refurbished train, each window seat has a three-pin socket and two USB ports. There isn't a way to guarantee getting one of these trains, but the refurbishment programme is making good progress. Three out of the six trains that we caught had been refurbished.
Is there anything else I should know?
The final thing we'd recommend is using the Railsmartr website to book your next trip to Kent by train. We're completely independent, so we're happy to 'tell you like it is' when it comes to rail fares. Not only that, but we'll show you the slower, but cheaper options that some websites won't.
Don't forget that we don't charge any fees, either. That includes if you change your mind and want to travel on a different day. If your ticket is refundable, we'll refund it fee-free, too!
All fares stated on this page are for ONE adult with no Railcard discount and were correct at 12:00 31/07/23. All information is issued in good faith. They're subject to change at any time and Railsmartr are not responsible for any loss or disappointment incurred as a result of the information provided.