5 great day trips in Kent by train
From the White Cliffs to Westgate Gardens, we've got you covered.
Looking to make some memories in Kent? Look no further. Here's our quick round-up of five fun day trips in Kent that you can do by train. Whether you're looking for beaches or former battlegrounds, we've got you covered.
What sort of day trips in Kent can I do?
Here are our five picks for day trips in Kent by train. No matter what you're after from a day trip, there's something for everyone. Just make sure to dress appropriately, as the British weather always likes to throw in a surprise.
Rochester
Let's begin in Rochester, which sits on the banks of the River Medway. How about paying a visit to Rochester Castle? It endured siege after siege in times gone by. These days, it enjoys a somewhat quieter life: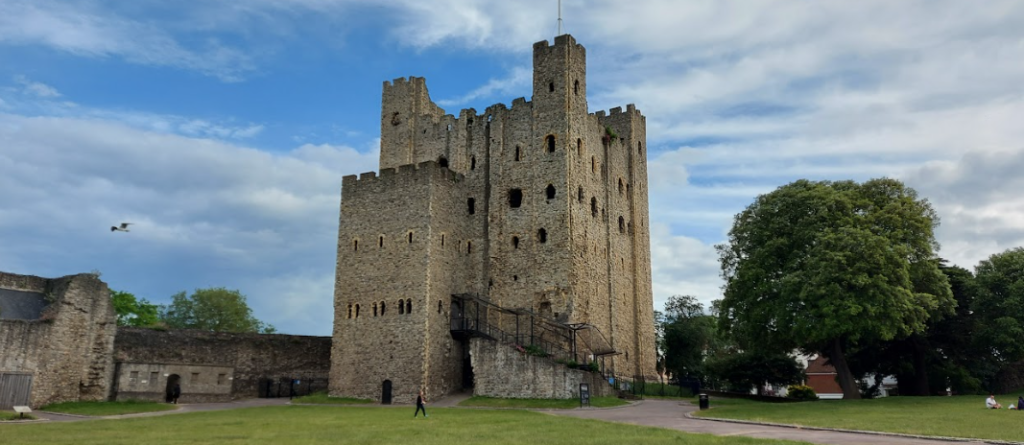 You could also take a look at the beautiful Restoration House. Did you know that it played the role of 'Sattis House' in Dickens' Great Expectations?
Canterbury
Day trips in Kent don't get any better than Canterbury. It's steeped in history, for one. Why not pay a visit to the iconic Canterbury Cathedral or climb up Westgate Towers?
Looking for something a little more peaceful? You could enjoy a picnic in Westgate Gardens or take a punt down the Great Stour.
Dover
Dover isn't just all about escaping to the continent. You could do as we did, and climb up to the edge of Western Heights. From these old fortifications, you can see the entire town:

You're also able to see Dover Castle. Of course, we can't forget the White Cliffs, either. They're within walking distance from the town itself.
Whitstable
Whitstable has a great stretch of beach. It's also home to an RNLI Lifeboat Station. So, when you pay a visit, you can learn more about the sea and its tides, and how they affect the town.

It's also home to the Harbour Market. On a Thursday to Monday, you can come here and fill your boots with all sorts of artisan arts, crafts and other homemade goods.
Margate
This is one of the best day trips in Kent if you fancy a visit to the beach. After all, it doesn't get much better than the golden sands of Margate:

How about some more classic seaside experiences? You can't have Margate without Dreamland, either. It's basically your classic seaside theme park with plenty of rides (including rollercoasters) on offer. It's free to get in, and you pay per ride.
Is there anything else I should know?
Looking to book some train tickets? No problem. You can do it all with Railsmartr. We don't charge any extra fees either, even if you just change your mind about your trip. Don't forget that there are plenty of advantages when it comes to leaving the car at home.