Getting to London Airports by train
Whether you're having a quick weekend away in Spain, or embarking on the adventure of a lifetime in Australia, you want to know that you can easily reach the airport. London has quite a few, too. Some airports just have one option, while there can be competition from different rail companies to get to others. It can be difficult to know where to begin. So, here's our definitive guide to getting to all of the London Airports by train.
Can I get to London Airports by train?
Yes, all of the London Airports are accessible by train! One of them isn't served by a 'mainline' train, though. Instead, you'll take a driverless Docklands Light Railway train.
Let's take a look through the list, so you know how to make your trip start without a hitch.
What are the London to Luton Airport train options?
There are two companies that run a London to Luton Airport train. First of all, you can take East Midlands Railway, which runs non-stop from London St Pancras. These trains are branded as the Luton Airport Express, and they run every half hour.
You can also take Thameslink. These trains make a few stops on the way, but you'll find up to six of them every hour. They also serve London Blackfriars, City Thameslink and Farringdon. All of the trains, no matter which company you pick, go to Luton Airport Parkway, which is a short distance from the Airport:

Once you reach Luton Airport Parkway, you'll need to take the DART. This is a driverless train which takes you direct to the terminal. When it comes to your London to Luton Airport train options, there isn't any difference in cost between them.
An Anytime Return (valid to return within a month) is £44 without any Railcards, reducing to £40.50 if you're travelling after 09:30. If you're travelling out on a Saturday and returning on a Sunday/Bank Holiday, then it's cheaper to buy a Super Off-Peak Single each way, as they're £17.30 each before any Railcard discounts, bringing the total to £34.60.
As for which train you should pick, you'll find that the Thameslink train has more luggage space and more space in general to move around. Don't forget that the First Class area at the back of every train is always available for passengers with a Standard Class ticket!
What is the London to Stansted Airport train like?
The next of the London Airports that you can get to by train is Stansted Airport. Stansted Express runs all of the London to Stansted Airport train services.
It takes just under 50 minutes to make the trip, and trains run every half hour. This increases to every 15 minutes during peak hours on a weekday.
In terms of cost, an Anytime Return between London Liverpool Street and Stansted Airport is £34.60. It's £21.90 if you're just making a one-way trip. The return ticket is valid to return within one month.
All of the trains on the route are Class 745 'FLIRT' units. They have 12 carriages:

You'll find plenty of luggage space on board, though there aren't any full-size tables. Looking to know more? We've written a dedicated guide to getting to Stansted Airport.
What are my options for getting from London to Gatwick Airport by train?
Going to Gatwick Airport by train? You've got three options from London. The 'headline' choice is Gatwick Express. It runs every half hour from London Victoria and takes roughly half an hour to reach the Airport. It's the most expensive choice, though. At £21.90 for a single and £43.70 for a return (valid for a month), you'll be forking out a lot for a short trip.
You can also take Southern, if you prefer. They run from London Victoria as well, but the cost is a little lower. It's £19.40 for a single, or £38.80 for a return valid for a month. If you're making a short day trip though, you can get an Off-Peak Day Return for £19.50. The journey time is about the same as Gatwick Express, too.

Your final option for getting from London to Gatwick Airport is Thameslink. They run up to eight trains an hour, which serve St Pancras, Farringdon, City Thameslink, Blackfriars and London Bridge. The fastest trains (the ones bound for Brighton) take around half an hour to get to the Airport from London Bridge. The cost is the big winner too, as it's only £24.50 for a return that's valid at any time, and lets you return within a month. It gets even cheaper on weekends.
Want to know more? Have a read of our guide to getting to Gatwick Airport by train.
Are there trains to Heathrow Airport?
Heathrow is the London Airport you'll be going to by train if you're off on a big adventure. You have two options for trains to Heathrow Airport.
The Heathrow Express runs non-stop from London Paddington every 15 minutes, and can take as little as 15 minutes. If you're buying on the day, it's £25 for a single journey on the Heathrow Express, or £37 for a return. However, you can buy a single ticket for as little as £5.50 if you book up to six months in advance.
They have lots of luggage space and you'll normally always have one waiting for you to board at each Paddington or Heathrow Terminal 5.
If you're after cheaper trains to Heathrow Airport, then you can take the Elizabeth Line. They come from Abbey Wood, Shenfield and Central London. Four trains per hour go to Terminal 4, while two per hour go to Terminal 5. It'll take just over half an hour to get to Paddington using this option.

It's £12.30 for a single, or £24.60 for a return valid to come back within a month (from Paddington). If you're coming from elsewhere in London, you might find that a London Zones 1-6 Travelcard is cheaper, as it's £15.20 per day.
We've written an article about the best train to Heathrow, so you can take a look at both trains in detail.
Can I get the train to Southend Airport?
When it comes to getting to London Airports by train, this is probably the one you're least likely to have heard of! Don't worry though, you can get there in just under an hour from London Liverpool Street. All of the trains to Southend Airport are operated by Greater Anglia.
They run roughly every 20 minutes, and a single fare is £20.10. A return is £40.20 if you need to leave London during the weekday morning and evening rush hour, or arrive back in London before 10am on weekdays. If you can avoid these times, a return is £30.90.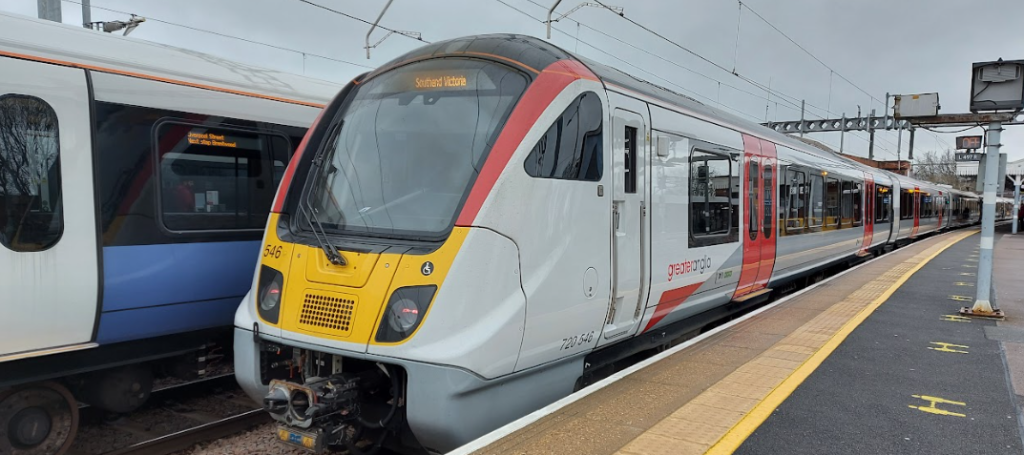 The trains on the route are fairly new, but just beware that the aisles are rather narrow. We'd recommend walking down the platform in London to find the ideal seat, rather than trying to squash your way through it.
Is there a London City Airport train?
Well yes, sort of! London City Airport isn't on the national rail network. It's on the DLR network, which is a driverless train that links parts of East London to Stratford, Bank and Tower Gateway.
You can change onto the DLR from mainline trains at Woolwich Arsenal, Lewisham, Greenwich, West Ham, Limehouse, Stratford and Stratford International. If you're coming from Fenchurch Street, then it's just a short walk from there to Tower Gateway.
Trains run every few minutes on this route. If you're heading to London City Airport by train, you'll need to buy a rail ticket that includes travel to London Underground Zone 3. Alternatively, you can use your contactless card. Just remember to tap in and out at the start and end of your journey. A single fare from Central London is £3.00 (or £3.70 in peak hours).
What else do I need to know?
Looking for more information about London? Take a look at our page about travelling around London. You'll find everything you need to know, including how to understand your ticket, and how to navigate the Elizabeth Line. Don't forget to take a look at our quick guide to crossing London, either.
Ready to take a trip to one of the London Airports by train? You can book it all with Railsmartr. We'll be sure to show you even the slower and cheaper options, so you can get the best value fare for your journey.
Changed your mind? Need to travel on a different day? No problem at all. You can change or refund your ticket (if it's refundable) without any extra fees.
All fares stated on this page are for ONE adult with no Railcard discount and were correct at 14:00 30/05/23. They're subject to change at any time and Railsmartr are not responsible for any loss or disappointment incurred as a result of the information provided.