Day Trips from London by Train – Our Top 5
Nothing beats a good train trip. Whether you're travelling alone, with family or friends, it makes for a great day out. Here at Railsmartr, we've explored the South of England to bring you our top 5 day trips from London by train. What are the options for day trips from London by train? London is… Continue reading Day Trips from London by Train – Our Top 5
Nothing beats a good train trip. Whether you're travelling alone, with family or friends, it makes for a great day out. Here at Railsmartr, we've explored the South of England to bring you our top 5 day trips from London by train.
What are the options for day trips from London by train?
London is one of the best-connected cities in Great Britain. It has a plethora of stations which will take you to the suburbs, distant cities and every kind of countryside you could imagine.
Bath
Bath has been welcoming visitors to its spas and baths for over two-thousand years. The Romans built baths in the valley of the River Avon in 60AD, and the valley became known as Aquae Sullis (the waters of Sullis).
Attracting over six million visitors per year, there's something in Bath for everyone, making it ideal for day trips from London.
How to get there
If you're coming from London, then you'll find trains from Paddington to Bath Spa around every 30 minutes (every hour on Sunday mornings) operated by Great Western Railway.
All trains are operated by Class 800 "Intercity Express Train" units, which have either five or nine coaches. You'll often find that the five-coach trains run together in pairs to form a ten-coach train:

You're able to reserve seats on these trains, and they have plenty of tables and power outlets for devices in each carriage. If you're not able to reserve a seat in advance though, head for Coach G.
Advance fares start at £23 one way (without a Railcard) or £69.20 for a return ticket on the day (if you're travelling on the 10:32 train or later on weekdays, anytime on weekends and Bank Holidays).
What to do
If you're looking to take in the best that Bath has to offer, why not make some of these part of your day trip from London:
A great start of course is the Roman Baths. Learn about the Roman history of the city and get up close and personal with the bath house, which was only uncovered in the 19th century
Take a stroll along the Pulteney Bridge. This unique river-crossing is filled with independent shops and cafes to explore: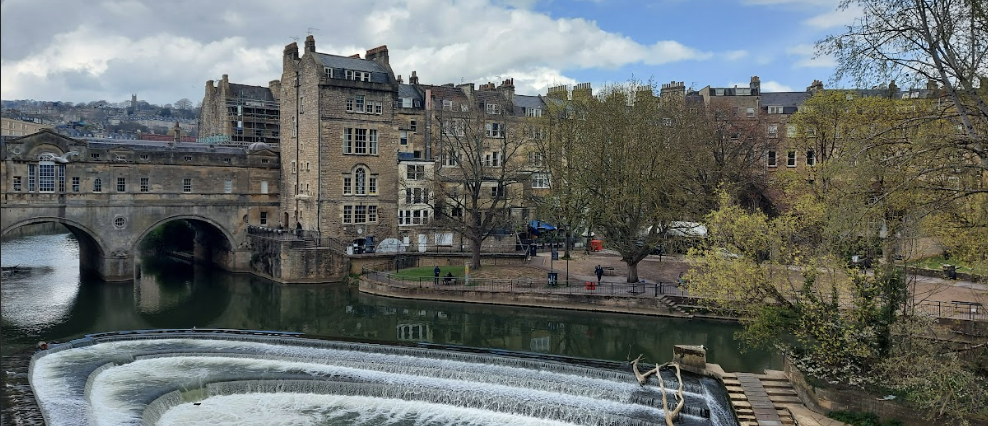 Learn about the famous writer Jane Austen with Bath's very own Jane Austen Centre
Get walking and exploring! Bath has many different parks to stroll in or enjoy a panic, like the Royal Victoria Park and Botanical Gardens. You can't miss the historic Royal Crescent, either:

Finally, if you're looking to do some shopping or grab a bite to eat, don't forget to visit Green Park Station. Once the terminus of the railway line from Bournemouth, the historic building now survives as an indoor market.
Cambridge
Cambridge is steeped in history, and it's famous for its world-renowned university. It's one of the most popular day trips from London as a result!
How to get there
You'll find two ways to get to Cambridge by train from London. The fastest way to take a Great Northern train from London King's Cross, which runs twice every hour. For most of the day, they're non-stop to Cambridge and take less than an hour to make the journey.
Most of the faster trains are operated by Class 387 'Electrostar' units:

They'll usually run in eight-coach formations and have plenty of tables and power outlets. Another two trains an hour run from St Pancras International too, but they call at a number of different stations on the way and come from Brighton.
The slower (but cheaper) option is to take a Greater Anglia service from London Liverpool Street. They take between 80 and 90 minutes and run twice every hour. All trains are Class 720 'Aventra' units which have only just been introduced to the route. They have five carriages and sometimes run as 10-carriage pairs:

These trains don't have tables but they have plenty of power outlets to charge devices.
In terms of price, you'll find that Greater Anglia is the cheapest option. A day return on a weekday (valid after 09:15) is £23.50, and goes down to £15.90 on weekends.
If you'd prefer to take the faster Great Northern trains, it's £30.30 for a day return on a weekday (after 09:30) and £20.70 on a weekend. Tickets at this price are valid on both companies.
What to do
A great place to start is Cambridge's museums. The Cambridge Museum of Technology is housed in an old pumping station and tells the story of Cambridge's role in Britain's industrial history past and present. You could also take a look at the Museum of Zoology. It'll take you on a trip from exploration to extinction and gorillas to gerbils. Not only that, but it's free!
Don't forget to have a look at the many colleges that form the University of Cambridge, too. There's plenty to explore: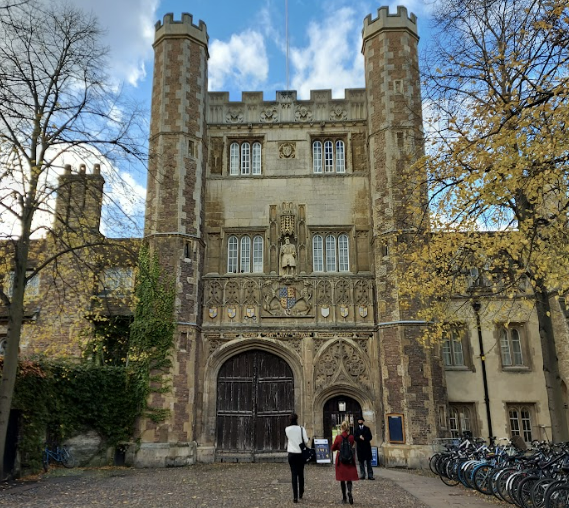 If you want to go punting then you have plenty of options. What is punting, you ask? A punt is a flat-bottomed boat that you can take along the River Cam. It'll take you along the 'college backs' (quite literally the backs of the colleges that form the University) and it's a relaxing way to see the city. If you don't take a punt, we'd still recommend exploring along the river.
One thing to bear in mind if you visit Cambridge is that the station isn't in the city centre. It's a 25-minute walk or you'll find regular bus services that take around five minutes. You might find it to be cheaper if you buy a PlusBus, which gives you unlimited travel all day. It's £3.80 for an adult (discounts for Railcards are available) and you can buy it at the ticket office when you arrive in Cambridge. Just show your rail ticket first!
Seaford
Having once been famous for the looting of shipwrecks, Seaford enjoys a more peaceful reputation in the modern day. The arrival of the railway made it one of the many popular seaside day trips from London, and it's one that visitors continue to enjoy today.
How to get there
In order to get to Seaford, you'll need to take a train from London Victoria to Lewes before changing to another one that'll take you to Seaford. This is the fastest option to get there. Don't worry though, it's a common connection and if there's a slight delay to the train from London, the Seaford one will usually wait. Trains on both lines run twice per hour.
It takes just under an hour and a half to make the journey, including the change at Lewes.
All of the trains will be Class 377 'Electrostar' units. They'll run in formations of up to 12 coaches from London, but the Seaford train will just be three or four carriages:

To guarantee a table seat, aim for the front or rear coach of each four-carriage unit (so coaches 1, 4, 5, 8, 9 and 12 in a 12-coach train). These carriages have a 2+2 seating layout with mostly full-size tables. The centre coaches are more of a 'commuter' style with 3+2 seating and smaller tables.
Most trains now have power sockets (with a mixture of USB and three-pin sockets) and they're gradually being fitted to the whole fleet.
In terms of cost, it's £34 for a day return (valid after 09:30) or £40 for one valid at any time. You can also buy cheaper 'Advance' tickets for specific trains which start at £6. They're usually available on quieter services outside of the main commuting times.
What to do
Seaford is all about embracing the great outdoors. It's one of the day trips from London where you can choose to either relax on the beach or go walking along the clifftops, or both!
Seaford Beach is extremely popular with joggers, dog walkers and anyone who just wants to take a stroll. You have a great view of Peacehaven Cliffs in the distance, too:

You'll find a number of kiosks along the seafront to enjoy a drink or an ice cream. Don't worry if the kids want the chance to build a sandcastle though, the beach itself is quite stony but there's at least one big sandpit along the promenade for them to get creative in!
Heading further along the promenade, you'll reach Seaford Head. This is the start of the path towards Eastbourne via the Seven Sisters cliffs. If you're really up to the whole thing, it's about seven hours (14 miles) to complete. If you don't want to leave the town though, there's still plenty to see:

Lewes
Home to a historic castle and Priory, Lewes has nearly a thousand years of history to share. It's a great place to explore and enjoy many of its popular independent cafes, bars and restaurants.
How to get there
You might have noticed that we've already discussed Lewes! Most of the information mentioned about the trains to Seaford is the same here. It's the same kind of train and you'll need to get them from Victoria. It takes just over an hour to make the journey on a direct train which runs twice per hour.
The only difference is the cost. It's £34.60 for a day return (valid after 09:30) or £39.50 for one valid at any time. Yes, this does mean that it's slightly cheaper to buy a return to Seaford if you're travelling on the day after 09:30!
Advance tickets for specific trains also start at £6 on this route.
What to do
The main attraction that you'll find is Lewes Castle. The castle was built in the 11th Century and the first sections were completed shortly after the Norman Conquest. As well as having a castle to explore, the site also contains the Barbican House Museum. It'll take you on an archaeological journey through the history of Sussex, with no stone left unturned!
When you're walking through Lewes itself, you can go straight through the Barbican Gate, which dates from the 14th Century: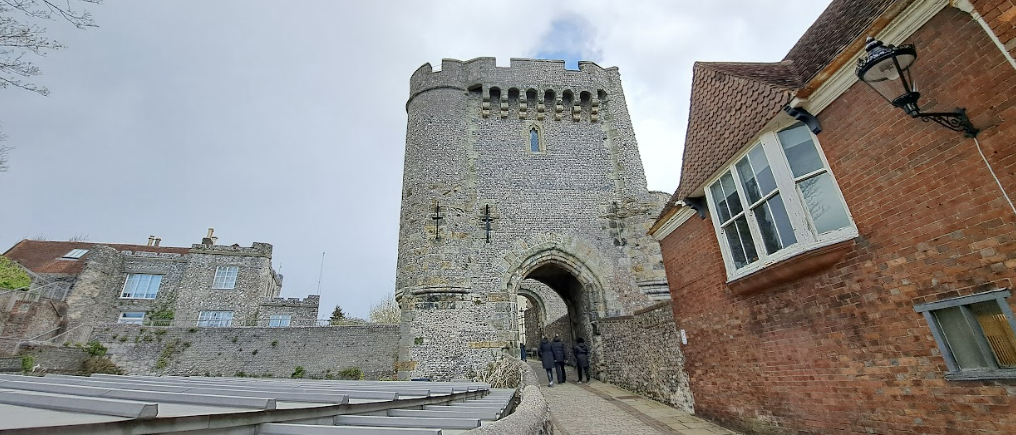 Fancy walking in the footsteps of Medieval monks? Then Lewes Priory is a must-visit. Set in the backdrop of the South Downs, the ruins tell the story of the priory which survived until 1537.
Don't worry though, the park contains a plethora of fascinating information which explains the activities that once took place on the site. Everything from growing vegetables from…going to the toilet!

As Lewes is just a short train ride from Seaford, we'd recommend combining the two together if you fancy an historical adventure mixed with the seaside. That's two day trips from London for the price of one!
Portsmouth
Once the most heavily-fortified city in the world, Portsmouth has a rich naval history. It's still a naval base today, but it's also a bustling shopping and leisure destination, as well as the gateway to the Isle of Wight.
How to get there
There are two main ways to get from London to Portsmouth. The fastest way is to take a South Western Railway service from London Waterloo. These trains take between 90 and 120 minutes to reach Portsmouth Harbour and they're usually operated by Desiro trains: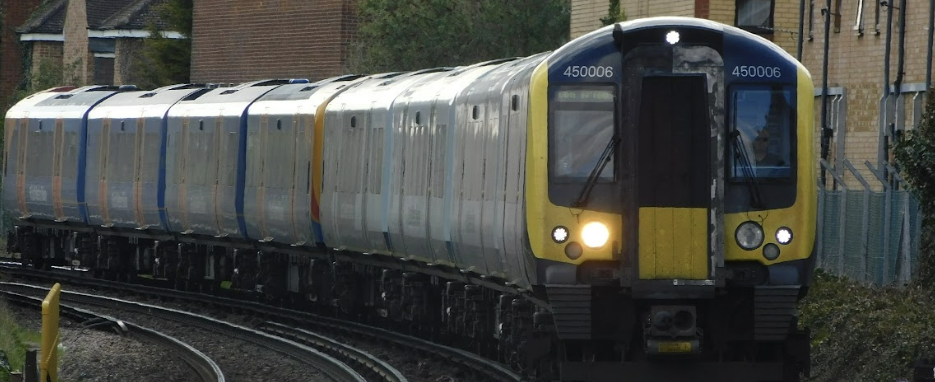 There are two different types. Class 444 trains have five carriages and have 2+2 seating throughout (with tables). Class 450 trains have four carriages with 3+2 seating and there aren't any tables in Standard Class. Both types of trains run on the route and both have power sockets available.
Alternatively you can take a Southern service from London Victoria. They run direct every hour to Portsmouth & Southsea (rather than Portsmouth Harbour), though it's also possible to take a train to Barnham and change there, too. It takes around two hours to make the journey with Southern.
They're all operated by Class 377 'Electrostar' trains like we discussed above in the section about Seaford.
The other difference is the cost. It's £48.20 for a day return on South Western Railway (with train-specific Advance single fares starting at £9.20). Meanwhile, if you take Southern, it's £36.40 for a day return (valid after 09:30).
What to do
The main attraction in Portsmouth is the Historic Dockyard. It's home to multiple iconic ships, like HMS Victory, and it's home to the National Museum of the Royal Navy. If you're even remotely interested in the history of the Navy and the part that Portsmouth had to play in the UK's defence, then this is one of the essential day trips from London.
Keep an eye out for HMS Warrior as soon as you leave the station at Portsmouth Harbour, too:

If history isn't your thing, then you can head for the modern side of Portsmouth. After all, who could miss the iconic Spinnaker Tower? Opened in 2005, it gives panoramic views of Portsmouth and beyond. You can actually see the tower itself from as far away as the Isle of Wight and the Purbeck Hills: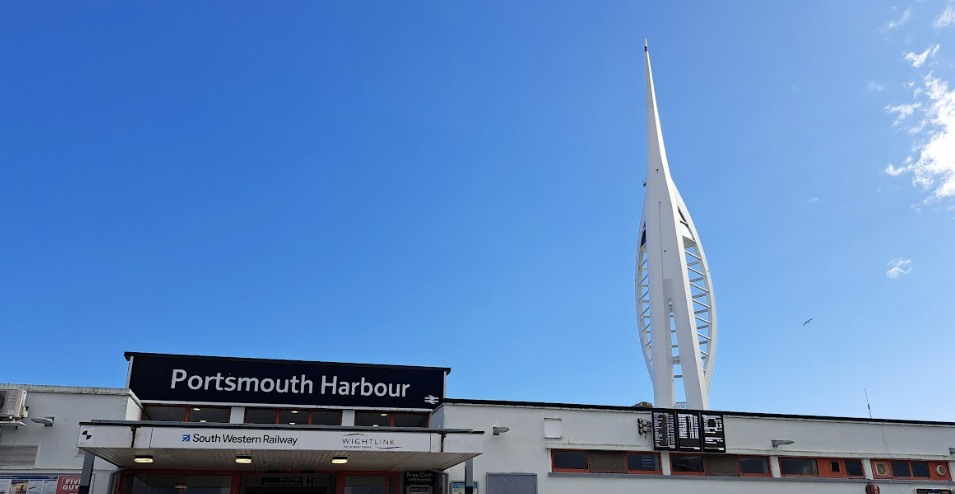 It forms part of the wider Gunwharf Quays development, which contains a plethora of shops, bars and restaurants. If you're looking to shop til you drop as part of your day trips from London, then this is the place to go.
What else should I know about planning day trips from London?
When it comes to day trips from London, there are some other things that you might like to know. If you're travelling by train and aren't sure what to look for, then we've written a guide on what to do if you're travelling by train for the first time.
Travelling with family? Don't worry. Check out our blog on family train trips.
What's the best way to book day trips from London by train?
Ready for some more inspiration? We've written lots more content all about day trips by train. Whether you're travelling from Newcastle, Leeds, Edinburgh, Glasgow or around Kent, we're sure to have something for you. Don't forget that there are plenty of advantages when it comes to leaving the car at home.
No matter which of these day trips from London you choose, you want to be able to book with confidence. Every ticket you buy on Railsmartr comes without fees, both when you buy them and if you change your mind.
Every ticket can be changed (all tickets) or refunded (flexible tickets only) without fees. Because why should you pay more when the unexpected happens?