York is a city steeped in history. Whether you're wanting to walk the walls, watch the trains or snake through the Shambles, there's something for everyone. In this guide, we'll tell you about what to see, how to get there and some handy tips about taking the train. No matter what you choose to visit, you'll be travelling smarter with Railsmartr.
Getting There
York is a true hub of the railways. You'll find lines coming from every direction, so most of the country is easily connected to this historic city. Here's how to get to it from some key destinations:
Newcastle has trains operated by CrossCountry, LNER and TransPennine Express. You'll usually find cheaper fares on TransPennine Express, but their reliability hasn't been the best in recent months. LNER is likely to be your best bet if you can find a good fare, as they have the longest trains and the most generous amount of luggage space
Coming from Leeds or Manchester? You have a choice of Northern or TransPennine Express. If you'd like to have seats reserved, you might prefer TPE. However, Northern have the cheapest fares and you'll often find some bargains right up to departure. If you're travelling from Manchester on Northern, you'll need to change trains. Leeds has the greatest choice, but Hebden Bridge is a same-platform change if the times line up right
London folk can choose from LNER or Grand Central. If you choose LNER, you'll certainly have more choice. You'll find up to three trains per hour on this route, ranging from stopping services to ones that go non-stop to and from the capital. If you're after a cheaper fare, especially last-minute, Grand Central are best. Just know that they only leave a small number of seats unreserved in Coach B, so book at least the day before if you can.
Seeing the Sights
If you want to get started with some of the essentials in York, then it's time to have a wander. The City Centre isn't far away from the station. In fact, just turning left out of the station and popping under the walls will put the historic city within view. Here are some of the main bits that you won't want to miss:
York Minster
If you mention York to someone, the first thing they'll probably think of is the Minster. Depending on which direction you approach from on the train, it might well be the first thing you see, too. Founded in 627 AD, the current building was completed in 1472. It's the largest cathedral of it's kind in Northern Europe and is truly a sight to behold.
If you'd like to pray, attend a service or light a candle, then there's no entrance charge. Otherwise, it's £16.00 entry or £22.00 if you'd like to climb up the tower, too. Your ticket is valid for a year, so you can visit as many times as you'd like.
Opening times can vary, though it's open every day. You can find out more on the Minster's website.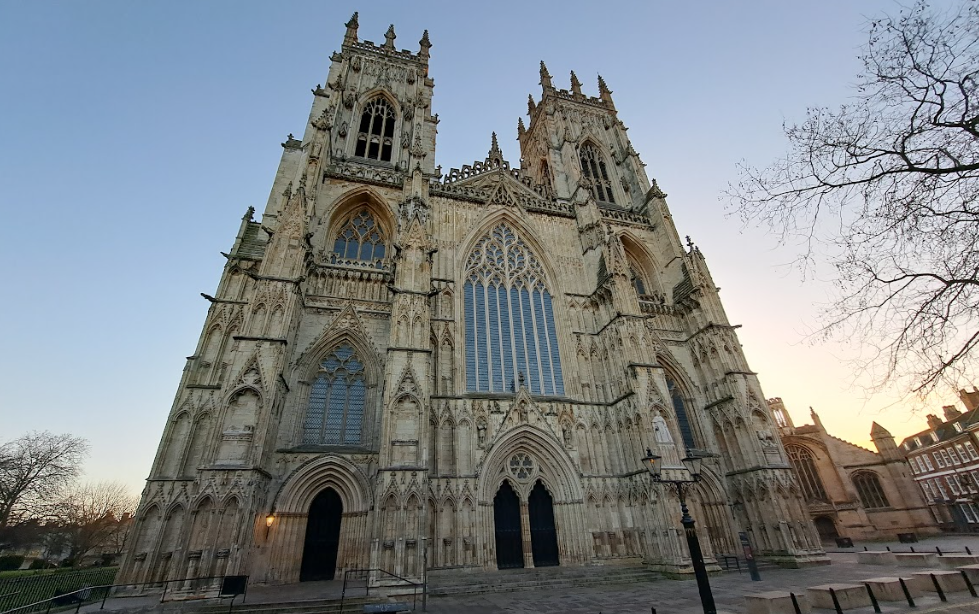 The Shambles
These adorable streets are filled with shops full of trinkets, sweets and drinks to sample. Far from being a shambles, it's one of the highlights of York and you could spend quite a while marvelling at every little store!
It's one of the best-preserved Medieval shopping streets in Europe, with some reminders of that era still lingering. The small shelves you'll see outside the shops (the ones you'll be told not to use as a seat!) date from when cuts of meat were served on them. Thankfully the street is more likely to be awash with the smells of sweet shops and coffee than the stench of raw meat, these days.
Just know that things can get a little bit cosy on weekends and during the school holidays. After all, the Shambles wasn't built with 21st Century crowds in mind! So, don't plan to rush through it.

The River Ouse
The Ouse is maybe the second thing you'll see when you enter York (other than the top of the Minster). You'll need to walk over it to reach the City Centre, and it gives a more serene place to walk and chill out compared to the bustling city streets.
Whether you want to watch the sunrise or sunset (like we did in the picture below) or take a boat trip, it can give something to everyone. Did you know that it's also the longest river in the UK to flow entirely within one county?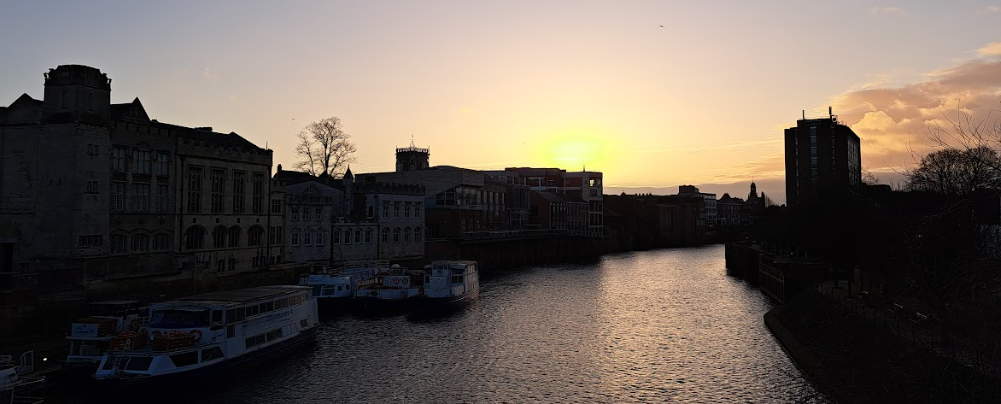 Walking the Walls
We can't ignore the historical walls of York. The current wall dates from the 13th to 14th century, but there's been a protective wall around the city since Roman times. They almost form a complete loop around the City Centre, with a number of historic gatehouses (known as 'Bars' – though you can't grab a beer in them!) at different points.
They're a great way to see the city from a height and a fantastic way to get your steps in, too. The nearest place to start your tour from the station is at Barker Tower, if you'd like to do an anti-clockwise tour. If you'd like to see a bit of the city first, then you can go clockwise from Bootham Bar, near the Art Gallery.
Find out more about the walls on the York City Council website.

York and the Railways
York is a true railway city. When the current station was opened in 1877, it was the largest in the world. It was also the home of train building from 1884 to 1996, with many trains operating on the network today having been built here. It's truly possible that you might arrive in York on a train built there!
Nowadays, the main rail centrepiece of York is the National Railway Museum. Opened in 1975, it's a place for rail enthusiasts, families and anyone even vaguely interested in trains. It houses a variety of relics (old and not-so-old!) from the National Collection, meaning that there's something for everyone to marvel at.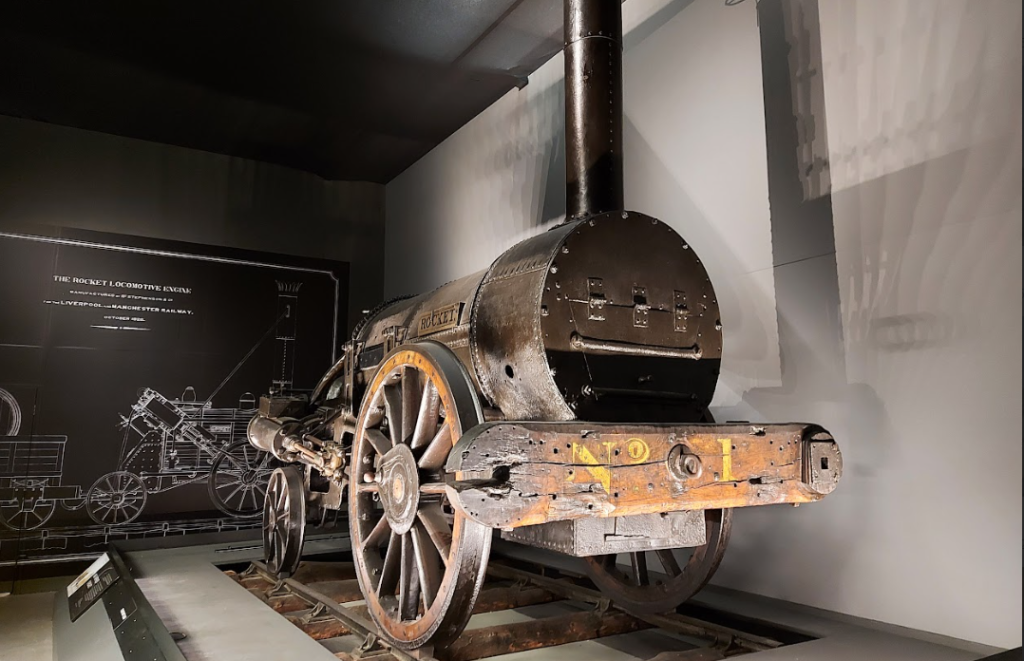 The museum is currently undergoing an exciting period of change. Their Vision 2025 plans will see a number of new exhibits and a reimagining of existing ones to make it a museum fit for the future. It's still possible to pop in and look at much of its collection while this work is going on, though.
Entry is free and the museum is open from Wednesday to Sunday. You'll need to book a free admission ticket on the museum site before visiting.
Popping to the Museums
For a city full of history, it's only fitting that there'd be plenty of museums to pop into! There are too many to list on one page, but here are a few highlights that you might like to visit:
Yorkshire Museum
If you're wanting to know about the history of York and beyond going back through the past two millennia, then you won't want to miss the Yorkshire Museum. It'll probably be the first museum you encounter after jumping off the train, being just a stone's throw from the River Ouse and Lendal Bridge.
At the time of writing, you can learn about York in the Roman era, as well as the mystery of the Ryedale Bust – an 1,800 year old bust of the emperor Marcus Aurelius discovered in May 2020. After all, who would bury such a fascinating object in rural North Yorkshire?
Don't forget to visit the Medieval York exhibition, too. It'll take you on a fascinating tale through time, exploring how York rose to become the second city of England.
The museum is open Tuesday to Sunday, and entry is £8 online or £8.75 on the day. You can find out more on the museum's site.
York Castle Museum
The York Castle Museum tells us more about the recent history of the city. It's home to Kirkgate, one of the oldest indoor recreations of a street in the world, and the oldest in Britain. It was opened in 1938 and named after the museum's founder, Dr John Lamplugh Kirk.
Perhaps you'd like to relive your childhood? If you're old enough, their Sixties exhibition might bring back some fond memories. To younger visitors, naturally such times might feel like centuries in the past!
Of course, we can't forget York Castle Prison. After all, the entire museum is housed in a former prison! You'll come face-to-face with some of its most infamous prisoners and learn about nearly one thousand years of justice being delivered at York Castle. Did you know that York Crown Court is on the site today, so the history continues to this day?
The museum is open every day of the week, with entry being £13 online or £14 on the day.
Clifford's Tower
Spin your head 180 degrees (and maybe the rest of your body with it) if you're facing the York Castle Museum and you can't miss Clifford's Tower. Even if you aren't visiting it inside, it's definitely worth popping over to take a look.
The Tower has certainly had quite the history. It was originally built to subdue the rebellious North by William the Conqueror (we've never been one to follow the rules, have we?) and has been a royal mint, medieval stronghold and Civil War garrison.
Clifford's Tower has seen it all, and you too can experience its history by paying a visit. You can 'see it all' as well by taking in the views of the city from the very top!
Tickets start at £8.10. More information is available on its website.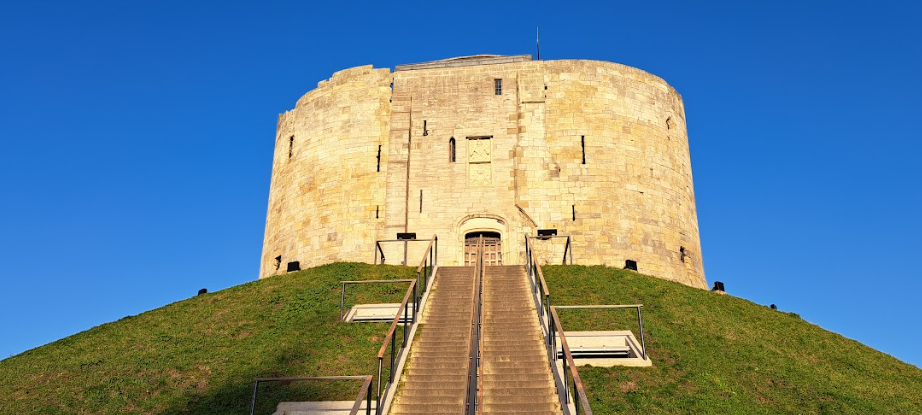 York Art Gallery
Taking in more than 600 years of art history, the York Art Gallery is a true melting pot of creations from all eras and backgrounds. Located next to Bootham Bar at the start of the York Walls, it's just a stone's throw from the Minster, too.
There's been some sort of art exhibition here since 1879, when the building hosted the second Yorkshire Fine Art and Industrial Exhibition. It became the city's art gallery in 1892.
The best part is that it's free to go in! It's open Wednesday to Saturday, and it's advised to book a free ticket here to guarantee entry.

Of course, this isn't an exhaustive list! If none of these take your fancy, take a look at the Visit York website for more inspiration.
Taking a Breather
After all that exploring, you'll probably want somewhere to stop and take it all in. Maybe you'll have a picnic or maybe you'll just want to give your poor legs a rest. Either way, York has some sweet green spots to chill in.
York Museum Gardens
Whether or not you've visited the Yorkshire Museum, everyone's free to explore the York Museum Gardens. They're right next to the Ouse, and a great place to kick back and relax.

It isn't just a haven for wildlife (having been a Gold award winner of Yorkshire in Bloom for three years in a row), but a treasure trove of historical buildings. You'll find the ruins of St Mary's Abbey, which date from between 1271 and 1294: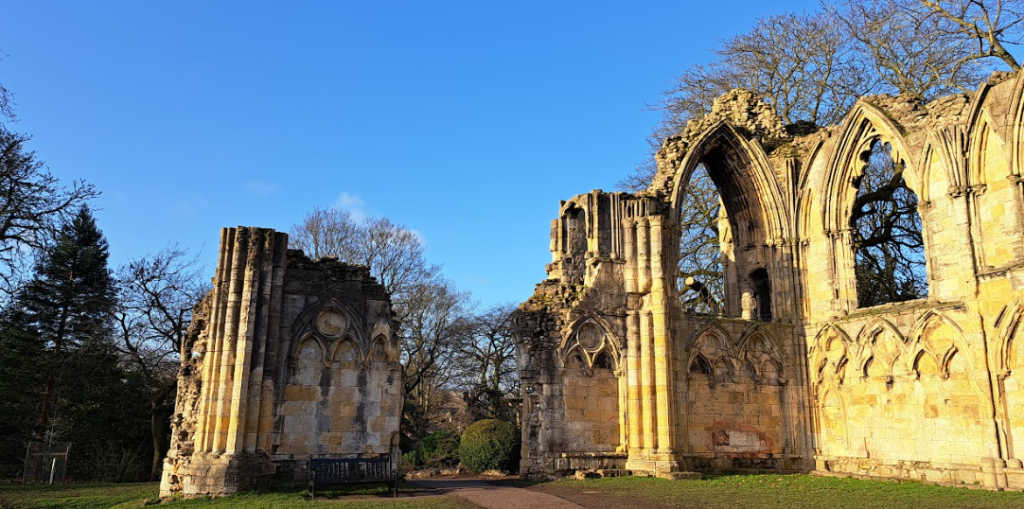 The gardens are open all year round and it's free to wander around. You can find more information on the Yorkshire Museums Trust website.
Rowntree Park
If you're a fan of Fruit Pastilles, then the name will sound rather familiar! The park was gifted to the city of York in 1921 by the Rowntree Company and serves as a memorial for staff who were lost during World War I. Today, the Rowntree factory in York continues to be one of the largest confectionary factories in the world.
The park is just to the south of the City Centre, making it a peaceful getaway from the busy streets. It's also home to tennis courts, a skate park, basketball court and a reading café among other amenities. As you can see below, it's home to plenty of geese, as well!
Don't be too intimidated by the geese, they're part of the York experience. It isn't unusual to see them crossing the road in the City Centre when they want to get somewhere!

When you're Peckish
York is home to a plethora of restaurants and cafes, so it's impossible to list them all. Whatever you're after, you're sure to find something to suit your tastes.
When we visited, we were feeling hungry earlier in the morning so went in search of somewhere for brunch. Our place of choice was 'rise.' which is located on Fossgate, not far from the Shambles. It's got a nice chilled atmosphere and ordering is nice and easy at the counter. Our Eggs Benedict was £8.50 and is probably the prettiest take on the dish that we've seen. Of course, it was delicious, too: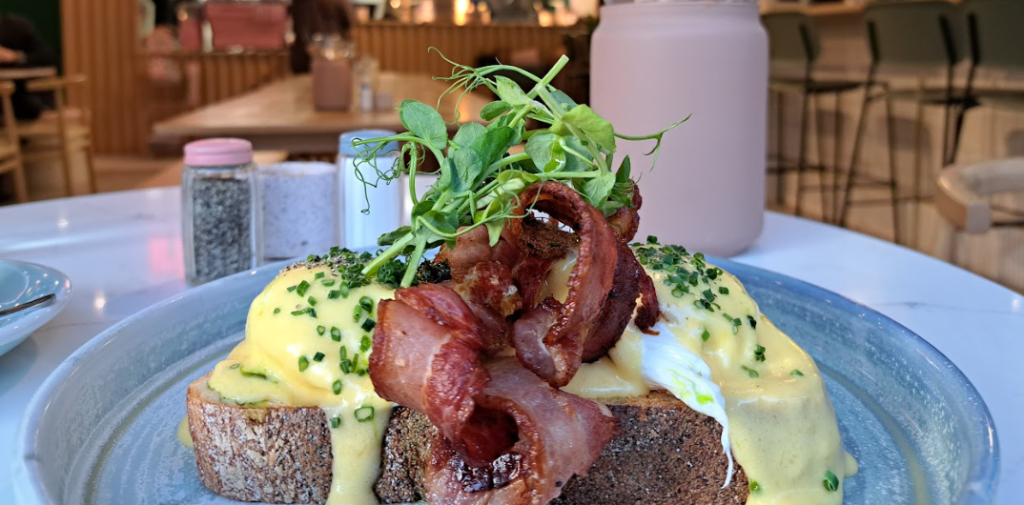 Drinks range from £2.50 to £4.00 and you're offered a stamp card to earn yourself a free drink if you plan on making yourself a regular.
If you're returning and fancy a drink (or pork pie) in the station, you can always visit the York Tap. Find out more in our guide to our favourite station pubs!
Heading Further Afield
If you want to explore a little beyond York, then there are a variety of options to try:
Whitby and Pickering are reachable on the Coastliner 840 bus. It leaves from just outside the station, too
Want to shop til you drop? You can take bus 7 to Designer Outlet from the station, as well
If you want to explore further by train, there's regular trains to Knaresborough and Harrogate. If you've booked an Off-Peak or Anytime ticket from Leeds, then your ticket is valid to stop off here on the outward or return trip.
However you choose to experience York, you can travel smarter with Railsmartr. Book tickets with us and you won't pay any fees if you need to change your plans.