10 advantages of travelling by train
We've got plenty of reasons for you to take to the rails on your next trip.
Taking the train can be a great way to watch the world go by. Whether you're looking to go on a business trip, holiday with family or just want to see somewhere new, here are our top 10 advantages of travelling by train.
What are the advantages of travelling by train?
There are many reasons why it's a great idea to take to the rails. Whether you want to save money, save yourself the stress of driving or help the planet, there's always a good excuse to have a trip. Let's take a look at some of the advantages of travelling by train:
1. You can sit back and relax
One of the main advantages of travelling by train is that someone else is doing the difficult bit, which is driving! You don't have to worry about pulling over for a break or what happens if nature calls.
All you have to do is take a seat, sit back and watch the scenery roll by.
2. Sometimes the scenery is just better!
Sometimes the railway can get to places that roads can't reach. Modern motorways are usually built to be efficient and to avoid any natural obstacles, while railways have been around much longer. They usually work with the landscape around them and manage to get through places where a road would struggle. For example, the main A1 road from Edinburgh to Newcastle goes through the centre of Northumberland, while the railway gives you breathtaking sea views: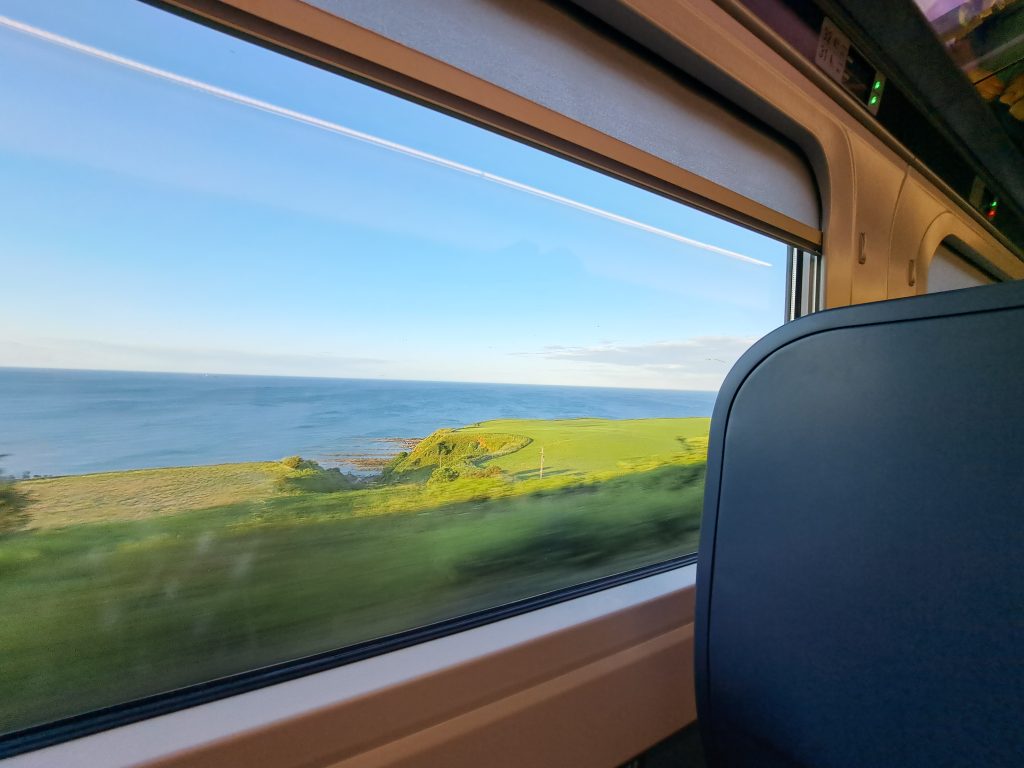 Sure, the fastest train is fairly expensive, but it's just £8.20 to take a slightly slower one. Plus, 1hr 17min is still fairly competitive with the time it'd take to drive – without the need to find and pay for a parking space.
3. It can be better value for money
We know that the railway can be expensive. Not every journey at every time is going to be cheap, and we won't pretend that it is. That said, it isn't as difficult as you'd think to find a bargain. Do you want to go from Leeds to Manchester tomorrow morning? Sure, let's take a look at the prices:
Sure, the fastest train is fairly expensive, but it's just £8.20 to take a slightly slower one. Plus, 1hr 17min is still fairly competitive with the time it'd take to drive – without the need to find and pay for a parking space.
Many people are eligible for a Railcard too. This gives you a third off most rail fares. We've also compiled a list of discounts you can use if you're not able to use one.
4. You can have a bite to eat on the move
Another of the advantages of travelling by train is the fact that you can grab a bite to eat whenever you like. You could take a packed lunch, buy something at the station or even get something on the move.
If you're travelling with LNER for example, you can use their 'Let's Eat at Your Seat' service to order food. Just scan a QR code on the back of your seat, type in where you're seated and someone will bring it to you.
Travelling in First Class? Some companies will wine and dine you at no extra cost. Take a look at our guide to the best First Class trains to see what to expect.
5. It's easy to stay connected
No matter whether you're in a car, on a plane or on a coach, it isn't exactly easy to be productive. On a plane, you need to turn on flight mode (unless you're willing to pay for expensive WiFi – if it's available at all) and coaches aren't exactly spacious.
Just about every train offers some sort of free WiFi, and data signal on the railway is always improving. One of the main advantages of travelling by train is the space, too. You can easily pop your laptop on the table and get some work done (or browse!)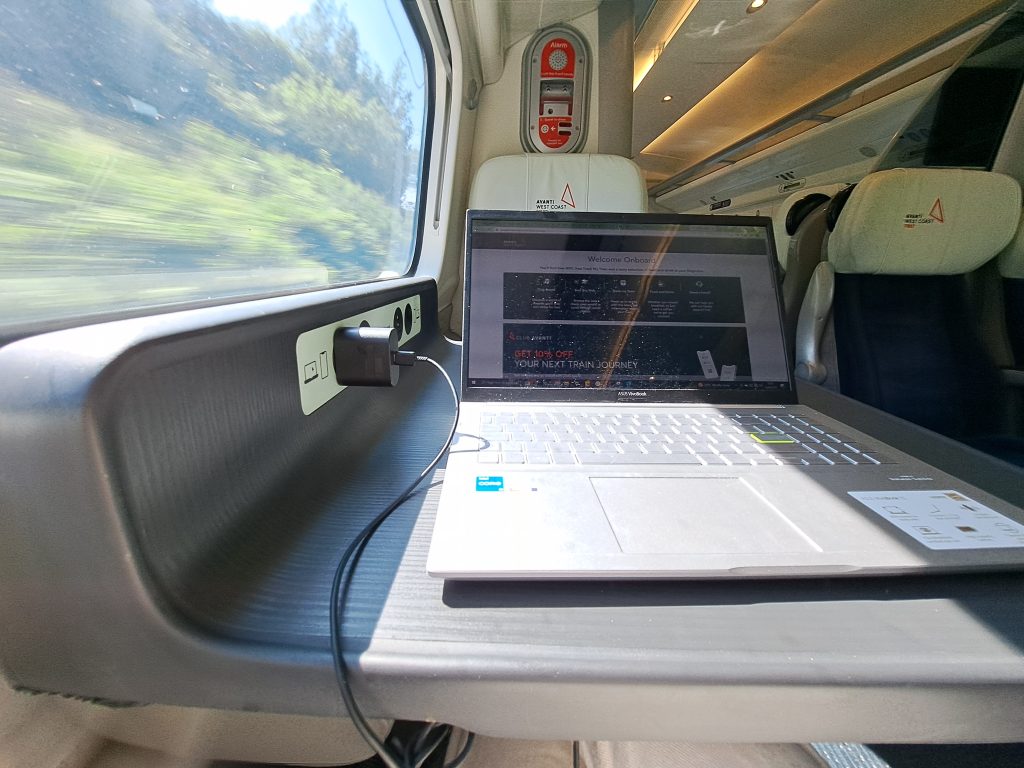 6. Trains are better for the planet
It's true! It's much better for the planet compared to driving, and even better if you take a train instead of a short-haul flight.
In fact, it's between 66 and 75% more efficient to take the train. You can find out more about the environmental impact here.
7. In most cases, it's faster!
As the old British Rail-era advert used to say, who's ever heard of a train jam? Trains don't get stuck in rush-hour traffic, and they're able to hit speeds of up to 125mph (140 if you're travelling between London and Ashford). Speed is another of the main advantages of travelling by train.
Let's take a look at some journeys and see how they match up to the car:
Newcastle to Leeds takes around 1h30m by train but can take up to 2h30m in the car
Going from Manchester to Edinburgh? That's 3h15m on the train, and up to 5hrs in the car
Bristol to Birmingham is about 1h20m on the train, but the car can take up to 2h20m
It can be even slower in rush hour. Let's not even think about trying to drive into Central London, either!
Times were taken on 28 Jun 2023 from Google Maps, assuming a departure time of 11am and taking the fastest available route.
8. You can get up and stretch your legs
If you're on a train, it's easy to get up and nip for a leg stretch. You can walk to the buffet car, nip to the loo or go and make a phone call. Coaches are a bit of a squeeze, and the seatbelt sign can come on at any time if you're flying.
9. You can be flexible
It's possible to buy flexible train tickets that don't tie you to a specific train. Sure, these can be expensive if you want to buy one in the 'prime' commuting hours, but they can still be great value during Off-Peak times and at weekends.
Most of them allow you to break your journey, so you can hop on and off as you please for as long as your ticket is valid, so long as you keep travelling in the same direction. Popping in to see some friends on the way home, or just in need of some fresh air? No problem.
10. You're covered if things go wrong
If your train is delayed, then you're covered by Delay Repay. Usually, it kicks in after 30 minutes, but some companies will compensate you for as little as a 15-minute delay. These days, it's as simple as sending in a picture of your ticket and filling in a quick online form.
Did you miss a connection? No problem, just jump on the next train. If your ticket was for a specific train or company, you should aim for that company, but sometimes there'll be ticket acceptance to get you home quicker. If you have a separate ticket for each train, you're still covered, so long as you leave enough time between them (usually five minutes, but up to 15 at the biggest stations).
No matter what, the National Rail Conditions of Travel say that companies must do everything they can to make sure you're not left stranded.
Is there anything else I should know?
Ready for some inspiration? Find more about day trips by train all over the country in our expert tips. Whether you're travelling from Newcastle, Leeds, Edinburgh or around Kent, we're sure to have something for you.
Thinking of taking a trip soon? You can book it all with Railsmartr. We'll be sure to show you the slower and cheaper options, so you can get the best value fare for your journey.
Change your mind? Need to travel on a different day? No problem at all. You can change or refund your ticket (if it's refundable) without any extra fees.
All fares stated on this page are for ONE adult with no Railcard discount and were correct at 17:00 28/06/23. They're subject to change at any time and Railsmartr are not responsible for any loss or disappointment incurred as a result of the information provided.