It's a term that you might have seen when you've read about different types of train ticket. But what exactly is a flexible train ticket and what does 'flexible' mean? Let's take a look.
What is a flexible train ticket?
In a nutshell, they're tickets that can be used on more than one train. Tickets that are called 'Anytime', 'Off-Peak' or 'Super Off-Peak' are flexible.
They're usually refundable, too. This means that a flexible train ticket is best if you might need to change your plans, or if you'd like the freedom to choose a train that's most convenient for you.
The opposite of a flexible train ticket is an 'Advance' ticket. Advance tickets are for a specific train and you normally can't refund them. While it's possible to buy a flexible ticket in advance, this isn't the same as the type of ticket called 'Advance'.
When is a flexible train ticket valid?
If you've bought an 'Anytime' ticket, this is fairly straightforward. It's valid at any time! An Anytime Day Return is valid to make a trip on the same day. An Anytime Return is a bit different, as the outward part is valid for five days and the return part is valid for a month. If you've bought an Anytime Single, it's valid for two days.
Super Off-Peak and Off-Peak tickets are a bit more complicated, as they all have their own 'restriction code'. You'll find this code on the bottom of every ticket:

This example is from a Super Off-Peak Return from Newcastle to London and the restriction code is 1L. If you follow the link on the ticket, it'll tell you when it can be used. We've written a more detailed explainer with our guide to Off-Peak train times.
Why do I still have to pick when I want to travel?
Good spot. When you book on the Railsmartr website, you'll need to tell us when you'd like to travel. This is so that we can make sure that we're selling you the best ticket for your journey.
We'll make it clear which kinds of ticket you're able to buy:

If the ticket says 'no refunds', then it's not a flexible train ticket.
We'll also ask you to pick a train so that we can offer you a seat reservation if they're available.
Do I have to use the reservation on flexible train tickets?
During the COVID-19 pandemic, many train companies introduced a policy of 'mandatory' seat reservations. This forced ticket-selling websites to give you a seat reservation when you picked their train.
Once all of the seats had been taken, the train showed as 'sold out'. Some companies are still following this policy, so you might end up with a seat reservation when you don't particularly need or want one!
Don't worry, the seat reservations will show on your ticket as 'optional':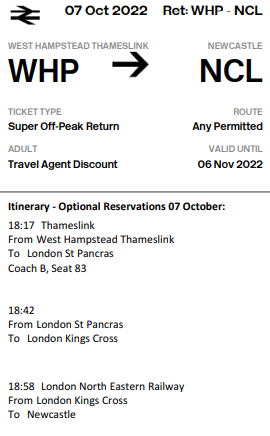 Even though your ticket has a set of train times on it, you're free to use it on any train that your ticket is valid on. You don't lose any flexibility.
If a train shows as 'sold out', don't worry. Very few trains in Great Britain can actually sell out. Wondering what to do if you see this message? We've written an explainer here.
Ready to book your next flexible train ticket? When you do it with Railsmartr, we won't charge you any fees. You can even refund them free of charge.