Off-Peak train times are generally accepted as those outside of the traditional morning or evening rush hour. But how do you know when your ticket is valid? Put simply: When is Off-Peak?
When are the Off-Peak train times?
On short hops and local journeys, Off-Peak train times usually start at 08:45, 09:00, 09:15 or 09:30 on weekdays. On longer distance trips, especially on trains to London, restrictions can be more complicated. They can be based on when you arrive at your destination, rather than when you leave.
For journeys in certain areas, such as Greater Manchester and West Yorkshire, some Off-Peak tickets aren't valid in the evening peak, either. This is normally between 16:01 and 18:29.
Do Off-Peak train times vary by company?
Yes, they do. For example, on Avanti West Coast and LNER, all peak times have been abolished on Fridays. This means that you can use an Off-Peak (or Super Off-Peak) ticket on their trains at any time on a Friday.
If you're travelling on CrossCountry, Off-Peak usually starts at 09:30 on a weekday. Many companies also restrict Off-Peak train tickets during the evening rush hour.
When are Super-Off Peak train times?
Super Off-Peak tickets are tickets that usually have more restrictive conditions attached. For example, a lot of tickets have restrictions meaning that you need to avoid both the morning and evening rush hours.
How strict these restrictions are can depend on the specific ticket. If you're travelling on West Midlands Trains to London, the restrictions on some tickets also apply on a Saturday.
Some companies also have 'weekend' Super Off-Peak tickets. These are pretty simple to understand, as they're valid all day on Weekends and Bank Holidays only.
Are Bank Holidays Off-Peak?
Yes. The railway treats a Bank Holiday like a weekend (or more specifically, a Sunday) when it comes to train tickets. This means that you can use Off-Peak and Super Off-Peak tickets all day on Bank Holidays.
Don't forget that the timetable will likely be different to a normal weekday too, so check ahead before you make your way to the station.
When are the Off-Peak train times on my route?
While we can't list when every single ticket is valid, there's an easy way for you to check. Every ticket comes with a 'restriction code' which tells us about any time and date restrictions that might apply. Let's take a look at where to find this code on an eTicket: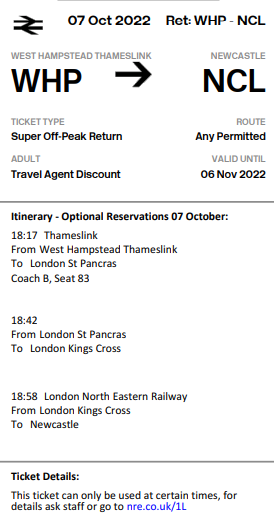 Below all of your journey details, you'll see a heading called 'Ticket Details'. This will tell you the restriction code that applies to your ticket. In this case, the restriction code is '1L'. By following the link on the ticket, we'll reach this page: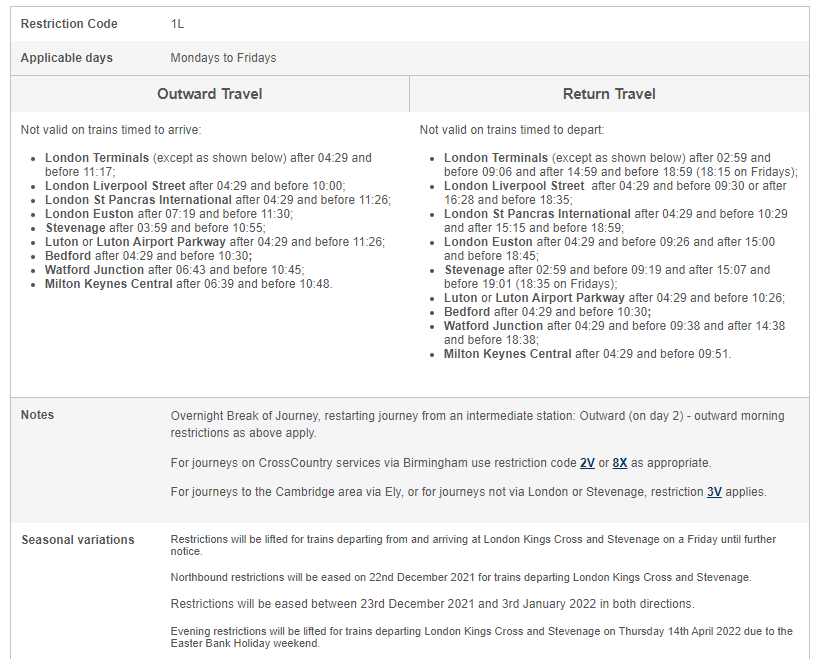 That's a lot of information at once! Here's what this page can tell us:
Which trains we're not allowed to use on our outward and return journeys
That if we break our journey overnight on the outward journey, the same morning restrictions will apply (so we can't set off again first thing in the morning on a Monday to Thursday!)
Other restriction codes that apply if you're taking a particular operator
That the restrictions don't apply at all on a Friday if we're going to or from London Kings Cross or Stevenage
That restrictions will be lifted on certain dates, such as over Christmas.
So, how can we apply this to our ticket?
We're travelling through London Kings Cross, so on Monday to Thursday afternoons, we can't leave there between 15:00 and 18:59
We're booked on the 18:58 train, so this wouldn't be valid on a Monday to Thursday. However, we're travelling on a Friday, so we're all good!
Looking to check when your ticket is valid? Simply click here and select 'Restriction Code' before typing yours in.
Are Off-Peak train tickets refundable?
Yes! When you book with Railsmartr, all Off-Peak train tickets are refundable. Your journey doesn't have to be disrupted, you can simply change your mind.
Many companies charge an admin fee if you try to refund them, which can sometimes wipe out most of the value of the ticket. That's why we'd always recommend booking with us.
I'm still not sure if my ticket is valid!
We know that Off-Peak train times can be challenging to navigate. When you book with Railsmartr, we'll only offer you tickets that are valid on the itinerary that you're following. If we offer you an Off-Peak or Super Off-Peak ticket for your chosen trains, then it will be valid for your trip.
Best of all, we don't charge any fees. Need to change your trip? No problem. You'll only ever pay the difference in price, if there is one.
Alternatively, please feel free to contact us if you have any questions about buying your ticket.