What's the best train to Gatwick Airport?
If you're travelling from London to Gatwick Airport, you have three options. But what's the best train to Gatwick Airport? Of course, it has its very own Gatwick Express from London Victoria – sounds fancy, right? You can take a Southern train, as well. They run on the same route but make a couple more stops. Finally, there's Thameslink. They'll take you to Gatwick from St Pancras, Farringdon, City Thameslink, Blackfriars and London Bridge.
But which is most worth it for the money, and which train tickets to Gatwick Airport are most budget-friendly? There was only one way to find out. I was going to take a nice afternoon trip to Gatwick Airport, but sadly not for a flight somewhere exotic. I'd try out each company, and provide the very scientific results to you!
How do we work out the best train to Gatwick Airport?
As it's only a short journey from London to Gatwick Airport, we're most concerned about speed, cost and the ability to store luggage. After all, an airport train isn't much use if you end up with suitcases scattered around left, right and centre!
Considering that a lot of tourists might use the train as well, it's always good for there to be a decent WiFi connection, as well as somewhere to charge a phone. Of course, we care about price, too. We want to know about the best value train tickets to Gatwick Airport.
Spoilers though, don't be expecting any fancy catering options or extra luxuries. No matter which train you choose, they're all different versions of trains designed for commuters.
Thameslink
I started out first with Thameslink, and chose London Bridge as the starting point. You can pick any of the London stations that Thameslink serve though, and all of the same trains will take you to Gatwick Airport. You'll find eight trains per hour on the route, which have a couple of different stopping patterns between London Bridge and Gatwick Airport:
Four per hour to Brighton (calling at East Croydon)
Two per hour to Horsham (calling at East Croydon, Coulsdon South, Merstham, Redhill, Horley)
Two per hour to Three Bridges (calling at Norwood Jn, East Croydon, South Croydon, Purley, Redhill, Earlswood, Salfords, Horley)
You're best aiming for a Brighton one, as most of the Three Bridges and Horsham trains will get overtaken. You might find them to be a little quieter though, if you really want a seat and time isn't of the essence.
I was taking a Brighton train today, which was scheduled to take 29 minutes between London Bridge and Gatwick Airport.
The cost
Before any discounts, it'll cost you £24.50 for an Anytime Return on Thameslink. This allows you to return at any time within a month, so it's ideal if you're catching a flight. An Off-Peak Day Return is £14.60 and if you're travelling at the weekend, a Super-Off-Peak Day Return is just £11.40.
Just travelling one way? It's £13.20 for a single on weekdays and £11.30 on weekends. Based on cost alone, you'll likely find Thameslink to be the best option. They have the cheapest train tickets to Gatwick Airport.
The train itself
All Thameslink services are formed of Siemens 'Desiro City' trains formed of either eight or 12 coaches. They were essentially designed as 'people-eaters' – that is, to get people on and off the train as quickly as possible! They aren't renowned for their creature comforts, but they do the job of transporting people very well.
I was taking a 12-coach train today, which is the more likely one that you'll get on Brighton trains.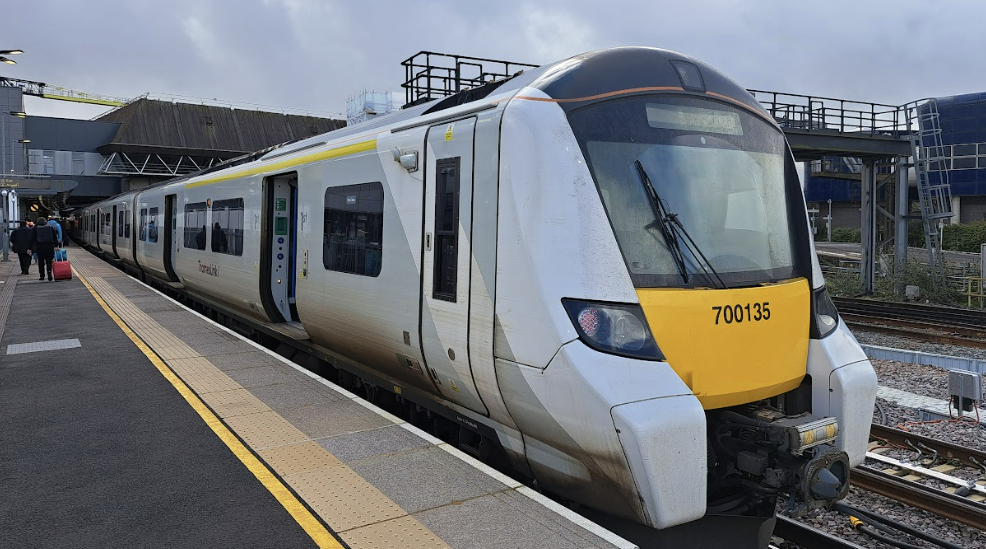 Storing your luggage
You'll find a number of luggage stacks dotted around the train near the doors. There are also overhead racks throughout, which look to be capable of storing your typical cabin-sized suitcase. Because the seats on the train are fairly narrow, the aisles are quite wide and this makes wheeling cases down the train fairly easy.
The seat experience
The seats on these trains are known widely as 'ironing boards', so that perhaps doesn't bode well for comfort! Now, they aren't quite the same as sitting on an ironing board, but they're narrow. After all, they were designed to swallow up rush-hour crowds rather than transport you in luxury.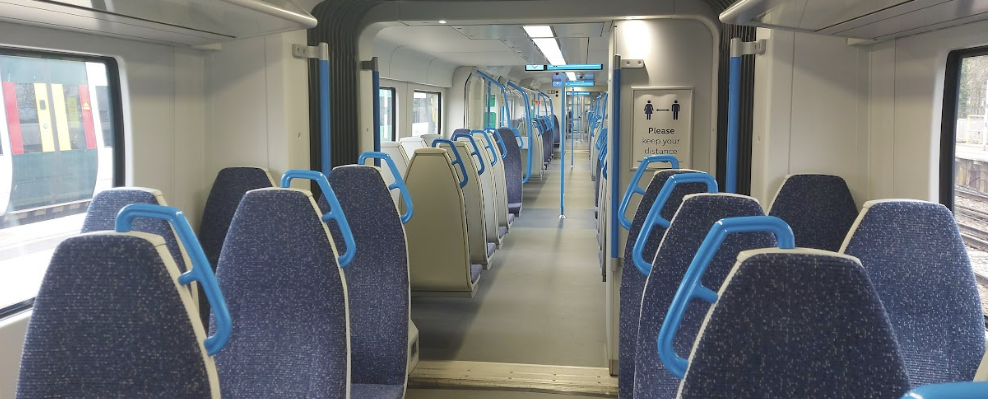 You won't find any plug sockets in Standard Class, but some seats have a table attached. For most journeys of this length, that'd be fine. But if you want something a little better at no extra cost, don't fear. There is a solution…
Fancy an upgrade?
Now, this looks just a little nicer, doesn't it? First Class on these trains will get you a bigger seat as well as a power socket. It isn't groundbreaking, but what if I told you that you could use it for free?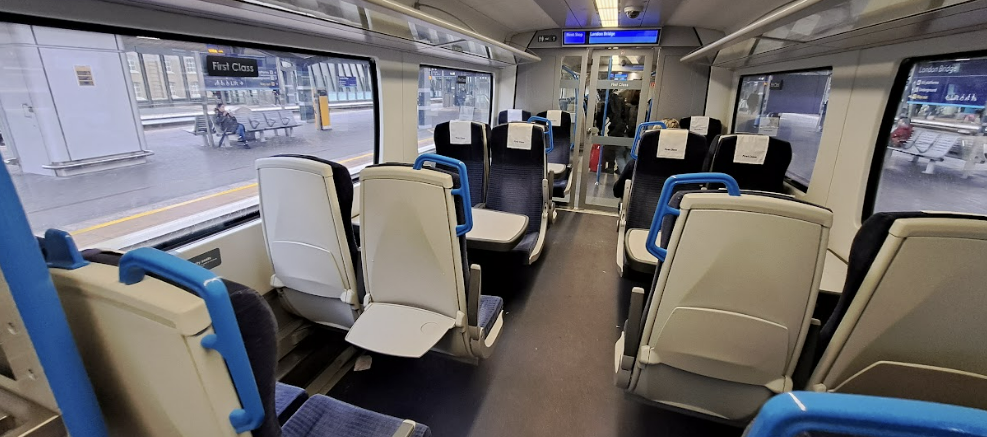 First Class at the very back of every train is always declassified. It's still marked as First, but you can sit in it with a Standard Class ticket.
A lot of Thameslink passengers know about this now, but it's still worth aiming for the back of the train. One thing you definitely shouldn't do is book a First Class ticket for these trains – why pay more for the same thing?
Onboard service
In a nutshell, there isn't any. These trains just have a driver on board. There are regular and informative automated announcements, though.
Staying connected
Free WiFi is available on the train. I connected to it pretty easily and the speed was fairly typical of what I've experienced for on-train WiFi in Great Britain. Pretty slow! Here's what Google thought: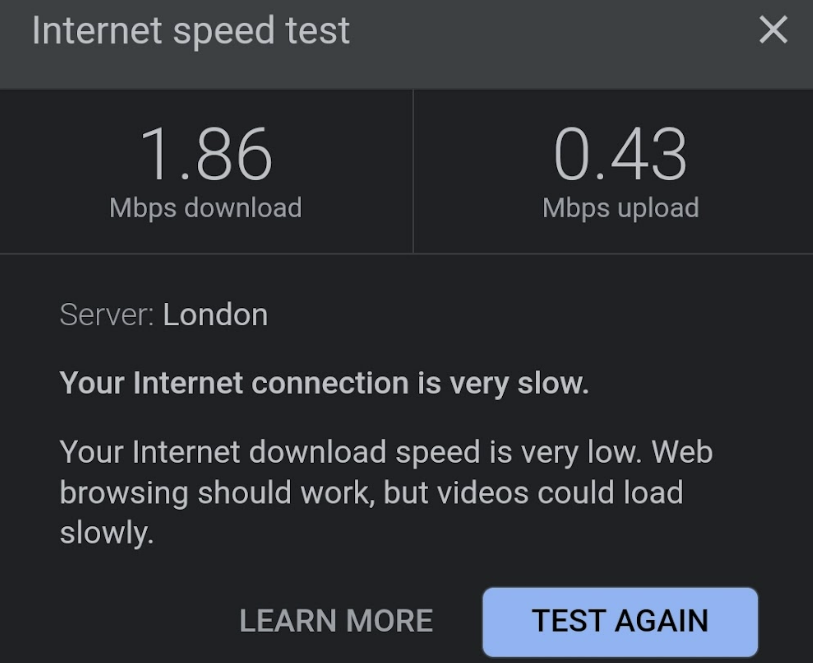 You can use it to browse (as I did), but that's about it. Don't expect to be watching your favourite TV series on the way to the Airport.
Final thoughts
Thameslink is the cheapest way to Gatwick Airport if you're buying a paper ticket, so for many, that'll make it the best train to Gatwick Airport, too.
If you can get yourself a seat in First Class at the very back, it's ideal. With at least four trains per hour (and another four that are a little slower) there's plenty of choice, as well. You won't have long to wait until the next train.
My train was punctual, if a little dirty. It did exactly what it needed to do and I can't say I expected anything different.
Gatwick Express
You'd expect the train that calls itself Gatwick Express to be the best train to Gatwick, wouldn't you? Well, in theory, it could be. These trains run twice per hour between London Victoria and Gatwick Airport, with no stops on the way. It takes around half an hour to make the trip.
Today, I'd be taking the 13:10 train from Gatwick Airport to London Victoria. The trains usually leave from Platform 5 there, and from Platforms 13 and 14 in London.
The cost
See, this is the stickler. It's expensive! A single from Victoria to Gatwick Airport is £21.90 or it's £43.70 for an Anytime Return, before any discounts. This goes down to £33.60 if you want to buy an Anytime Day Return. These are some of the most expensive train tickets to Gatwick Airport.
Considering that it isn't really any faster than Thameslink but has a massive price premium, it's quite difficult to justify the cost. But, let's take a look at the journey experience…
The train itself
All trains on this route are formed of Class 387 "Electrostar" units. They'll usually run in pairs to form an eight-coach train, but can run as 12-coach trains as well.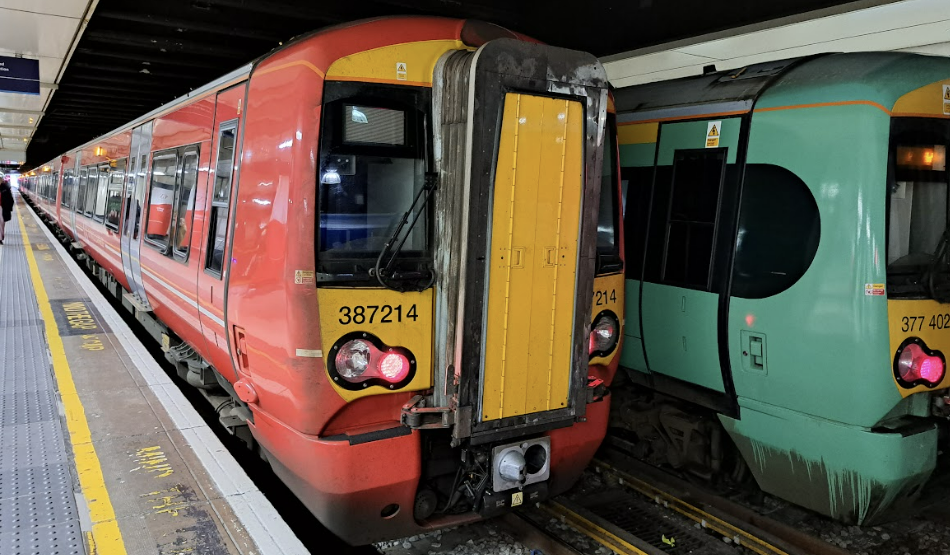 They're difficult to miss – the red livery is rather unmistakable!
Storing your luggage
These trains have a reasonable number of luggage stacks near the doors as well as overhead racks. However, for a dedicated Airport express service, they won't be winning any awards for it.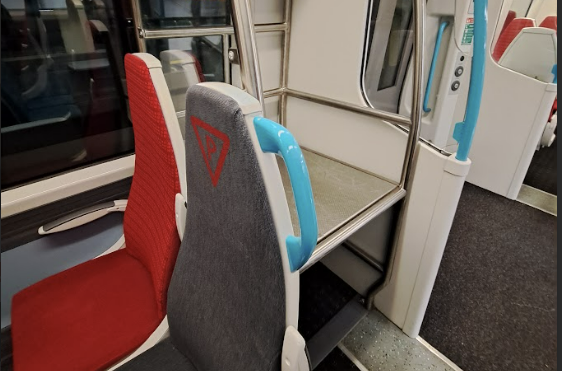 These just looked like the normal luggage racks you'd get on any other variant of this train. Heathrow Express have the same kind of train, but they've gone to the effort of installing lots and lots of luggage space. So yes, luggage space exists. But surely, there should be more?
The seat experience
The seats are a similar kind of seat to the 'ironing boards' you get on Thameslink. They've been shaped a little better though, and you also get an armrest.
Every window seat gets a socket, too. You'll (weirdly!) also find reading lights above every seat. They're a bit high up, so I'm not sure how effective they'd be.
Fancy an upgrade?
Unless you have a First Class ticket from somewhere else, you really shouldn't think about it. There is quite literally no difference. There'll be a sticker on the window saying "First Class" and a tiny piece of cloth on the back of the seat saying the same.
We wrote more about the kinds of First Class on trains that are definitely worth it, and those that aren't, here.
Onboard service
There was an On-board Supervisor on the train (basically a guard but they don't do anything safety-critical) but I didn't see her during the journey. On some services, they will check tickets (mostly to make sure you've paid full whack to use the train!)
She did however manage to make an announcement in English, French and Dutch which was pretty impressive. It's quite rare for a member of railway staff in Great Britain to be speaking a different language!
Staying connected
You might expect a better WiFi connection with it being a 'premium' express service, but it didn't look like that was the case. I got pretty much the same speed as on Thameslink. It would make sense, seeing as they're essentially just brands of the same company (Govia Thameslink Railway), but a bit disappointing nonetheless: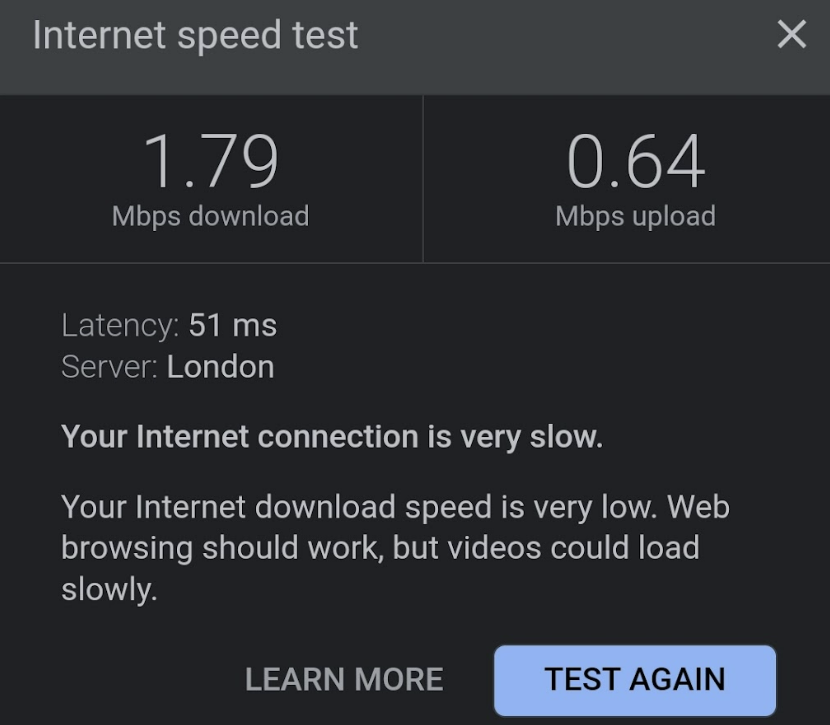 Final thoughts
There's nothing wrong with travelling on the Gatwick Express. But as a service, it's far too expensive for what it is. On cost alone, it definitely isn't the best train to Gatwick. That is, unless you have a ticket from somewhere else to Gatwick. In that case, it won't have any restriction on it that stops you getting the Gatwick Express, so you may as well jump on!
The train was clean and I thought it was comfortable enough. We were punctual, too, but it was clear that the sheer number of trains running on the lines towards London meant that a 'fast' run was really difficult. You may as well call at East Croydon and Clapham Junction too – it probably wouldn't add on much time.
Another issue is that it's only half-hourly. If you just miss one, not only is waiting for the next one more expensive, but you'll be letting multiple Southern services go as well.
Southern
Southern is probably who you'll travel with if you need to travel from London Victoria but don't want to splash out on the Gatwick Express. You'll find up to six trains an hour heading to Gatwick, all of which have the same calling pattern. They all stop at Clapham Junction and East Croydon on the way to Gatwick, taking around 30 minutes. Yes, that's the same time that the Gatwick Express takes!
The trains head to Eastbourne, Ore, Littlehampton, Southampton or Portsmouth. Trains heading to any of these places will do you just fine.
I jumped on a Littlehampton service – though decided not to take it all the way back to Gatwick yet again. I was more interested in what the train itself was like!
The cost
Before any Railcard discounts, you'll find that a single costs £19.40, with an Anytime Return costing £38.80. An Off-Peak Day Return costs £19.50. There isn't a huge difference between Southern and Gatwick Express in the peaks, but if you need to make an Off-Peak return journey on the same day, there's a much larger difference.
Still, a £4.90 saving is money you could spend on your actual holiday!
The train itself
Southern services are operated by Class 377 "Electrostar" trains. They look pretty much the same as the Gatwick Express trains, but they're a bit older. Most services will have eight or 12 coaches, depending on the time of day and where the train is going.
Storing your luggage
I noticed that this particular type of train didn't have any stacks visible in the carriages. Instead, you just had the overhead racks which looked able to take a cabin-sized suitcase:

Because of the way the seats were laid out, you could also store some luggage between the seatbacks. It certainly isn't the best train to Gatwick Airport for luggage, but only those with the larger cases would struggle. In any event, the stacks available on Gatwick Express would struggle with the biggest cases, too.
The seat experience
Weirdly, you'll find two types of seat on most Southern trains. The outer carriages of each four-coach train (so on a 12-car, that'll be coaches 1, 4, 5, 8, 9 and 12) have seating arranged in a 2+2 layout. You'll find full-sized tables, too. It looks a bit like the image below (but without the First Class stickers):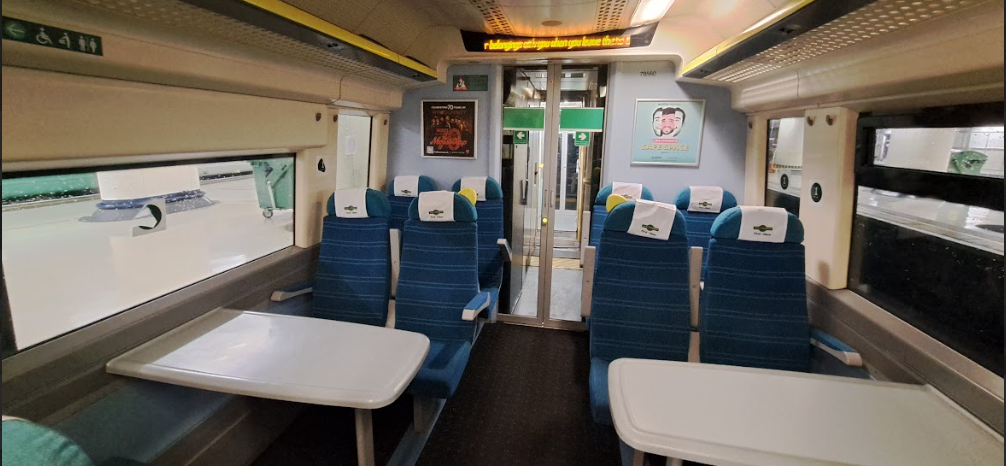 In the 'centre' carriages of the train, it's laid out a little differently. You'll find seating in a 3+2 layout with smaller tables in the bays of four and six: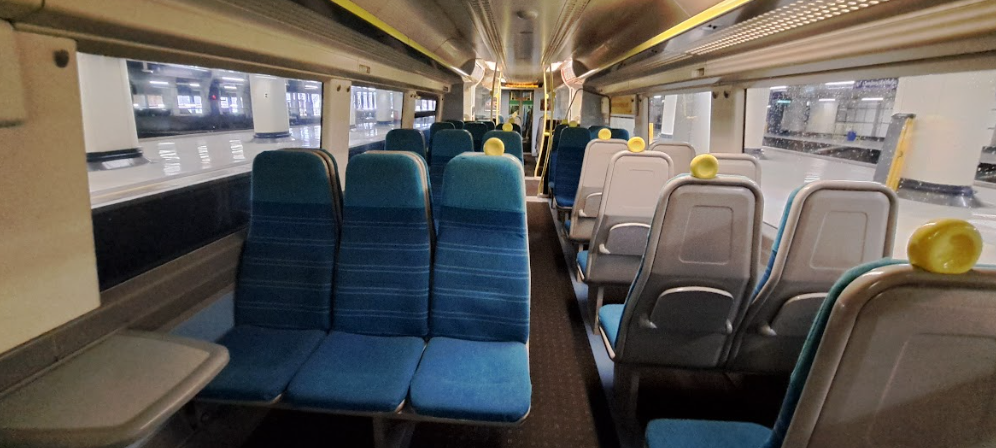 Both kinds of seats are fine, though naturally the ones in the top image are a little nicer. In fact, if we were rating the trains on seat comfort alone, then this would be the best train to Gatwick.
Some trains have sockets at the window seats, but not all. Southern is working their way through refurbishing their trains at the minute, so in time they'll all have the same features. For example, one four-car set had them on my train, but the others didn't.
All seats have reading lights – this seems to be a feature of all the Electrostar trains!
Fancy an upgrade?
On this trip, you really don't. Much like on Gatwick Express, you aren't getting much more for your money. You might get a power socket, but that's about it. First Class on these trains used to be a way to get a seat in the morning peak rather than a chance to sit in the lap of luxury.
Save your money and treat yourself to something nice when you go on holiday instead!
Onboard service
Similar to Gatwick Express, there was an On-board Supervisor on the train. He made an announcement and said where he was located, so at least you knew where to go if you needed anything.
Staying connected
As I'd realised by now, the WiFi is the same as on Thameslink and Gatwick Express, so I didn't test it. Basically, it's fine for browsing but not much else.
Final thoughts
Is Southern the best train to Gatwick Airport? Well, luggage space isn't great, but it's a lot more frequent than Gatwick Express and it's a little cheaper. There'll always be a train waiting for you at Victoria to take during most of the day.
The train I caught was clean and there were lots of free seats, so it seems like a good and dependable option.
On a cost basis, I'd still prefer Thameslink – but Southern has the benefit of all trains taking the same amount of time and there being someone on board if you have any questions.
Verdict – what's the best train to Gatwick Airport?
I'd have to say that Thameslink is the best train to Gatwick Airport. That's for a number of reasons:
It's the cheapest option. The most expensive paper return ticket is £24.50, which isn't too bad at all. Same-day return trips at weekends are exceptionally cheap, too. All round, they're the cheapest train tickets to Gatwick Airport
The choice of London stations. Unless you're connecting through Victoria, you'll probably find a Thameslink station that suits you well
The chance to upgrade for free. Just aim for the back of the train and you'll probably bag yourself a First Class seat for no extra cost
Finally, the amount of space. The trains are well designed to leave as much room in the aisles as possible, so they're easy to move through with heavy luggage.
It isn't perfect, by any means. There's nobody else on board other than the driver, and the amount of luggage stacks isn't fantastic. But the thing is, none of the operators, in my view, offered enough luggage space.
Gatwick Express is simply too expensive for what it is. Plus a half-hourly train isn't exactly turn up and go.
Whichever company you choose though, you can book without fees on Railsmartr. We won't charge you any fees if you change your mind and need a refund on your Anytime, Off-Peak and Super-Off-Peak tickets, either.
Is there anything else I should know?
Looking for more information about London? Take a look at our page about travelling around London. You'll find everything you need to know, including how to understand your ticket, and your best options for reaching other London airports, including Heathrow. Don't forget to take a look at our quick guide to crossing London or the Elizabeth Line, either.
*All fares quoted in this article are correct as of 28/03/2023 and represent the options when purchasing an eTicket or paper ticket. Cheaper options may be available on some routes at some times of the day when using contactless payments. Railsmartr is not responsible for any loss or inconvenience as a result of the information provided. Visit tfl.gov.uk for more information.