10 best day trips from Newcastle by train
There's so much to see and do just a stone's throw from Newcastle.
I grew up in Newcastle, and then I missed it so much that I moved back after four years or so of being away! It's a fantastic city with so much to offer, and even more just a short trip away by train. In fact, the entire North East is packed with things to do. We're going to take a look at some of them today. Here's my selection of the 10 best day trips from Newcastle by train.
What sort of day trips from Newcastle can I do?
Newcastle is in a great spot. You've got the coast nearby, the rolling hills of Northumberland, and a fair-size train station with routes crisscrossing the region. Whether you're after a walk along the beach, a hike in the hills, or getting up close and personal with the trains of yesteryear, there's something for everyone.
As a child, we were a pretty active family. Sundays always meant going out and exploring somewhere new (or old), even if the weather was, well, British. I've been a rail geek since I was little, too, so there was always an excuse to jump on the train.
I'm going to take you from north to south, so these day trips from Newcastle are in no particular order of preference!
1. Berwick-upon-Tweed
We're starting right up near the Scottish border. In fact, it's just under three miles from the station before you end up in a different country. It's been part of Scotland, too. The town has actually switched hands many times in history. It's been the site of wars, battles and bloodshed, though it's been a part of England since 1482.
When you take the train, you'll find yourself getting quite the introduction to the town. The railway line hugs the coast, before sweeping to the left and taking you over the Royal Border Bridge, which carries the line over the River Tweed:

It's around here that you'll also find the remains of Berwick Castle. Back in the 13th Century, this castle was at the forefront of defending Berwick from outside intruders. Parts of the walls still survive as well, though funnily enough, it was the advent of the railway that saw much of the building demolished.
The Town Walls and Ramparts also form part of the defensive structure of Berwick, and it's possible to walk a complete circuit of the town on them. Rather than trying to defend the town these days though, you might prefer to just take in the views:

Finally, you can't beat a good beach, and Berwick has plenty of coastline to let off some steam. You could take the dog for a walk, get your steps in or simply lie down and listen to the waves.

Getting There
There are frequent train services to Berwick-upon-Tweed. Typically, you'll find two trains per hour (one LNER and one CrossCountry), with extra ones at some hours of the day. It'll take you between 45 and 50 minutes to reach the town from Newcastle.
All of the attractions are within walking distance, and when I visited, I walked to all of the places above at a relaxed pace in around two hours.
2. Alnmouth (and Alnwick!)
The nearest station to these places is called Alnmouth for Alnwick, so it made sense that I took a trip to both of them. One is a sleepy seaside village, and the other is a bustling market town. So, what do they have to offer on day trips from Newcastle?
Alnmouth
It's about a 20-minute walk from the station to Alnmouth, so that's where we'll begin. My only memory of this quaint little village is driving in when I was little, usually when it was pouring with rain. We'd park up, realise this was a terrible idea, and try to find somewhere a little more sheltered. In fact, until last week, I'd never seen this place in the sunshine! So, why is it one of the best day trips from Newcastle? Put simply, this beach:

When I popped down on a mid-week morning, it was sheer bliss. You just had a couple of dog walkers, and some holidaying families moseying around the village, which is full of independent cafes and shops.
It's possible to walk all the way around the bay and up towards Seaton Point and the village of Boulmer, or you can follow the path of the estuary and the start of the River Aln. I ended up picking the latter, as I needed to head back towards the station:

For bonus points, you can try and spot the train in the background. I passed a few dog walkers on the way along the river, before heading up the hill into the village of Lesbury, where the station is located.
Alnwick
If you go to Alnmouth to get away from it all, then Alnwick is where it's all happening. People have been making day trips from Newcastle to Alnwick for years, and I've been coming here since I was a toddler.
But why? First of all, it's home to Alnwick Castle. This is the second-largest inhabited castle in the UK. Its popularity increased massively when it started appearing on the big (and small) screen, too. The castle has been featured in Harry Potter, Downton Abbey and even the Transformers Movie.
Just next door, you'll find the Alnwick Garden. It's been welcoming visitors since 2001, and I can remember coming here just after it opened, and many times since! When I was around eight, we had an annual pass, so many day trips from Newcastle on a weekend involved a trip to the Alnwick Garden. So, what's on offer here? Well, the first thing you notice is the impressive Grand Cascade:

We can't forget the Poison Garden, either. I can remember coming here when it opened and essentially getting a personal tour. These days it's a little more popular, and I had to wait half an hour to get in! As the name suggests, it's full of plants that could kill you. Don't worry though, there's a guide on hand.
Did you know that Alnwick is home to Barter Books? It's one of the largest second-hand bookshops in Europe:

Does the poster look familiar? They uncovered the original one back in 2000. Fast forward a decade, and it was suddenly impossible to use Facebook or Twitter without scrolling past 'Keep Calm and Drink Tea/Wine/Whisky' memes. Well, the renaissance of 'Keep Calm and Carry On' was spurred by this discovery at Barter Books.
Getting There
There is at least one train per hour from Newcastle to Alnmouth, operated by LNER. Additional trains are also operated by CrossCountry and TransPennine Express. It'll typically take half an hour on the train, followed by a 20-minute walk to the village of Alnmouth.
Looking to get to Alnwick? The X20 bus runs every hour and leaves from nearby. Just leave the station, cross over and turn left down the hill towards the village for around two minutes. On an evening and Sunday, the X18 goes this way instead. The bus journey should take no more than 20 minutes.
Direct buses also run from Alnwick to Newcastle down the A1 Motorway, so you might find it easiest to make a triangular journey by train up to Alnmouth, then a bus to Alnwick and back to Newcastle if you want to visit both destinations.
3. Morpeth
Heading down the coast a little (and popping inland), we make it to Morpeth. This is one of the simplest day trips from Newcastle by train, as the trains will all get you here in less than 20 minutes. It's the main town in the county of Northumberland, and I've been coming here since I was little.
Why? It's an easy place to come to for a relaxing stroll. Plus, while just about everywhere has a park, there's something quite special about Carlisle Park: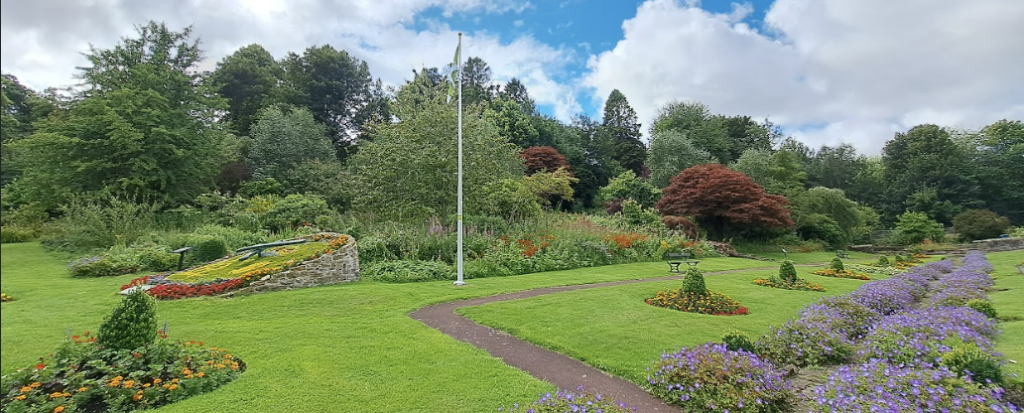 It's immaculate! There's plenty to do as well, especially for the kids. You can even take a rowing boat for a spin down the river.
At the edge of Carlisle Park, keep an eye out for the Floral Clock. It's not just a beautiful floral display, either. It's an actual working clock which has been telling locals the time since 1972:

Finally, if you take a stroll along the river, don't forget about the Stepping Stones. Hopping across the river on these little rocks is one of my first memories of Morpeth.
How about something completely different? I was surprised to discover that the town is home to the Morpeth Chantry Bagpipe Museum. It's on the top floor of the Tourist Information Centre and takes you on a journey through the history of different kinds of Bagpipes. This includes the (more famous) Scottish Bagpipe and the lesser-known (and gentler-sounding) Northumbrian Pipe. It's a quirky little place that you can pop into for half an hour or so to learn something new:

Getting There
Northern operates an hourly train service from Newcastle. Throughout the day, a more limited number of long-distance trains also stop. It's a 10-minute walk from the station to the main attractions.
4. Corbridge
We're now into Hadrian's Wall Country. You'll find relics in Corbridge that date back to the Roman era, so it's a perfect place for History buffs looking for day trips from Newcastle. To start with, you could take a 10-minute walk down the river to the Roman Bridge:

It was built to carry Dere Street, which was the Roman road from York to Scotland. To give you an idea of just how old this bridge is, it's been out of use since around AD670!
Hungry for more history? Corbridge Roman Town isn't far from the village centre. This was once the most northerly town in the entire Roman Empire, and it gives a fascinating insight into the life of a soldier around Hadrian's Wall.

Back in the pandemic, I spent a lot of time out walking, and this is one of the places that I came to. You can actually keep walking all the way along the river and head towards Hexham, which is what I did. It's one of the Tyne Train Trails which links up stations along the Newcastle to Carlisle line. Just make sure that you bring the right footwear, as I have many memories of having to dodge giant puddles and squeeze through a few overgrown tracks.
Getting There
Northern runs an hourly train direct from Newcastle to Corbridge. It'll take you around 40 minutes to make the trip. From the station, it's a 10-minute walk to the river and village centre.
5. Hexham
Just one stop up the line from Corbridge, you'll find Hexham. Where do you begin here? Well, the Abbey is a great start. It was founded in AD674, and the existing building was completed in 1250: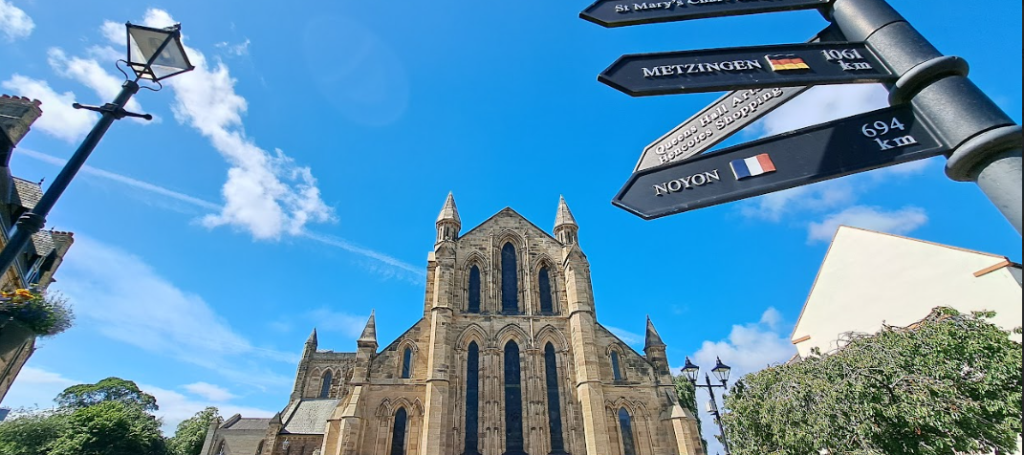 Make sure that you don't end up causing any mischief, though. You could end up in the Old Gaol, which is one of the oldest purpose-built jails in the country: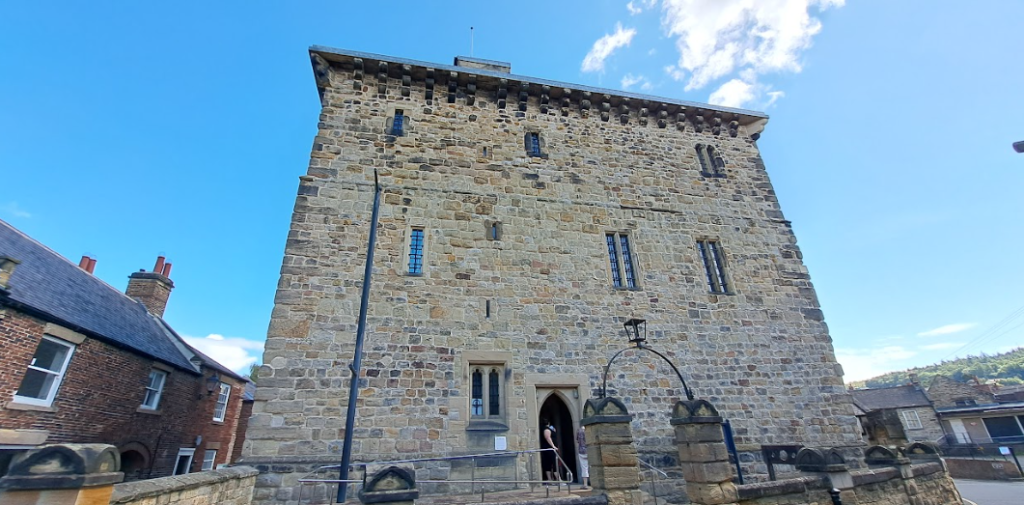 It's been around since roughly 1332, but these days it's just a museum, so there's no danger of accidentally being locked up!
Hexham is also the gateway to Hadrian's Wall. If you're looking to dive further into the Roman history of the region, then you can jump on bus AD122 from outside of the station. It'll take you to the likes of Housesteads and Vindolanda Roman forts.
Getting There
Hexham is one of the simplest day trips from Newcastle, thanks to the frequent train service. On a Monday to Saturday, up to three trains per hour run to Hexham, operated by Northern. The fastest trains take around 30 minutes.
6. Seaham and the Durham Coast
Looking to embrace the great outdoors? Take a trip down to Seaham for one of the most bracing day trips from Newcastle. Up until recently, I'd only seen the Durham Coast from a train window but decided to leave the rails behind and take a stroll down to see what was on offer.
Seaham is the starting point of the 11-mile Durham Coastal Footpath, which will take you down to the outskirts of Hartlepool. So, it's a great place to come if you want to blow the cobwebs away with some refreshing North Sea air.
I chose to stay closer to the town itself, which is no bad thing. You have Seaham Beach, Seaham Hall Beach and the Glass Beach, all linked by a promenade:

You could have a look at the Lighthouse or visit the Heritage & Lifeboat Centre, too. Either way, I was impressed. It's a bit weather-dependent, but you shouldn't overlook Seaham for day trips from Newcastle.
Getting There
Northern operates an hourly train from Newcastle, which takes roughly 30 minutes to reach Seaham. The 60 bus also runs to/from Sunderland, where there are more frequent Metro connections to Newcastle. It's a 10-15 minute walk to the seafront from the station.
7. Hartlepool
Hartlepool is full of naval and maritime history. So, if you want to take a step back in time to Georgian England, then this is a day trip from Newcastle for you.
The main place that you'll want to come to is the National Museum of the Royal Navy. You can get aboard HMS Trinkolee, which is the oldest floating British warship. It's not just the ships though, as the museum has recreated the entire 18th-Century seaport experience.

It's next door to the Museum of Hartlepool. This museum is completely free, and it takes a look at the history of the town and its Maritime heritage.
Don't forget to take a look out the back too, where you'll find PS Wingfield Castle:

Getting There
Northern operates an hourly train service from Newcastle, which takes around 45 minutes. Grand Central also connects Hartlepool to Sunderland, where you can change for Metro services to Newcastle. The Museum of the Royal Navy and Museum of Hartlepool are a 15-minute walk from the station.
8. Shildon (for the Locomotion – National Railway Museum)
I'll confess that Shildon itself isn't much of a tourist destination, but it is a place where everybody's doing a brand new dance now, as they're visiting the Locomotion. Think of it as the younger brother of the main National Railway Museum in York! It was opened in 2004, and I remember my parents bringing me here not long after that. This is one of the day trips from Newcastle that rail geeks, history buffs and anyone with a passing interest in trains will love.
After all, the museum is in a part of the world which pretty much birthed the modern railway as we know it. It's near the site of Timothy Hackworth's Soho Works, which built and maintained locomotives and wagons for the Stockton and Darlington Railway. This was the world's first public railway, and it was opened in 1825.
Shildon Station is pretty much on the site of the museum, which is an open-air museum around 1km in length. When I visited most recently though, most of the activities were going on in and around the Main Hall: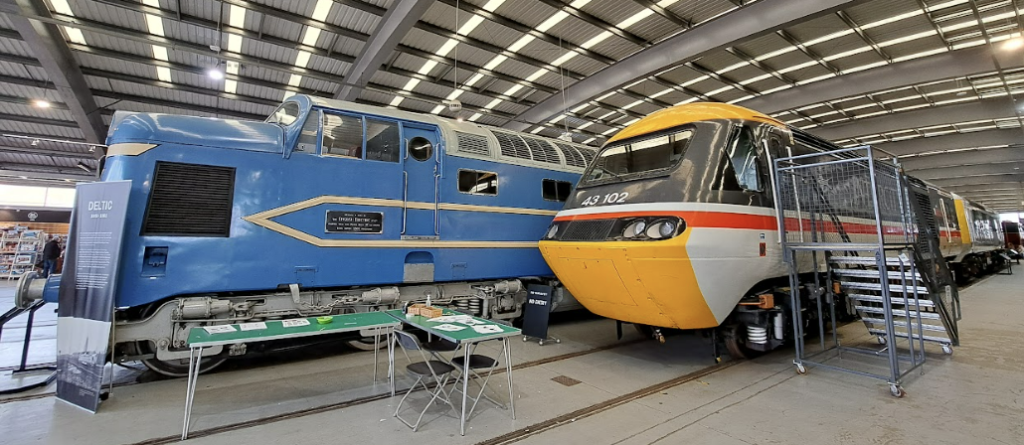 I must admit that it is a strange feeling seeing that a train you've rode behind (43102, on the right) is now in a museum! Locomotion is home to dozens of different exhibitions, which cover the days of the early railways right up to the modern day. If you commuted by train in the north up until around 2019 though, you might not be too happy to see the infamous Pacer train:

The best part? It's completely free to visit. So, you can pop in and out as you please. The only thing that's paid for is the train rides through the museum site.
Getting There
Frequent trains link Newcastle to Darlington, where you can change for an hourly Northern train to Shildon. It's possible to reach the Locomotion in roughly an hour and the station is on the Museum site.
9. Saltburn
Back when I was seven or eight, I became a regular visitor to Saltburn. My Dad used to take me out on a Saturday morning while he worked as a delivery driver. He covered just about everywhere in the area (Middlesbrough down to Staithes, on the edge of North Yorkshire), plus the then-booming 'Corus' Steel Plant in Redcar. Saltburn was a regular stop for us.
Why is this one of the great day trips from Newcastle? It's a charming little town full of independent shops and cafes, and that's before we get onto the beautiful beach:

Whether you want to soak up some sun (on a rare hot day in this part of the world) or just take a walk, you're sure to love Saltburn Beach. It's home to a 208-metre-long pier (with all of the classic amusements you'd expect), colourful beach huts and the quirky Cliff Lift.
You can actually walk all the way down the beach to Redcar. It's about four miles, and you can pick up the train in Redcar as well, rather than needing to walk all the way back.
Like I said, the town itself is full of great places to grab a bite to eat and drink. When I visited, I popped into The Sitting Room for a cuppa. It's a quirky little café (and bar) with lovely staff, and it's situated in the old railway station building:
A final bit of trivia from Saltburn is the existence of Saltburn Bank. As this piece is about day trips from Newcastle by train, you'll not have to worry about negotiating it, but this zig-zagging piece of road is rather infamous for being difficult to drive around. You might have seen it in this clip from the snowy winter of 2010!
Getting There
Three trains per hour run from Saltburn. Two Northern trains go to Middlesbrough and Darlington every hour, where you can change for regular services to Newcastle. An additional TransPennine Express train also goes to Middlesbrough every hour, where you can change for trains to Newcastle via Hartlepool.
It's around a 10-minute walk from the station to the seafront.
10. Whitby
Whitby is probably one of the most famous places on this list. After all, anyone who's read Bram Stoker's Dracula knows about the existence of this quaint seaside town. It's a firm favourite with North East folk (and all folk!) so I have memories of many happy day trips from Newcastle to Whitby.
The station is right next to the harbour, where you can take a boat trip or climb aboard the Bark Endeavour and learn about Captain Cook and his sea-faring voyages:


On this visit, I opted to take a walk down Sandgate, before braving the 199 Steps up to Whitby Abbey and the Church of St Mary:

Don't forget to take a stroll down Whitby Beach, either. It's a beautiful stretch of coastline, though I rocked up during high tide, so there isn't much beach visible!

Now, Whitby is of course famous for Fish and Chips. There's much debate about which is best, and I wouldn't want to say that one is the best. Whenever I've visited though, I've always opted for Magpie. Just don't be surprised if you need to queue for a wee while!
Getting There
Northern operates five trains per day in and out of Whitby. Two each way are direct to/from Newcastle, while you'll need to change at Middlesbrough on the other journeys. The fastest train takes around three hours to complete the journey along the scenic Esk Valley and Durham Coast lines.
Is there anything else I should know?
The final thing I'd recommend is using the Railsmartr website to book your next adventure. We're completely independent, so we're happy to 'tell you like it is' when it comes to rail fares. Not only that, but we'll show you the slower, cheaper options that some websites won't.
Don't forget that we don't charge any fees, either. That includes if you change your mind and want to travel on a different day. If your ticket is refundable, we'll refund it fee-free, too!
All information on this page is issued in good faith and was correct at 14/08/2023. It'subject to change at any time and Railsmartr are not responsible for any loss or disappointment incurred as a result of the information provided.