A visit to the Hartlepool Station Pub
I'll be honest and say that I wasn't even aware of there being a Hartlepool Station Pub. Maybe it was because I simply didn't expect there to be one there, or because it isn't trying to be some world-renowned pub that everybody crams into. Or, maybe I just need to up my game and pay more attention. Either way, I only live a 40-minute journey away, so I knew I had to right those wrongs.
We've already written about plenty of pubs on Railsmartr. I mean, you'll even find a map with the cheapest pint in (most) station pubs around Great Britain. So, I originally went with the intention of trying the beer, taking some photos, recording the typical price of a pint and being on my way. But, this isn't your typical station boozer, and it'd be criminal not to share a little more about it.
Getting to the Hartlepool Station Pub
You'll find The Rat Race on the small station concourse at Hartlepool Station. So, you're likely to be getting there by train.
Northern runs an hourly train from Newcastle to Middlesbrough which serves Hartlepool, and the trains on this route will usually extend in either direction to serve Hexham/Carlisle in the west, and Nunthorpe/Whitby to the south and east. On a Sunday, two trains each way will also take you to Darlington. Grand Central services to/from London also stop at Hartlepool.
For me, I was coming from Newcastle. I'd reached the station a little early, so figured it'd be more pleasant to pop over the road and bide my time in the Newcastle Tap, which I've featured before when I wrote about what to do on a day trip to Newcastle. As it happens, the bartender was from Hartlepool, and she was quick to interrogate about what on earth I could be doing down there.
"There's a Hartlepool station pub??" she replied to my explanation. Her friend was sat at the other side of the bar with me, and she quickly whipped out her phone to locate this mysterious pub.
"It's next to the caf."
"Bloody hell, I can't believe we've missed that."
So, two Hartlepool natives who commuted by train had no idea of the existence of a Hartlepool station pub. We were off to a good start.
I bid my farewells and headed for the 14:40 train down to Hartlepool, which would give me a little time to get some photos of other attractions (in particular, for our Day Trips from Newcastle guide) before I could see what this pub was all about.
The Pub Itself
I sauntered up to the door at around 5 past 4. Apparently, I'd already been beaten inside by two thirsty and very keen patrons. Peter, the owner, was already taking their order. I squeezed myself past and took a seat, as I realised that this wasn't quite the same as other station pubs I'd visited. I mean, the 'NO LAGER' sign on the door should have been a good indicator.
First Impressions
I mean, it's small. It isn't a place you can cram into either, as it's table service only. So, only 22 people at a time can avail of the beer at the Rat Race. You won't find any music, any shouting, any swearing and you certainly won't find any lager. Are we clear? Don't ask for lager.
The decor is rather beer mat-centric:

That said, it does a great job of demonstrating how this place is simply all about the beer. The rest of the walls are adorned with articles about the pub, 'Dad' humour and all sorts of other bits and bobs. It felt like you'd just entered someone's living room, which I suppose is how this place functions. You come in, flop down in a seat, have a pint and a chat. A sign on the wall also proudly stated how many beers had been served since opening in 2009. It was 1,967 when I visited, but it's since gone up to 1,970.
I picked myself a pint, and Peter disappeared into the little room which houses the bar. You can pay by cash or card, and I was sipping a beer within a minute. So, what is there to do in a place like this? The art of conversation, I suppose. I got talking to the couple who'd come in before me, and it turned out that they were Aussie expats. They had family in Horden (just one stop up the line) and had come back for a visit.
The beer
The selection of beer at the Hartlepool Station pub is pretty simple. You have four choices: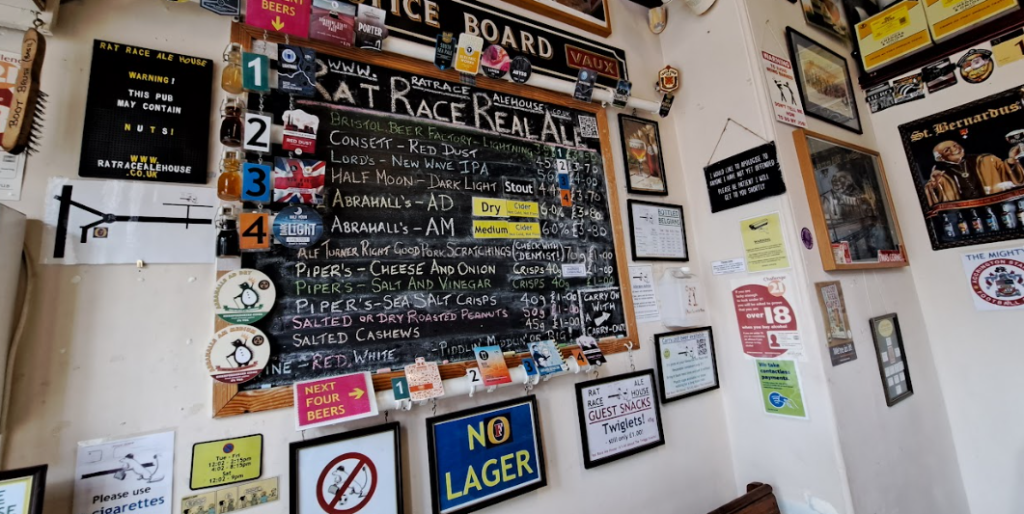 The beers are numbered 1 to 4, and they change 'whenever they run out'. In fact, since I visited last week, I can see on the website that everything has changed already! From what I understood, 1 is an easy-drinker, 2 is normally a bit of a 'wild card', 3 is a stronger IPA-type beer, and 4 is a dark beer. On top of that, you'll find two cask ciders (not fizzy), wine and snacks.
Price-wise, it's all very palatable for a Northerner (and perhaps slightly unbelievable for a Londoner) with pints coming in at £3.50 to £4.00. You can take them away with you, as well.
I went for Consett's Red Dust, which was a wonderfully malty and fruity red ale. Meanwhile, Lord's New Wave IPA was a lot more complex (and less 'smack-you-in-the-face citrus') than your typical IPA. They were both great pints, I can't say more than that! My Aussie companions were equally impressed, particularly with the IPA.
The Man behind the Magic
I wouldn't usually end up talking to the owner of a pub, as they might have better things to do (or not be there at all). But, Peter was happy to chat and explain the method behind his own brand of madness.
Put simply, he serves good beer at a price that he'd be comfortable paying. Nothing wacky or expensive, just drinkable beer that locals can afford. After all, this isn't some trendy part of London. People don't want pomp or the latest 'trendy' drink at a daft price. Costs have gone up, but he's absorbed much of them.
He certainly has plenty of tales of turning folk away. Usually they're the ones that demand a lager, 'the cheapest drink', spirits or something else. In his words, Spoons exists for people like that. All of the signs about 'no lager' and the like might come across as a bit hostile to an outsider, but I didn't get that impression at all. I felt welcomed and like Peter really cared about what he was doing. He has his regulars, after all. Like clockwork, as I finished my pint, two of them came in and were greeted.
I can't forget that the Rat Race is also raising money for a local donkey sanctuary. Peter even has a stuffed donkey that joins him on all of his adventures!
My thoughts on the Hartlepool Station Pub
In a nutshell, the Rat Race is a man doing great beer the way that he wants to do it. Face it, if we had the time and the energy (and a few bob spare), I'm sure many of us would love to do the same.
It's a window into a small community, too. You can hear everything and you can see everything that goes on. There isn't any music, shouting or swearing, and the table service means that everybody gets the same level of service and attention.
Is the Hartlepool Station Pub for everyone? No. But, that's not what it's trying to be, and I'm not telling everyone under the sun to come running to it. It's about relaxing with a reasonably-priced pint of good beer. I'd love to come back here, as sometimes I just want a beer. I don't want to have to struggle to hear myself think over the UK Top 40 and someone's relationship drama getting bellowed down the phone. I love a more 'bustling' bar, too, and that's the beauty of station pubs (and pubs in general) these days. You have choices. More choices than ever, really.
So, if you want to enter Peter's little world (and enjoy a couple of fantastic pints), then you can pay a visit on a Tuesday to Friday between 12:02 and 14:15, and 16:02 and 20:15, and on a Saturday from 12:02 to 21:00. If there's football on, it might not be open, depending on who's playing! You can also take a look at the website to find out more.