Beer on the East London Line
As a Geordie born-and-bred, the thought of popping out for a beer in London is enough to send shivers down my spine. If you go to the wrong place, you could end up paying a small fortune for a rather naff pint. So, where is there to go? Well, on a Saturday afternoon, I headed out with a friend in search of good (and affordable) beer on the East London Line. We started our journey near the top of the line, at Canonbury, and worked our way down to Shoreditch High Street.
Where can you go for a beer on the East London Line?
Lots of places, as it turns out! Everywhere that we visited was within a short walk of a station. It was just as well, as the weather was liable to giving us a soaking at regular intervals. We ended up visiting a mix of independent taprooms as well as a couple of larger chains, in order to get a real feel of what it's like popping for a pint in this corner of the Capital.
The Snooty Fox (Canonbury)
So, we're starting off at Canonbury. Services on the East London Line actually start at Highbury & Islington though, and there are no shortages of venues on Holloway Road if you want to start from the beginning of the route.
Where better to start sampling beer on the East London Line than at a good old-fashioned pub? The Snooty Fox is basically just across the road from Canonbury station, so you won't struggle to find it. Aside from a good selection of cask ales and other beers on tap, you'll find plenty of quirky titbits on the walls, as well as a jukebox filled with classic LPs:

There was already a great buzz around the place when we arrived at about 12:30pm. In the end, I settled on a pint of NZ Pale by Redemption Brewing Co. They're a Tottenham-based brewery, so it was a pretty local brew as well. I was impressed by the price too, as it was £4.90 for a pint of a nice, citrusy and easy-drinking pale. All in all, it was a superbly relaxed and cosy place to begin trying beer on the East London Line.
40FT Brewery (Dalston Junction or Dalston Kingsland)
Our next stop for beer on the East London Line perhaps wasn't so cosy. But, that was more on account of the fact that it was mostly outdoors! We had to dodge a pretty heavy July shower to get here, but there was plenty of seating undercover. It's also worth mentioning that it's easy to reach from Dalston Kingsland (where we came from) as well as Dalston Junction.
So, what's up with 40FT Brewery? They started up as three homebrewers crafting their own beer for house parties. In 2015, they moved to their current location, and they've been expanding ever since. These days, they're producing over 7,000 pints a week!

The rain started to come down even heavier as the friendly bartender served me a pint of their Disco Pils for £5.50. Despite the splashes of rain, it was turning into quite a warm and humid afternoon, so a refreshing Pilsner was just the ticket to stay cool. My friend went for their Dalston Sunrise Pale Ale, which was big on citrus and pine notes. I wasn't a fan, but he said it was his favourite beer on the East London Line of the day.
Aside from the beer, 40FT also shares its space with a couple of food outlets, and they also have plenty of board games for you to borrow. You could easily spend the whole afternoon here, and stay fed, watered and entertained.
Signature Brew (Haggerston)
Signature Brew has three locations in the Capital. You'll find this one tucked under a railway arch just by Haggerston station, their brewery on Blackhorse Road, and a 'collab' location in Walthamstow, where they've teamed up with We Serve Humans (who do some great burgers and wings).
They do live music as well, and this location in Haggerston is the only dedicated space for live music photography in London. Put simply, it's a place where beer on the East London Line and artistry collide.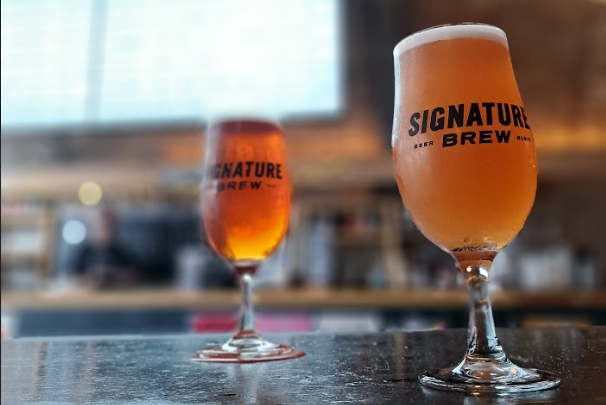 The location was great. You can't get closer to the railway than being physically under it! As for the beers, we wanted to try something completely different this time. At the moment, they're offering their own range of Summer In the City sour beers, in a number of different flavours. I went for Watermelon, Strawberry & Raspberry, which was £6.00 for a 2/3 pint.
This was the priciest beer on the East London Line of the day, but I wasn't too surprised. Sour beers are never the cheapest thing on offer, and I say that as a sour beer fiend. They're quite a tricky one to get right, as some do just end up tasting of, well, sourness, and not much else.
Thankfully this wasn't one of them. It was tangy, fruity and refreshing. There was definitely a nice hit of watermelon, too.
Brewhouse & Kitchen (Hoxton)
We headed our next stop for beer on the East London Line as we were feeling a bit peckish, too. I didn't actually realise that Brewhouse & Kitchen is a fair-size national chain (though the furthest north they get is Nottingham) but this was a really pleasant-feeling Brewpub. It's just a stone's throw from Hoxton station, and as you'd expect, it has a great selection of different beers to choose from.
I went for a pint of Joseph Markovich, which was their house IPA on cask. At £5.20 a pint, it seemed fairly reasonable! Taste-wise, it was a pretty floral and slightly sweet pint. It wasn't my favourite, but a decent beer nonetheless.

As for food, I just went for a hot pretzel and some cheese sauce. It was a fiver, and it hit the spot. I don't think you could muck up a pretzel! My friend had a 'Bang Bang' Chicken wrap with fries, which was just short of nine quid. He said it was tasty, so I'll take his word for it.
Overall, it was a cosy Brewpub. The atmosphere was pleasant, and the staff were full of smiles.
Simmons (Shoreditch High Street)
So, it was almost time to finish up for the afternoon. Shoreditch High Street was really busy, too, so we had a bit of a task trying to find somewhere that we could sit down. In the end, we found Simmons, which is about five minutes down the street from Shoreditch High Street station.
I'll be honest and say that this isn't a craft beer haunt, but the decor (and vibe) are bright, bouncy and welcoming:

It's actually a decent-sized chain of bars, but hyper-local to London. So, if you're a London local, you'll probably know about them already, but less so if you never venture out in the Capital. For our last pint, my friend and I were simple men. As it was a Saturday, and they had their 'Saturday Specials' (discounts basically), we had a pint of Camden Hells for £5.00. It's hardly a craft lager, but it's a decent and drinkable one.
And so, our adventure for beer on the East London Line was over. Both we (and our wallets) were pretty impressed.
Is there anything else I should know?
Fancy visiting some of these places for yourself? They're served by London Overground. Trains run on the main section between Dalston Junction and Surrey Quays (via Shoreditch) every few minutes, so you won't be waiting long for a train. Canonbury has frequent (at least every 10 minutes) trains too. All trains are modern, air-conditioned and have five carriages:

In terms of tickets, it depends on where you're coming from. If you're travelling from outside of London, it might be worth buying a Travelcard from the Railsmartr website. This will include a return journey to London, then unlimited travel in London Zones 1-6, so you can hop on and off as you please.
Do you just need to travel within London? It isn't worth buying paper tickets most of the time. Simply tap in and out with any Contactless card or device (like a phone with Google Pay or Apple Pay). If you have a Railcard, you can get an Oyster Card for £7.00 and ask a member of staff to pop the discount on. This means that you'll get a third off Off-Peak fares.
Looking for more about pubs? You can take a look at our favourite pubs in the North East, Yorkshire and the East Midlands and even the cheapest pints.
We've also created a map of the cheapest pints at station pubs.
All information on this page was correct at 13/07/2023 and is based on real-life experiences and opinions. Railsmartr is not responsible for any disappointment caused as a result of information provided, and the information is subject to change.