Our Top 3 Station Pub Picks – North Yorkshire & North East
In January, Railsmartr took to the rails around the North East and in North Yorkshire to find the best pubs right on the station. Here's our three station pub favourites (in no particular order!) and what you can expect from them.
The York Tap – York Station
If you're making your way from Platform 3 to Platform 4 (or vice-versa) at York, you'll spot the York Tap. Owned by the Tapped Brew Co, it forms part of a small chain of pubs on stations (or very near them!) around the North of England.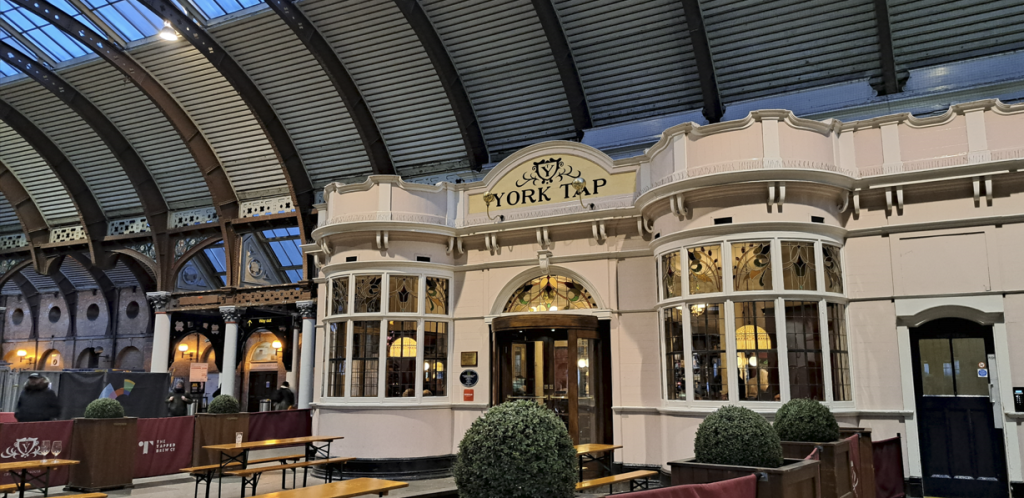 Aside from the impressive Grade A listed Edwardian building, the one thing that we were struck by was the sheer choice of beers and other drinks. You can't deny that the York Tap has something for everyone, even if you're not a beer fan.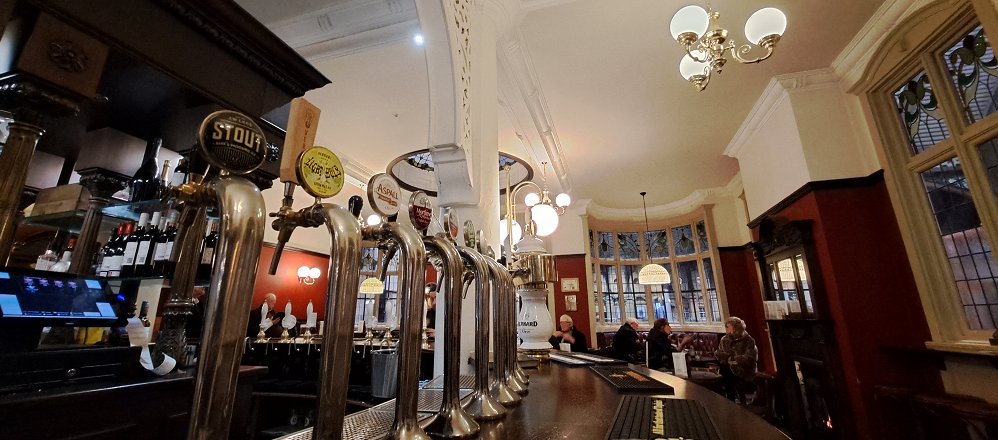 The York Tap is a station pub that prides itself on rotating its beers regularly. This makes it perfect for regulars, as there'll always be something new to try.
The atmosphere on a Wednesday night was nice and relaxed. You had people of all ages and backgrounds dropping in for a drink, whether they were families, locals or just like us popping up for a drink between trains.
If you prefer to watch the trains go by, there's plenty of seats outside too. However, on a cold January evening, you'd probably want to keep warm inside!
As we just had a short wait between trains, we went for a half pint of Abyss by Wishbone Brewery. It was an oatmeal stout on cask and a nice, light and sessionable drink for a weeknight.
The verdict
Put simply, plenty of us use York station. So rather than going off in search of a pub in the city, why not try the one that's right under your nose? It's perfect for all ages, and those who might prefer a cider, a glass of wine or something else!
The Centurion – Newcastle Station
As station pubs go, there's no denying that the Centurion is the most striking. Yet, tucked away next to the Metro station entrance, many wouldn't know it was even there!
You can find one entrance to the pub next to the taxi rank (at the top of the stairs down to the Metro). The other entrance is on the station concourse itself, with some outdoor seating next to the escalator up from the Metro concourse.
But let's get down to the most important part, which is the architecture…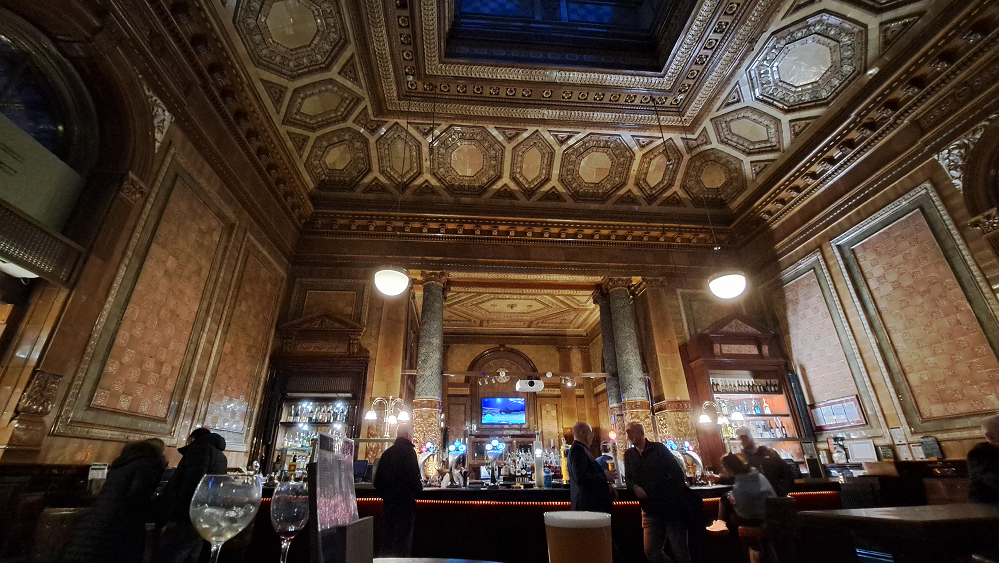 Designed in 1893, the pub was originally built as a First Class lounge. It hasn't had an entirely glamorous past though! The British Transport Police used it as holding cells during the 1960s, and it'd be the last place you'd want to end up.
In 2000, it was painstakingly restored back to its former glory. And we must say, nothing can beat the feeling you get when you walk through the door. It's a true sight to behold and you need to take a minute to take it all in.
As for the drinks selection, it's more like your classic bar. You're not going to find a huge selection of craft beers and ales, but there are still some local ales to choose from. We went for a pint of Stella Spark, a golden ale made by the Golden Brick Brewery. They're situated just down the road (or track!) in Blaydon, so it's almost as local as you can get.
The atmosphere was bustling (it was a Friday evening) and we were lucky to get the last free table inside. That said, it's visited by a mix of locals and people heading for trains, so you won't have to wait long for someone to finish their drink and head out.
The verdict
What do we think of the Centurion? It's a true classic station pub and it's worth it purely to soak up the beautiful architecture. The beer selection isn't the most exciting, but you'll still find a couple of local ales to try.
Rather than sitting out in the cold waiting for your train, why not pop in and see it for yourself?
The Track & Sleeper – Knaresborough
This was a bit of a wildcard for us, as we spotted it online while we were exploring the region. We had no idea what to expect! Having taken in all the sights that Knaresborough had to give, it was time to retire to this cosy little pub.
Described as a 'real ale and gin bar', the Track and Sleeper is owned by Gorilla Brewing. You'll find it on Platform 2, which is where the trains towards York stop.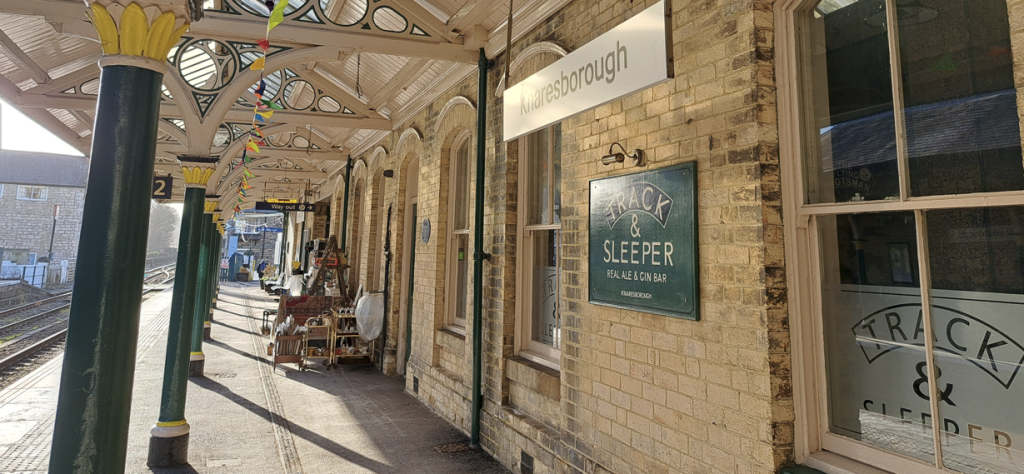 For such a small pub, there was an impressive selection of beers, ales and stouts. There was a mixture of in-house beer from Gorilla Brewing, as well as some local favourites like Thornbridge.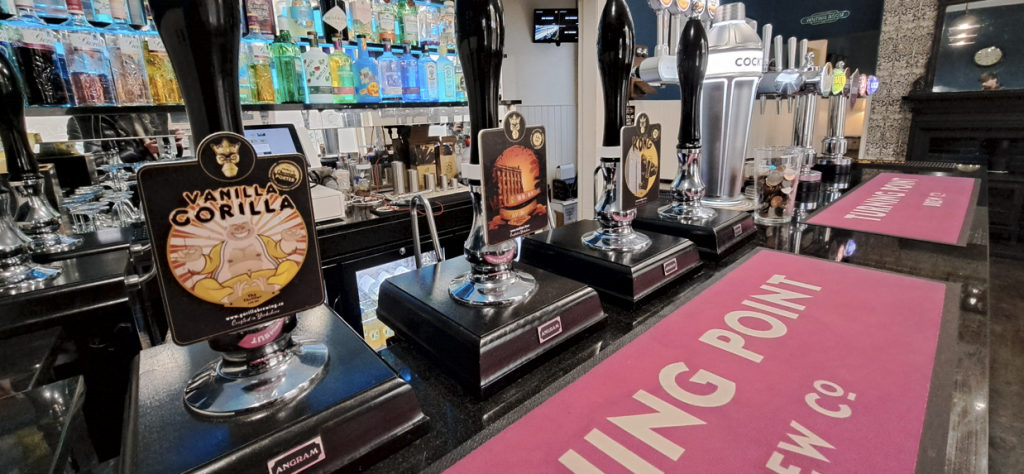 The pint of Vanilla Gorilla Porter that we had was not only delicious, but it was the best value pint we've had on a station. It was £3.90, which is a price you'd struggle to beat in most high-street pubs, never mind those on a station. The friendly lad behind the bar told us that they'd always keep costs down with their in-house brews, which was great to hear at a time when everything else is getting evermore expensive!
You could also choose from cocktails on tap, as well as an array of gins. Just like the York Tap, it felt like a pub for everyone. No matter your taste, there's something at the Track and Sleeper for you.
When we visited, it was a Tuesday afternoon shortly after opening. While it wasn't heaving, there was a steady trickle of friendly faces coming in. It felt like not only a railway station pub, but a true part of the community.
The verdict
Having opened in the midst of a pandemic, the Track and Sleeper is a station pub that hasn't had it easy. But with events like pub quizzes and a constantly changing selection of affordable local beer, it's the sort of place we can't fail to fall in love with.
You're guaranteed friendly service and a laid-back, friendly atmosphere here. Just know that it isn't the biggest pub on the planet, so it might get cosy during busier times!
What next?
Looking for more about pubs? You can take a look at our favourite pubs in Yorkshire and the East Midlands, the cheapest pints, and where to find them. We've also taken a trip to find some of the best beer in East London.
We're ready to help you travel smarter, from start to finish. Why not start by booking your tickets with us? We'll never charge booking fees or amendment fees.