Who are LNER?
LNER are the main operator on the East Coast Mainline, with their busiest route being between Edinburgh and London King's Cross. They have 65 'Azuma' trains, as well as 12 Class 91 locomotives that can be attached to one of eight InterCity 225 sets.
They serve 55 stations, and they run 11 of them.
As LNER are the 'main' operator on most of the routes that they serve, and as they're often very popular (with many trains being completely sold out), there aren't a lot of ways to get cheap fares, especially last minute.
Our first recommendation would be booking as far in advance as you can. LNER services tend to open for booking at least 12 weeks beforehand, unless there are engineering works in the pipeline. This gives you plenty of time to see what's on offer. Typically, Friday mornings are the best time to travel down to London. They're quieter, and there aren't any peak restrictions in/out of London on a Friday, either.
Weekends are often the busiest time to travel. We'd recommend avoiding mid-morning to mid-evening on a Saturday, and up to mid-evening on a Sunday. Services are usually very busy and will typically be more expensive. LNER don't offer all of their services at the same starting price, and will price tickets higher if they think they'll fill the train anyway.
If you're travelling from Scotland or the North East to destinations in Yorkshire, keep an eye out for some cheaper journeys that involve LNER and Northern. Here's an example from Newcastle to Sheffield, offered five days in advance through Railsmartr: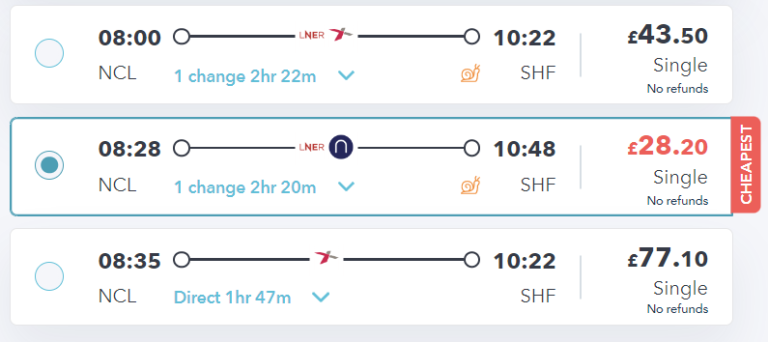 On board services
Luggage
All trains have at least two (and up to four) large luggage stacks per carriage. On the 'Azuma' trains, you'll find that the overhead racks are capable of fitting a cabin-sized suitcase with ease.
Food & Drink
LNER has the 'Let's Eat at Your Seat' service. This allows you to scan a QR code on the seat-back or table and you can order food and drink from the Cafe Bar directly to your seat. Alternatively, you can visit the Cafe Bar instead. This service is entirely card-only.
WIFI
Free and relatively fast WiFi is available on all LNER trains. You'll need to make a user account before you can get connected.
Travel with children
You'll find plenty of table seats in every carriage and three-pin power sockets under every seat in Standard Class (USB ports available in First) to keep devices powered up.
Bikes
You need to make a reservation in order to bring non-folding bikes on trains with LNER. This can be done at a station ticket office or on their website.
Pets
Up to two dogs, cats or other small domestic animals can travel for free on LNER. There's a fee of up to £5 for each additional pet. Make sure that dogs are kept off seats and out of the aisles. They should also be kept on a lead. Well-behaved dogs and assistance dogs are welcome in First Class carriages and in First Class lounges, too.