Who is Great Western Railway?
Great Western Railway has been running trains for many years, though it was previously known as 'First Great Western'. Their fleet of 233 trains serves over 270 stations. Of these, they run 197 of them. They also operate the Night Riviera Sleeper train.
On their routes to and from London, there aren't any 'secret' savings to be had, so to speak. They offer 'Advance' tickets on these trains, and our usual advice applies. Make sure you book as early as you can and try to avoid the busiest times.
If you're travelling from the South Coast to Bristol and Cardiff, then you can certainly make a saving by using their direct Portsmouth to Cardiff train. Here's how the fares compare for a Southampton to Cardiff trip, booked a month in advance: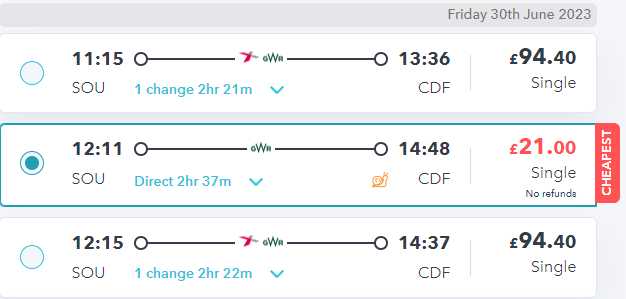 It's a slightly slower journey, but it's much cheaper to go direct.
You could also consider 'splitting' your journey at Didcot Parkway if you're travelling from the Cotswolds, Bristol or South Wales to London. It's often cheaper to buy a ticket to there first, and then another one to London.
On board services
Luggage
You'll find a variety of luggage stacks and overhead racks on long-distance trains to and from London. All other trains will have overhead luggage space at minimum.
Food & Drink
You'll find a trolley service on long-distance trains to and from London. It's usually available on trains that start their journey between 06:00 and 19:30 during the week.
WIFI
Free WiFi is available on all Great Western Railway services.
Bikes
It's strongly recommended that you make a bike reservation if you're travelling on an Intercity Express Train. These trains run on most services to and from London. Reservations are compulsory for the Night Riviera Sleeper train between London and Penzance. All other trains are first-come, first-served.