Scotland's largest city has a lot to offer. With a rich industrial heritage, endless green spaces and oodles of friendly folk, you're sure to find something that suits you. It's famous for music, too, and has a thriving food and drinks scene. We've taken a trip for ourselves, to see what there is to see on a day trip to Glasgow.
What's the best way to take a day trip to Glasgow?
Glasgow is very well-linked by train, so that's the best way! It has two major stations, which will bring you in from just about anywhere in Scotland, as well as a variety of destinations in England.
You'll be arriving into Glasgow Queen Street if you're coming from most large cities elsewhere in Scotland. This includes Stirling, Aberdeen, Inverness and Edinburgh. Don't forget that if you want to book a cheap train ticket in Advance on ScotRail (who operate on all of these routes) then you'll need to make sure that you buy it before 18:00 the day before you want to go. After this, you can only buy 'flexible' singles and return tickets.
Glasgow Central is where you'll arrive if you're coming from England, as well as places such as Kilmarnock, Ayr and Stranraer. If you're travelling from Yorkshire to Glasgow, keep an eye out for fares routed 'via Appleby'. Here's an example travelling from Leeds:

You need to look for journeys with just one change where the first leg is a Northern train. You'll even get to travel over the scenic Settle & Carlisle Railway on the way!
Getting around Glasgow
While Glasgow is full of attractions, you might want to use public transport to help you get around on your day trip. The Glasgow Subway will take you to a number of destinations that we mention on this page, while you could also take local ScotRail trains to reach some of them, too.
The Subway (also known as the Clockwork Orange) runs from early til late Monday to Saturday and during shopping hours on a Sunday. Did you know that it's the third-oldest underground railway in the world?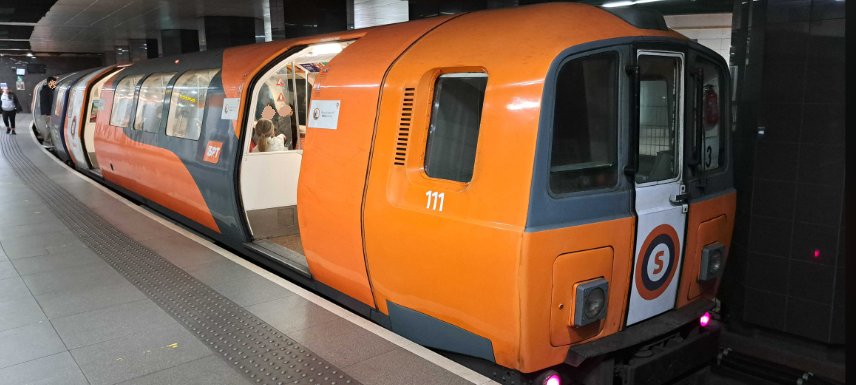 A single ticket is £1.75, while a day pass is £4.20. You can find more information on the Subway's website.
Free Museums to visit on a day trip to Glasgow
No day trip to Glasgow is complete without taking in some of the free museums on offer, so it's a great place to start. You might struggle to get around them all in a day, but there's something for everyone. It's a great backup plan if the weather is a bit dreich, too.
Gallery of Modern Art
Coming off the train at Queen Street station? It's just a short walk past St George's Square to the Gallery of Modern Art, making it a great place to begin on your day trip to Glasgow. The building was originally constructed as the townhouse of William Cunninghame, a Tobacco Lord who made his fortune in the slave trade.
It's now home to four different galleries as well as a library. The exhibitions change regularly, so you'll always find something different to look at. Here's the Taste! exhibition:

You can visit the gallery every day. It's open from 10 til 5, except on Fridays and Sundays when it opens an hour later at 11am. Click here to find out more about what you can see when you visit.
Riverside Museum & The Tall Ship Glenlee
Heading a little outside of the City Centre, you'll find the Riverside Museum, which is also home to the Tall Ship Glenlee. It's a 15-minute trip on the Subway to Partick Station (also served by ScotRail trains), followed by a well-signed 10-minute walk.
Inside the museum, you'll find a plethora of historic buses, trains, trams, cars, ships and more:
Don't forget to take a look at the reconstruction of a typical Glasgow street. From a sweet shop to a Subway Station, they've included everything:

Finally, why not pop outside and take a look at the Tall Ship Glenlee? After a career sailing to the Americas, trading across the Mediterranean Sea and being used as a military training vessel, she returned to the Clyde in 1993.
You can jump on board and see what life was like at sea, as well as learn about the importance of the Clyde and the shipbuilders that graced it.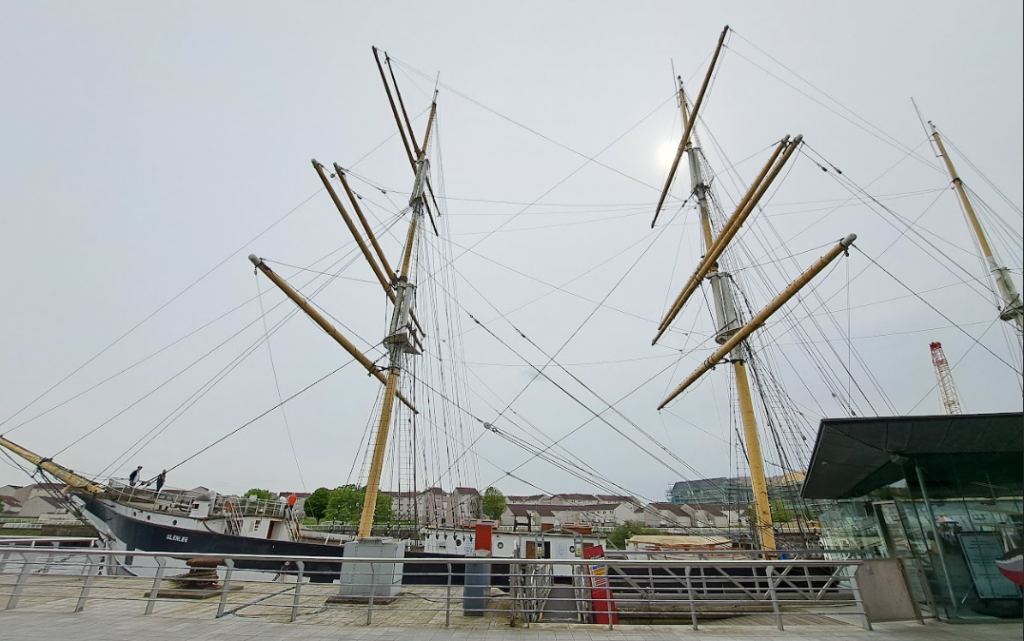 Both the museum and the Tall Ship are open every day. The museum is open 10 til 5 (11am Fridays and Sundays), while the Tall Ship is open 10 til 5 every day except Tuesday (11am).
Kelvingrove Art Gallery & Museum
One of the grandest-looking museums in Glasgow has to be the Kelvingrove Art Gallery & Museum. It's a 10-minute trip on the Subway from the City Centre to Kelvinhall, followed by a 10-minute walk.
The best way to describe it is that it has just about everything! With 22 galleries to explore, it's one of the most comprehensive museums that you'll find on your day trip to Glasgow. It's been a firm favourite with visitors and locals alike since it opened in 1901: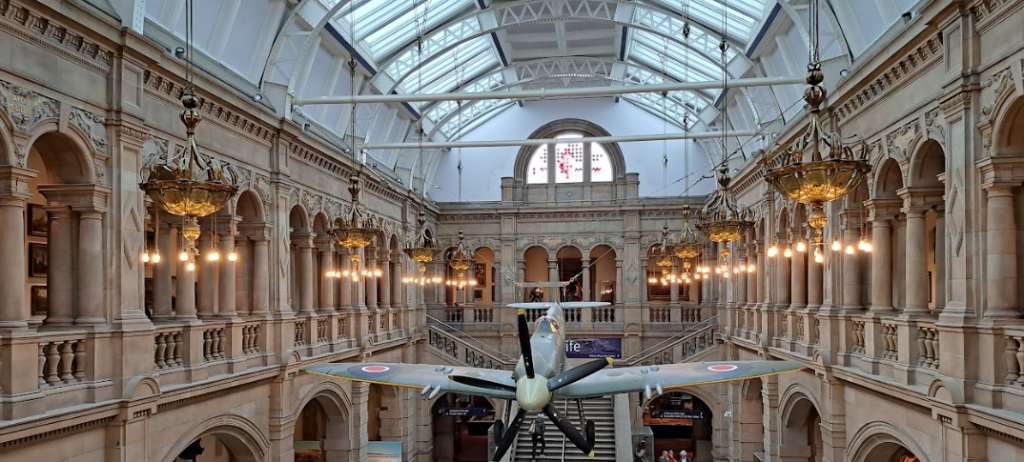 From Charles Rennie Mackintosh to a Spitfire plane, and the depths of Ancient Egypt to the wonders of Dutch Art, you'll be taken on a journey to the deepest corners of Glasgow and the world.
The museum is open from 10 til 5 every day (11am Fridays and Sundays). You can download a full guide to what's on here.
People's Palace
Open to the people of Glasgow (and beyond) since 1898, the People's Palace was designed as a place of recreation, pleasure and learning. Since the 1940s, it's been telling visitors about the social history of Glasgow. Set on Glasgow Green, it's a 15-minute walk from the City Centre.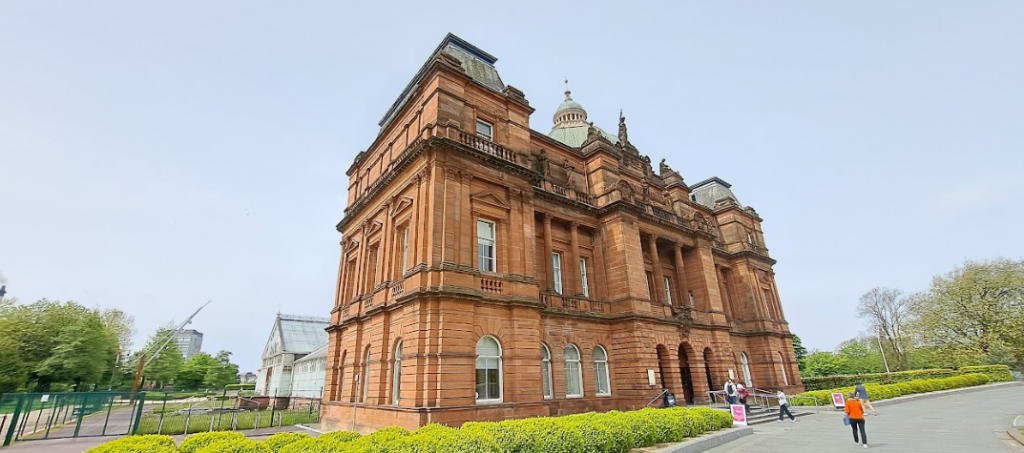 This is an essential part of any day trip to Glasgow if you'd like to know about the people that make Glasgow great. Take a step inside the minds and streets of Glaswegians and explore the issues and triumphs that they faced and embraced.
The museum is open from 10 til 5 every day (11am Fridays and Sundays).
Green Spaces
You might associate Glasgow with heavy industry, bustling streets and a general sense of urban-ness. While it's a vibrant and busy city, this doesn't mean that green spaces are out of your reach. If you want to get closer to nature, then Glasgow is still the city for you. Here are some of our favourite spots to take it all in.
Pollok Country Park
Our first stop is just 10 minutes by train from Glasgow Central. Hop off the train at Pollokshaws West and you're almost already at the gates of the Pollok Country Park. It's the largest park in Glasgow, too.
While you're having a wander around the extensive grounds and woodlands, don't forget to say hello to the Highland Cows:

The country park is also home to Pollok House, which was built in the mid-18th Century, though the site itself was actually home to the Maxwell family for six centuries. Home to an extensive art collection, it was also the founding site of the National Trust for Scotland.
Another thing to look out for is the scattering of rather quirky paintings around the park. They're part of the Art Gone Wild trail:

Finally, the park is home to the Burrell Collection. It contains over 9,000 different objects, including stained glass, armour and over 200 tapestries.
Whether you just want a brisk walk or an entire day of exploring, the Pollok Country Park is a great place to make part of your day trip to Glasgow.
Botanic Gardens
The Glasgow Botanic Gardens have been a part of the city for over 200 years. Originally opened in 1817 on a different site, the Gardens were such a success that they moved to their current home on the banks of the River Kelvin in 1839. They're just a short Subway ride away, a few-minutes walk from the nearest station at Hillhead.
You'll find over 9,000 plants here, with the greatest number being in the plethora of glasshouses around the Gardens. The plants hail from all over the world, and not only are the Gardens a beautiful place to explore, but they help to keep endangered species alive in the face of climate change.
They're open every day. In the summer months, this is usually from 7am til around 8pm.
Kelvingrove Park
Finally, if you're paying a visit to the Kelvingrove Art Gallery and Museum, it's worth exploring the park that it sits in.
Kelvingrove Park was purchased and created for the rapidly growing West End of the city in 1852. It was actually the first purpose-built park in Scotland! We'd recommend having a stroll after you take in the delights of the museum.
Is there anything else I should do on a day trip to Glasgow?
Naturally, we haven't covered everything. So here are a couple more things that you might like to see. With this much to take in, you might want to extend your day trip to Glasgow and make it a weekend!
Glasgow Necropolis
So, who fancies a trip to a cemetery? It doesn't seem like an obvious place to make a part of your day trip to Glasgow, but it has a fascinating history. The Necropolis has over 50,000 people buried in it, and contains over 3,500 monuments. It's a bit of a climb, but you can enjoy some great views over the city: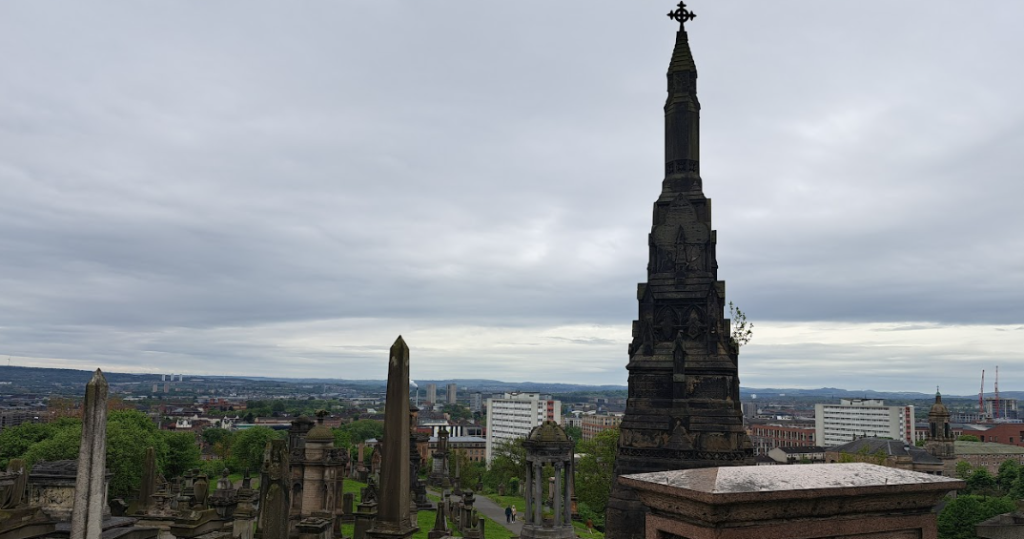 Unusually, not all of the monuments here relate to someone actually buried in the Necropolis, either. You can find out more on the Friends of Glasgow Necropolis site.
The Duke of Wellington Statue
Well, we've got to end on something light-hearted. Why is this statue famous, you ask? The cones on top of it! You'll find the cone-adorned monument outside of the Gallery of Modern Art.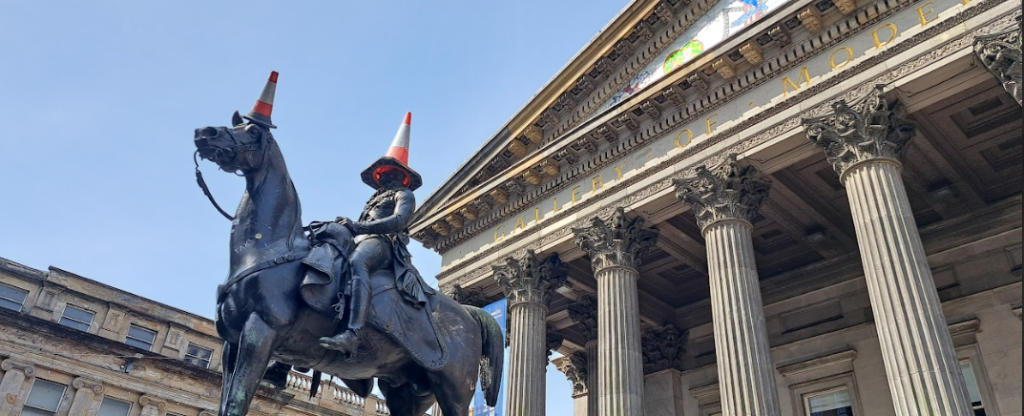 Sticking a cone on the statue has been a local sport since the 1980s, if not earlier. While the council and the authorities have spent much time and energy asking people not to do it (and even trying to put the statue out of reach), it's always been met with defiance and outrage.
So, just enjoy snapping a picture and embracing the humour of Glaswegians. Why is there a cone on the statue? Why not.
Where should I eat and drink?
Glasgow is a foodie's paradise. Whatever kind of cuisine you want to try, it's probably going to be here. In fact, you could probably spend weeks eating the same kind of cuisine at dozens of different restaurants! It's difficult to know where to start, but we have a couple of recommendations.
If you've been to the Botanical Gardens or you're just wandering around the West End, then Ashton Lane is a great place to start. Whether you're in the mood for ramen, a curry or even just a beer at the Innis & Gunn Taproom, there's something for everyone.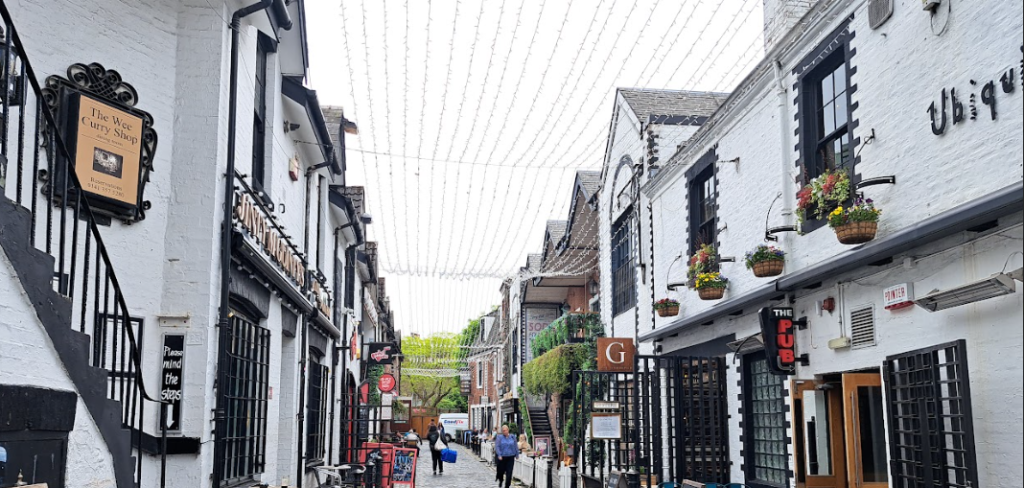 Just around the corner, you'll find KoKo House. We'd definitely suggest trying their soufflé pancakes. It's cash only, but there's a cash point nearby!

Fancy something more substantial? The Brunch Club is just a quick stroll from the Kelvingrove Museum and Art Gallery. They specialise in all your favourite brunch items, and even do a bottomless brunch with cocktails. We opted for the chicken and waffles with a drizzle of Hoisin sauce: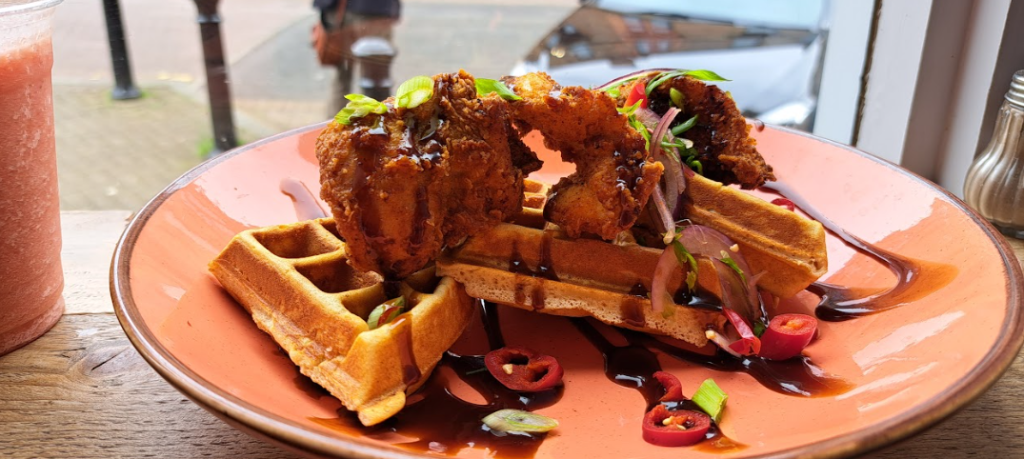 Is there anything else I should know?
Now that you know what to do on your day trip to Glasgow, it's important to book everything as smartly as possible. When you book smarter with Railsmartr, we don't charge you any fees. All of our tickets can be changed without any extra charges, or refunded if it's a refundable ticket.
We've produced a bunch of useful content about travelling by train, too. Did you know that we've gone out to find the best First Class train, or even the best one to store your luggage?