What are the cheapest railway station pints?
Fancy a drink that doesn't break the bank? We've done the legwork for you.
There's no doubt that just like everything else, the price of a pint is steadily on the rise. No matter whether you're in the north or the south, everyone is feeling the pinch. So, here at Railsmartr, we set out on a mission to find the best-value railway station pints that you can grab up and down the country. It's also a great chance to showcase the best of British pubs and breweries.
How we found the best value railway station pints
Well, we had to do our research! We worked together to compile a list of all of the station pubs that we knew about. We're based in different parts of the country, so everyone could chip in and add some local knowledge to the mix. Then, we reached out to them for their help.
Of course, we had to do some in-person research as well. We've had the pleasure of going into a wide selection of these pubs and sampling some railway station pints for ourselves.
We found some great beers, superb pubs and brilliant community spirit along the way. All that's left to do is to show you what we found!
What was the cheapest of the railway station pints?
That honour goes to Aberystwyth. If Ruddle's Best is your thing, you can get a pint of it on the station for just £1.71. Whether or not you're a fan, that's undeniably brilliant value in 2023.
We've put all of this information into an easy-to-read map. So the next time that you're wondering if there are railway station pints to be had nearby, you'll know what awaits you, and how much it might cost:

You can download and view the entire map here. We've included dedicated maps for London and Greater Manchester, as they're just so full to the brim with places to enjoy a drink before your train.
What were the pubs like?
We can't deny that we came across some real gems when we were checking out the prices of railway station pints. A station pub isn't just a place to drink, but it's somewhere that locals cross paths with travellers from across the country (and even the globe), and it serves as a meeting place for the community, too.
Track & Sleeper on Knaresborough station is a fairly 'young' station pub. The brewery behind it, the Gorilla Brewing Co, was only founded in 2019! Yet, it's already a firm favourite with the community and with rail travellers alike: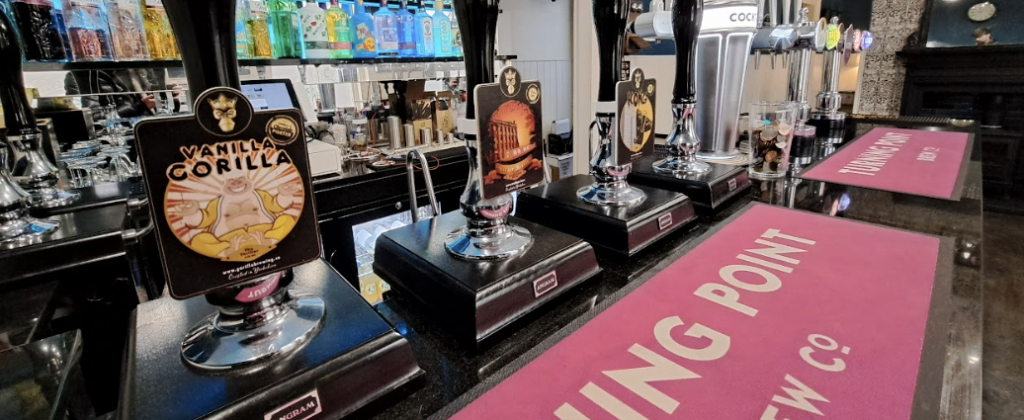 It serves a variety of its own beers, as well as other guest beers on tap and cask. If beer isn't your thing, there's plenty of gin on offer.
Meanwhile, in Newcastle, you'll find the Centurion. It has a selection of local cask beers as well as your usual lagers on tap, but the main thing that sets it apart is, well, the pub itself. It was the former First Class lounge back in the day, and nothing beats sitting back in surroundings like this: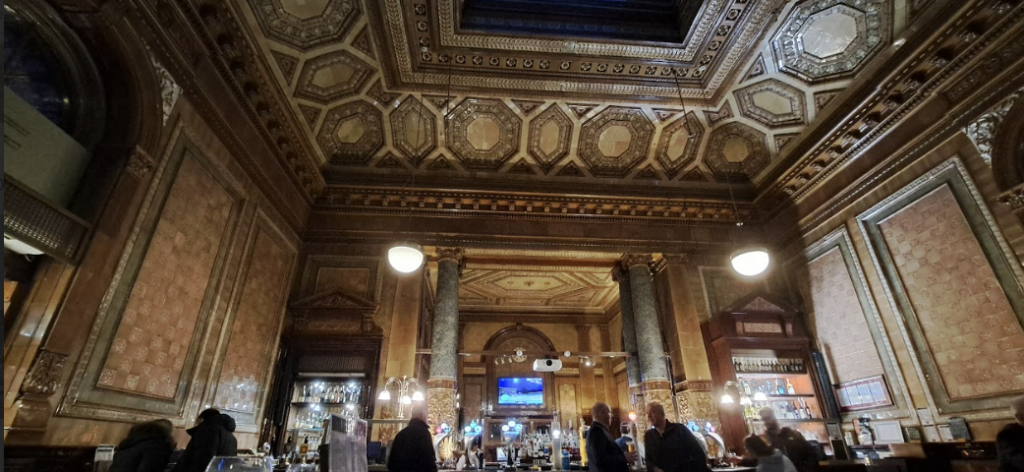 Is there anything else I should know?
We hope that you've found our map of the best value railway station pints useful. All that's left for you to do is to hop on a train and pay some of the pubs a visit! 
It's just as well that we specialise in great-value rail tickets, as well as beer. You can get all of your train tickets with Railsmartr. We'll be sure to show you the slower and cheaper options, so you can get the best value fare for your journey.
Changed your mind? Need to travel on a different day? No problem at all. You can change or refund your ticket (if it's refundable) without any extra fees.