So, you want a bit of luxury without paying for the luxury price? Sometimes, it's nice to treat yourself to First Class once in a while, but the price can be off-putting. No worries, we've got you covered. Here are our top five tips for bagging cheap First Class train tickets.
What are the best ways to get cheap First Class train tickets?
It might seem that 'cheap' and 'First Class' don't go together in the same sentence, but there can be some bargains if you know where to look. Whether that means following a particular route or avoiding certain times, let's have a look at some of the best ways to save.
1. Avoid London
London can attract a premium (and lots of people want to go there!) So, if you're after a trip in First Class for less, we'd recommend leaving it for a journey that avoids the capital. The same usually applies for Standard Class, too. Let's take a look at an example where we're travelling from York a month in advance: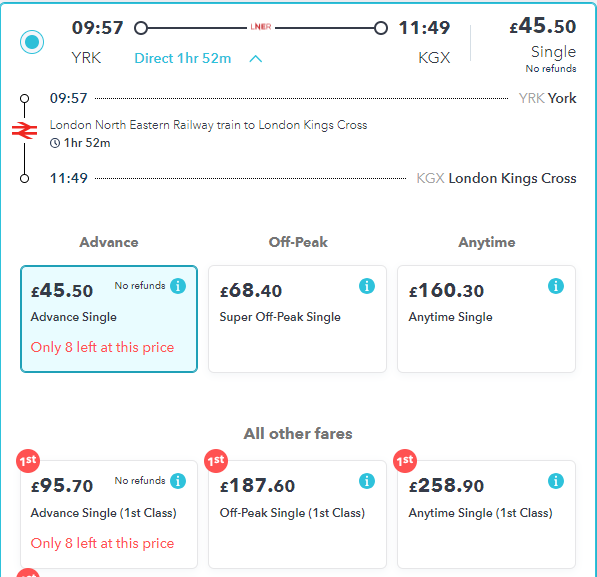 It's £45.50 to travel in Standard Class to London, or £95.70 in First Class. That's more than twice the Standard Class fare!
Meanwhile, let's see what happens if we go in the other direction and head for Edinburgh instead: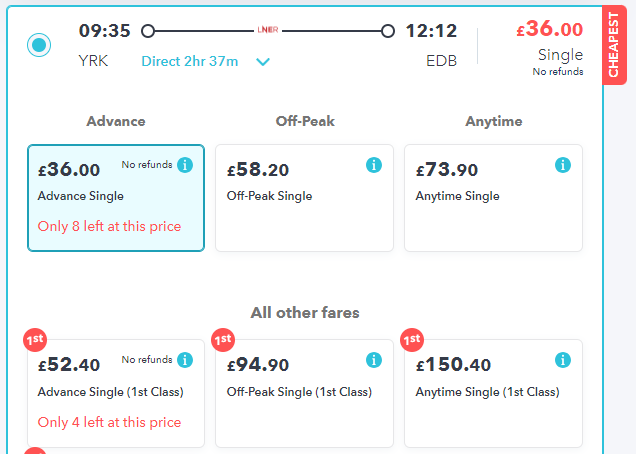 It's £36.00 for Standard Class, and £52.40 for First Class. That's a much smaller difference, and it isn't a bad fare for a journey of over two and a half hours. So, your first step to finding cheap First Class train tickets is being choosy about where you go.
2. Pick a Friday morning for London trips
So, you want cheap First Class train tickets and you want to travel to London? Your best bet is to travel down on a Friday morning. In particular, you'll find that this makes a difference for trips on the East Coast Main Line (Edinburgh – Newcastle – London) and West Coast Main Line (Glasgow – Preston – London and Birmingham – London).
This is because peak time restrictions are eased on a Friday. There's less business-oriented travel too, so the trains are usually quieter. Because the most expensive tickets are Super Off-Peak ones, rather than Anytime or Off-Peak, this effectively 'caps' all of the cheaper Advance tickets.
3. Avoid the Frills
This depends on why exactly you'd like to travel in First Class. Do you want the full works with food and drinks, or do you just want a bigger seat to stretch out in with a cup of coffee? You might find cheap First Class train tickets with companies that don't go all-out with the free food.
For example, we looked at York to London earlier, and found that it could be quite pricey. Let's have a look and see how it compares if we choose Grand Central instead:
It's still quite a bit more than you'd pay for Standard Class, but £55.00 is a more reasonable price than what we were finding above. You won't get the same level of service, but you'll still get a more spacious environment. In fact, we've written about the best First Class trains so that you can compare every First Class product across Great Britain.
The same applies if you pick an LNER train that doesn't have such a substantial food menu, as there are three different menus to pick from (Dine is the largest, followed by Dish, then the most limited one is Deli). You can check which menu is scheduled on northbound trains here and southbound trains here.
4. Try Standard Premium
Did you know that Avanti West Coast gives you the option of travelling in a First Class carriage, sometimes for a fraction of the cost of a First Class ticket? Standard Premium is essentially First Class without the free food and drink. It's the same seat and the same environment.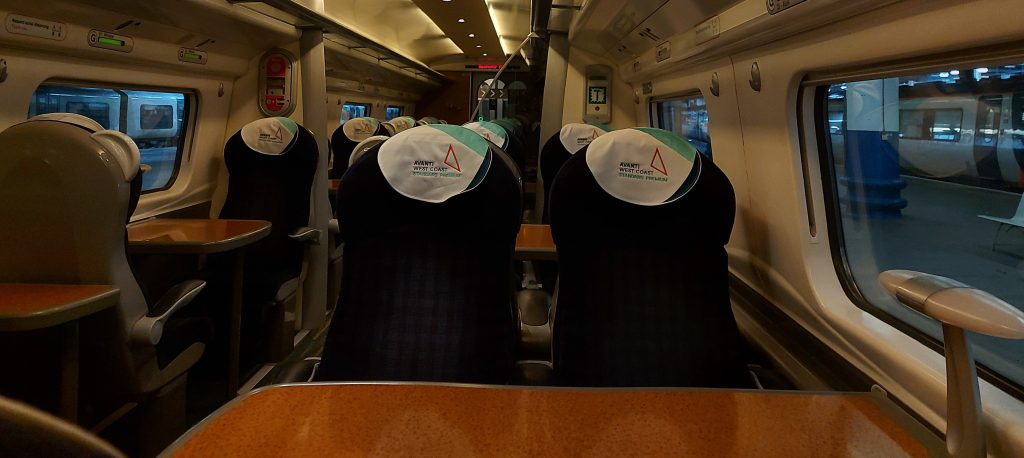 You don't have to book it in advance, either. All you have to do is buy a Standard Class ticket, then take a free seat in Standard Premium. It costs up to £30 to upgrade on board, and the conductor will sell you the upgrade when they check tickets. You can book Advance tickets for Standard Premium, too. Let's see what we get if we want to go from Carlisle to Crewe a month in advance: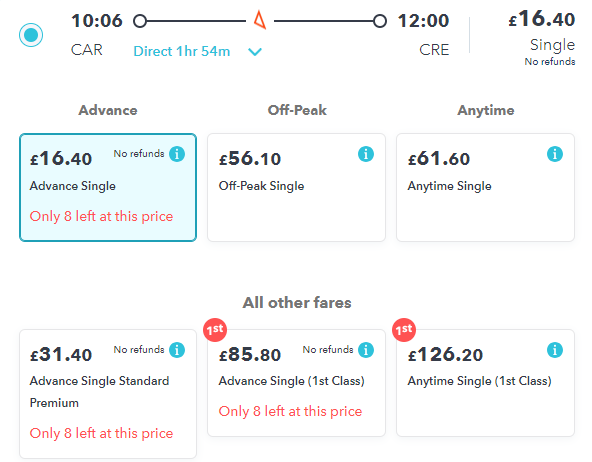 So, it's £16.40 for Standard Class, £31.40 for Standard Premium and a rather high £85.80 for First Class. That's quite a saving over sitting in a traditional First Class carriage! We've also compared Standard Premium v First Class so you can see which upgrade is best for you.
5. Keep an eye out for last-minute bargains
Cheap First Class train tickets don't have to be booked up months in advance. Sometimes, if you're travelling at the last-minute, there's very little difference in price between Standard Class and First Class. It might even be cheaper! Let's take a look at travelling from York to Newcastle this coming Saturday: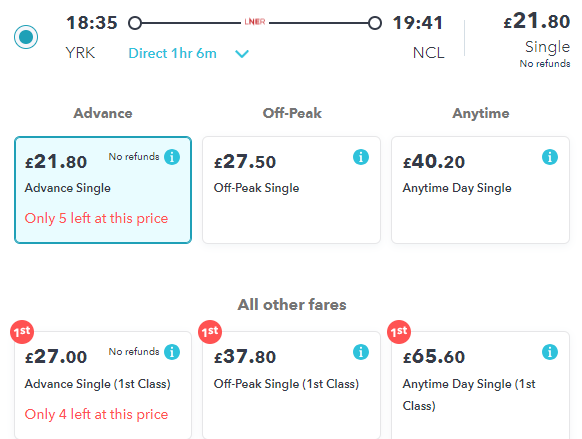 That's just over an extra fiver to travel in First Class, so it's not a great deal more expensive. So, why is there very little difference on some trains and a huge one on others? In a nutshell, when it gets very close to departure, the cheaper 'tiers' of Advance tickets start to sell out. This can happen at a faster rate for Standard Class than First Class.
Is there anything else I should know?
Looking to know more about First Class? Take a look at our dedicated page for First Class train travel. We're here to help with upgrading on board and even travelling in First Class for free. We've also compared Avanti West Coast and LNER.
The final thing we'd recommend is using the Railsmartr website to book your cheap First Class train tickets. We're completely independent, so we're happy to 'tell you like it is' when it comes to rail fares. Not only that, but we'll show you the slower, but cheaper options that some websites won't.
Don't forget that we don't charge any fees, either. That includes if you change your mind and want to travel on a different day. If your ticket is refundable, we'll refund it fee-free, too!
All fares stated on this page are for ONE adult with no Railcard discount and were correct at 09:00 12/07/23 unless otherwise stated. All information is issued in good faith. They're subject to change at any time and Railsmartr are not responsible for any loss or disappointment incurred as a result of the information provided.