Day trip to Liverpool
Fancy a day trip to Liverpool? Take a look at what you can't miss.
Liverpool is filled with musical and maritime history. It's famous for its friendly folk, too. No matter what you're looking for on a day trip to Liverpool, the city has something for everyone. Here are some of our highlights when it comes to visiting the city on the Mersey.
What's the best way to take a day trip to Liverpool?
By train, of course! Here are a couple of tips that you can use to make your day trip to Liverpool cheaper:
If you're travelling last minute from Manchester, we'd recommend checking the slower Northern trains. They leave from Oxford Road and Victoria and have cheap Advance tickets right up to the last minute. You could also consider buying a Duo ticket if there are two of you (or four, or more!) taking a trip – we'll offer it automatically if it's the cheapest option
Coming from London? You might find that it's cheaper to catch a London Northwestern Railway service to Crewe first, and then change for a train onwards to Liverpool. It's about an hour slower, so it might be more appropriate if you're spending a couple of days away
We've written a dedicated guide to cheap train tickets to Liverpool where you can find out more, too.
What is there to do on a day trip to Liverpool?
One of the great things about exploring Liverpool is that you can do a lot of it on a budget, or completely free! There's plenty to see and a selection of free museums to wander around.
Seeing the Sights
Why not start your day trip to Liverpool by seeing some of the essential sights? Let's begin with what you can see on its iconic waterfront.
Royal Albert Dock
Having been known as just the Albert Dock until 2018, the Royal Albert Dock was granted a Royal Charter five years ago. It started out life in the 19th Century as a home to valuable goods making their way from all corners of the world.
Unfortunately, it just wasn't big enough to keep up with demand, though it was still a useful place to store cargo. In the Second World War, it became a crucial part of the nation's war effort. The Royal Albert Dock served as a base for the British Atlantic Fleet, though it took a beating in the Blitz.
In the Post-War era, the Royal Albert Dock suffered a decline and was eventually closed in 1972. Redevelopment began in the 1980s, and now the area is a diverse home to museums, bars and restaurants while still paying homage to the proud maritime past of the city.

Don't forget to have a look around the Pier Head area. It contains many reminders of the past, including the Pilot Cutter Edmund Gardner and an old Great Western Railway warehouse. Did you know that the Great Western Railway never actually served the city? They ran to Birkenhead instead, on the other side of the Mersey. Once folk arrived at Birkenhead, they'd connect onto a ferry to bring them to Liverpool.

Royal Liver Building
The Royal Liver Building is one of the most famous structures in Liverpool. It was opened in 1911 and it's one of the first examples of a building constructed with reinforced concrete, as well as being one of the tallest buildings in the country back when it was built. The two Liver birds on the building keep a watch over the city, too. Legend has it that if they were ever to disappear, then the city would cease to exist.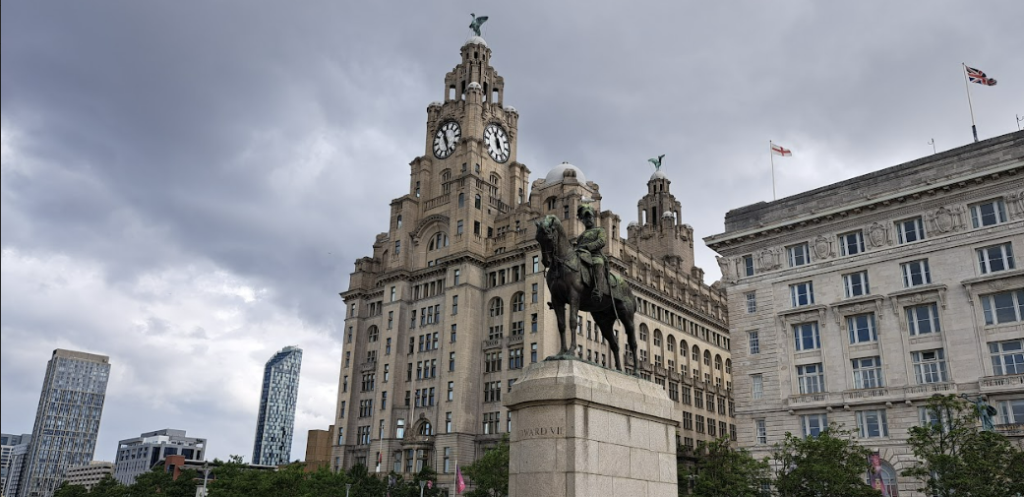 These days, the building is home to a variety of companies and organisations, such as ITV, HSBC and Everton Football Club. You can even tour one of the clock towers as part of your day trip to Liverpool, and you'll find more information here.
Beatles Statue
The Beatles need no introduction, and Liverpool makes no secret of how they're Liverpool icons. This statue has been a feature of the Waterfront since 2015, so it's a fairly recent addition: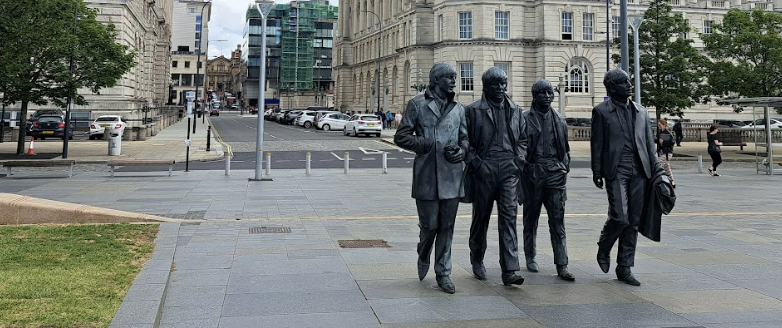 The Cavern Club donated the statue, and it was designed to coincide with the 50th anniversary of their final gig in the city.
Memorial to the Heroes of the Maritime Engine Room
Did you know that Titanic was registered in the Port of Liverpool? The city has made a special effort to keep the memory of this iconic vessel alive, and you'll find reminders of it everywhere.
This particular memorial was originally designed to remember the 32 engineers who lost their lives in the disaster. However, due to the heavy loss of life in World War I, it was broadened to remember all the maritime engineers who had died in the line of duty.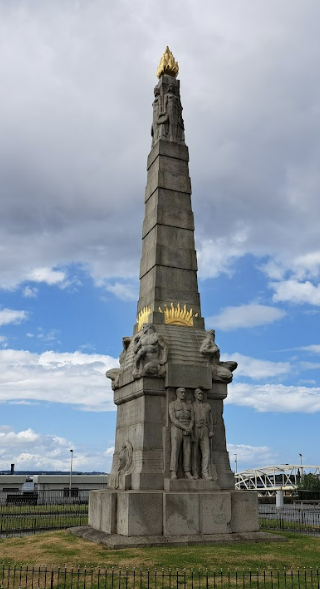 The Cathedrals
Moving away from the Waterfront, we think it's worth mentioning the two iconic (and very different) Cathedrals in Liverpool. You'll find Liverpool Cathedral on St James' Mount: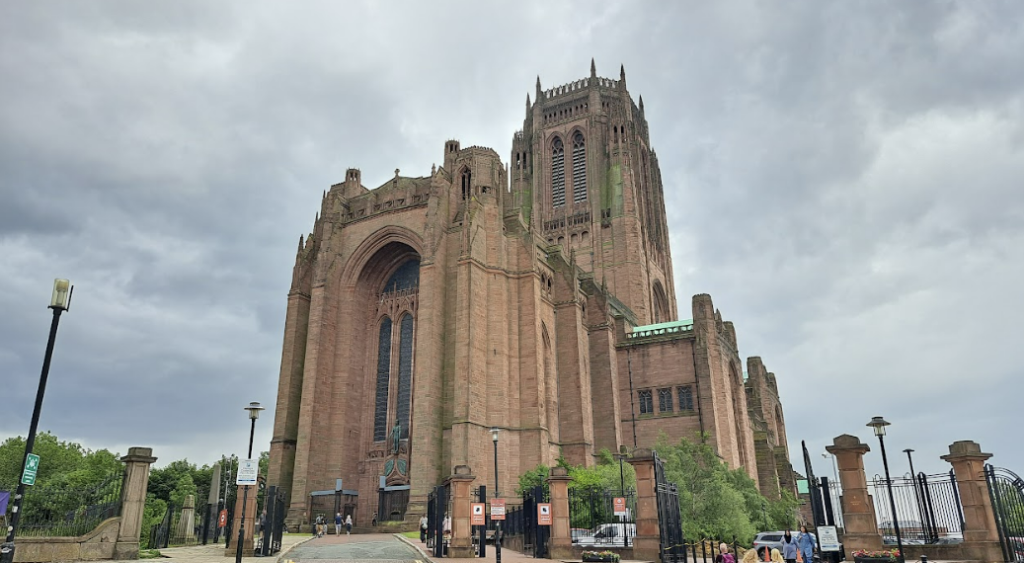 It's the largest cathedral in Britain and the fifth-largest in the world. It's undeniable that it's a pretty formidable structure, too. Liverpool Cathedral was opened in 1978 after a construction effort that spanned two World Wars and the death of the original architect!
Just half a mile away, you'll find the Roman Catholic Metropolitan Cathedral of Liverpool. It was the winner of a worldwide design competition, and is a great example of 1960s architecture. It's also the largest Catholic cathedral in England: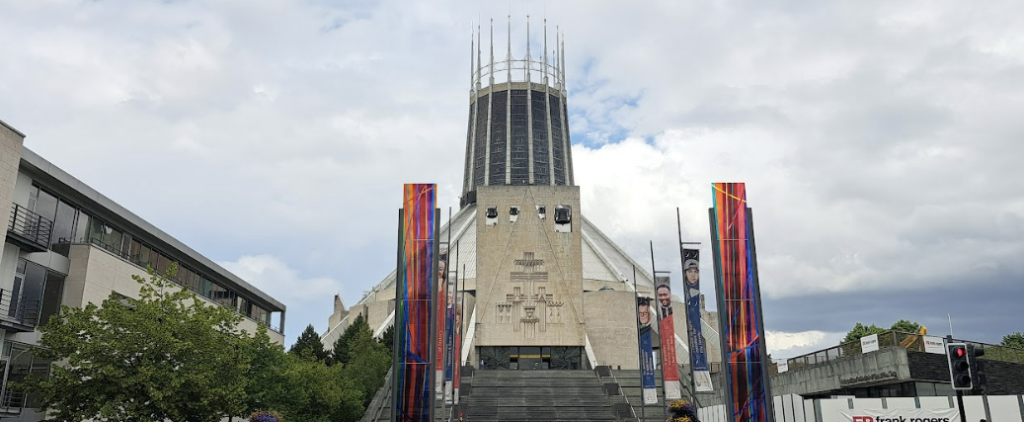 Free Museums
Liverpool is full of free museums, and there's something for everyone. Whether you want to learn about boats, birds or the proud social history of the city, you'll be leaving with a wealth of information and anecdotes. Best of all, they won't cost you a penny to visit.
Museum of Liverpool
Let's start off with the Museum of Liverpool. It's an essential part of a day trip to Liverpool, and a great place to start your visit. Within the museum, you'll find out about its people and how they've shaped it into the place that it is today.
Are you a rail geek? Take a look at an old Liverpool Overhead Railway carriage and learn about this fascinating elevated train that used to run above the docks of the city. It was such an iconic railway that people would visit just to take a ride.

You can even try your hand at karaoke as you explore the diverse and iconic musical past and present of Liverpool.
Fancy a visit? It's open from 10 til 5 Tuesday to Sunday.
Tate Liverpool
Does the name sound familiar? This is part of the group of art galleries (Tate Modern, Tate Britain and Tate St Ives) known as Tate. The Tate Liverpool is home to a wide collection of British Art from as far back as 1500.
At the time of writing, you'll find an exhibition about democracy and protest, as well as a collection of over 80 pieces from the Tate collection.

As well as the free exhibitions, you'll usually find ones where you can pay an additional charge. At busier times, you might also prefer to book a free ticket on their website to avoid the need to queue to get in.
It's open every day of the week between 10 and 5:30.
Liverpool World Museum
The Liverpool World Museum is one of the oldest museums in Liverpool. It's been welcoming visitors since 1853! The name 'world' doesn't even do its scope justice, as it's home to a planetarium too, so you can learn about what lies beyond Earth.
It's home to an aquarium too, so you can learn about ocean life and what's being done to protect it for generations to come.
There's something for everyone in the World Museum, no matter whether you want to be eye-to-eye with a scorpion, an Egyptian Mummy or a life-size dinosaur.

It's open to visit Tuesday to Sunday between 10 and 5.
Maritime Museum & International Slavery Museum
Liverpool is a city that lives and breathes maritime life. Both the Maritime Museum and International Slavery Museum tell the story of the vessels and the people who spent their lives at sea.
In the Maritime Museum, you can learn more about the Titanic, the people that were on it and what it was like to be on board. The museum also tells the story of Liverpool's role in the war effort and how Britain's naval fleet kept the country safe. Don't forget about another iconic ship, the RMS Lusitania, which was sunk by a German U-boat in 1915. The loss of such a vessel provoked outrage and was a key factor in the USA joining the First World War in 1917.

Meanwhile, the International Slavery Museum gives a voice to those impacted by slavery and colonisation. Did you know that Liverpool ships carried over 1.5 million slaves?

It deals with how colonisation continues to impact countries across the world today, and it draws attention to the impact that modern slavery continues to have on society. In a nutshell, it's a museum that campaigns and engages with human rights issues, past and present.
Taking a Stroll
Looking to stretch your legs on a day trip to Liverpool? We have a couple of suggestions if you fancy getting out of the City Centre.
Birkenhead Park
How about taking a wander around the world's oldest public park? Birkenhead Park could be the place for you. It's also known as the People's Gardens and it's been welcoming visitors for nearly two hundred years. The park is home to a plethora of wildlife, and it's a beautiful oasis of calm away from bustling Liverpool.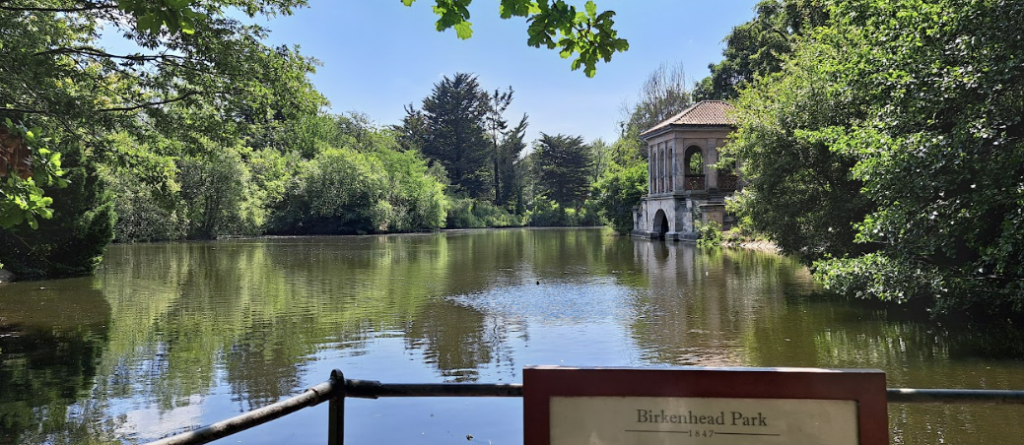 You can sit back and enjoy the sunshine, explore one of the walking trails, or enjoy a bite to eat at the cafe in the on-site visitor centre.
A Merseyrail train takes around 10 minutes to get to Birkenhead Park from the centre of Liverpool. From there, it's just a short walk to the park.

West Kirby & Hilbre Island
Feeling adventurous? You can always spend part of your day trip to Liverpool exploring an island. West Kirby itself is a wonderful destination in its own right, too. It's home to a variety of independent cafes, shops and a beautiful marine lake:

If you want to go that extra mile (quite literally) though, then you can take a wander over to Hilbre Island. It's about a two-mile stroll and you'll need to check the tide times before you go. It's worth the walk, as you could see seals, whales and even dolphins!
You can reach West Kirby by jumping on a Merseyrail train from Liverpool Central, Lime Street or James Street. It takes around half an hour to get there.
North Wirral Coastal Park
The North Wirral Coastal Park runs between Meols and Wallasey and is just over four miles long. It's a great place for a walk, jog or cycle and is a fairly flat and easy-going path.
On the way, don't forget to look out for Leasowe Lighthouse. It's open on certain days of the year too, so you can take a look around.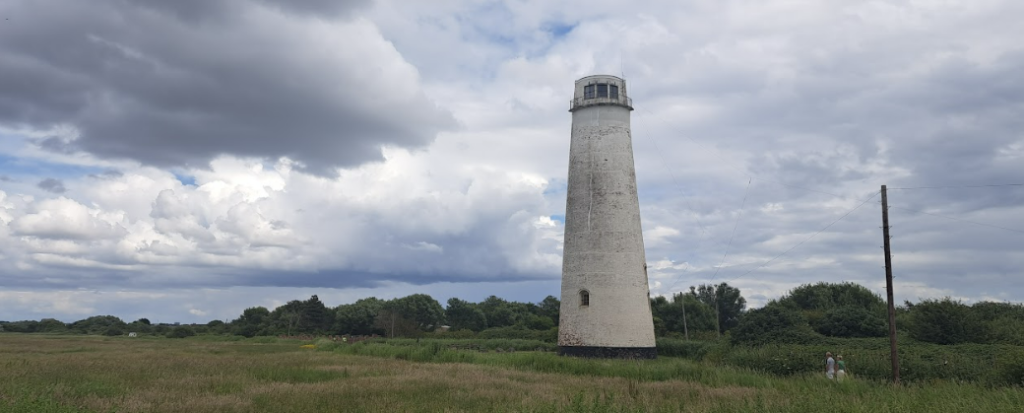 You can find more information about the walk here. It's possible to start the walk by taking a Merseyrail train to Meols or Wallasey Grove Road.
Other Highlights
Of course, there are a few other things that you could make a part of your day trip to Liverpool. We weren't able to get around everything in a day ourselves!
The famous Cavern Club will be a must-visit for many. After all, it was the birthplace of The Beatles! Fancy getting more hands-on with music? You can learn about the legends of British music and let your creative juices flow at the British Music Experience.
Finally, how about a ferry across the Mersey? You can either take a tour on the river or just jump on board a commuter ferry straight to Birkenhead.
Don't forget about the Superlambananas, either…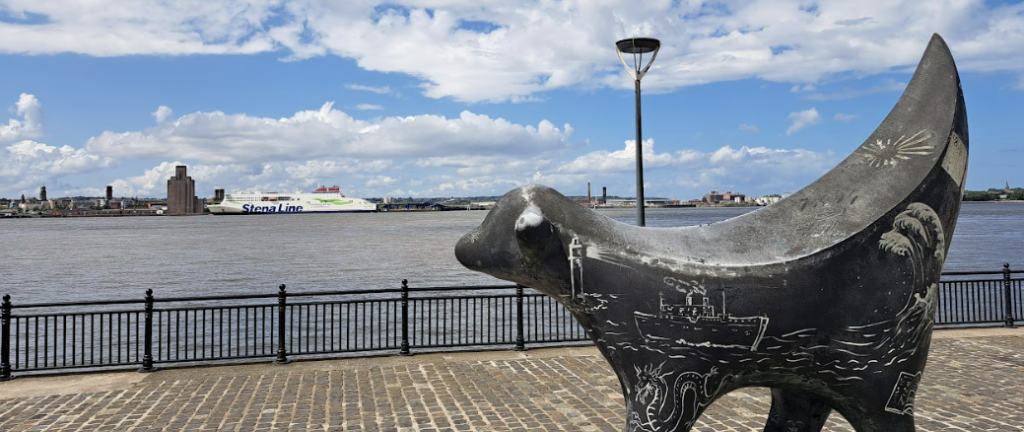 What about eating and drinking?
It would be impossible to list all of the places that you could eat and drink on a day trip to Liverpool. However, we did pop into a couple of venues that we really enjoyed, so they might give you a little bit of inspiration!
Bundobust
Bundobust is the home of easy-going Indian street food. It's the perfect place to pop in for a bite to eat on your day trip to Liverpool.

You can choose from a selection of small plates, sharers and a wide selection of cocktails and craft beer. No matter your taste, you'll find something that suits you.
Berry and Rye
How about a cocktail but in a slightly…mysterious setting? If you walked past, you wouldn't even notice that Berry and Rye is right under your nose. But, if you turn right at the top of Bold Street, you'll see a rather unassuming black door. Don't be shy to give it a knock!
The menus are hidden in a book, which you can peruse as you're served a free welcome drink. It's constantly changing, and it's a case of whatever is seasonal.

If you come in from Sunday to Thursday before 9pm, some cocktails are 2 for £12 as well. Fancy a classic cocktail instead? No problem, the talented bartenders will be more than happy to do it.
Berry and Rye is a truly special experience, and it's more than just a place to drink.
Is there anything else I need to know?
Here at Railsmartr, we know how difficult it can be to navigate the world of train tickets. Why not check out our pages on the best time to travel for cheap tickets and the best first-class train next?
Thinking of taking a trip soon? You can book it all with Railsmartr. We'll be sure to show you the slower and cheaper options, so you can get the best value fare for your journey.
Change your mind? Need to travel on a different day? No problem at all. You can change or refund your ticket (if it's refundable) without any extra fees.
All information stated on this page was correct at 12:00 21/06/23. It's subject to change at any time and Railsmartr are not responsible for any loss or disappointment incurred as a result of the information provided.